European citizens survive thanks to shadow economy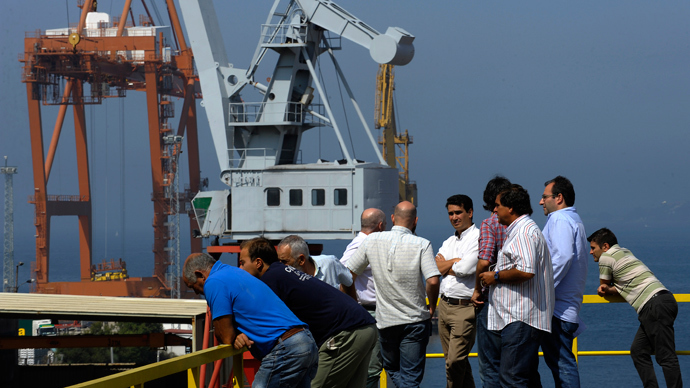 While European governments try to tax their citizens into oblivion, these citizens have no choice but to look for alternatives and resort to the shadow economy, Felix Moreno de la Cova, trader and portfolio manager at RF trading, told RT.
RT:According to some reports, the shadow economy in Europe today is worth more than 2.1 trillion euros – how much of a concern is this? 

Felix Moreno: Of course, they are all estimates and it's all approximate, but it's around that size.  In Spain it's around 20% of its economy. In Greece it's harder to estimate but some say that it's between 19% and 20%. It is a concern for governments since they are having so much trouble to raise money at the moment and they are attempting to tax their citizens to oblivion. But it's not so much concern for citizens somehow managing to survive, thanks to a shadow economy. 
RT:Isn't it better for people to be employed by the shadow economy, than not be employed at all?
FM: It's certainly better for them than dying of hunger in the streets or relying on a government for food and sustenance which is sometimes not coming. If we rely on the government for pensions for instance, we can see that the pension programs of France, Spain, Italy, Greece are almost about to collapse. 
So we are expecting the welfare state to provide diminishing returns as the years go on and the population gets older, and we have to look for alternatives. In that case it means that people are going to work for longer but in other cases it just means to opt out of the system and be working for themselves. In Spain, for example, almost 50% of a minimum wage of a worker's salary including all the social security payments and so on, goes to the government which means that if they are not getting the services for that amount they are paying, and they are paying a lot, they should learn to opt out and look for alternatives. It's either that or leave the country and go somewhere else where the grass is greener. 
RT:Spain has one of Europe's biggest black-market economies – almost 29 per cent of GDP - what are the factors fueling this trend? 
FM: The reason in my humble opinion is Spain has such a large under-run economy because there are so many regulations, so much intervention and the public sector is such a large part of the economy that the people try to escape it any way they can. Construction used to be the biggest hub of underground economy in Spain, but obviously since the housing bubble popped in 2008 that diminished it a great deal. Although some of it has been coming back lately in 2012-2013 and we've seen a bit of a rebirth of cash only housing deals in Spain. Also agriculture and restaurants and services in general have always been very much involved in the underground economy.  We've seen the volume increase since the VAT tax; the consumption tax was raised from under 16%, first to 18%, then 21% by the government.
RT:How have government austerity policies contributed to this? 
FM: More than the cutbacks it is the fact that taxes have been raised as I was mentioning earlier. Spanish workers, and I'm not talking about rich workers, I'm talking about minimum wage workers, are paying almost 50% of the total renumeration of the costs of the worker to an employer (almost a third goes to social security payments and almost another 20% goes in different income and VAT taxes), so workers are paying almost half of their salary to the government and they are not getting much in return. And they have to pay more with tax increases, also getting less from all the cutbacks. So we see they are very angry and annoyed and looking for alternatives. They don't trust politicians anymore, because we can see the politicians are the first ones to cook the books. At the present time, both the big Spanish major parties and several of the regional big parties… all of the government parties in Spain are currently in the courts involved in illegal financing scandals, all of them, every single one. So obviously the citizens are not going to stand by and pay for all this corruption and not do anything about it. 
Spain's popular party is now in the news in the major corruption scandal in which politicians are accused of receiving underground economy payments, cash payments in envelopes. The Socialist party is involved in a very similar scandal in Andalusia. Convergence and Union, the Catalonian regional party, is also involved in this scandal. All the main Spanish parties are right now caught up in major illegal financing scandals in which they have been receiving cash payments. How they can expect people in the street in Spain who have been suffering from this crisis for over 5 years not to do the same?
The statements, views and opinions expressed in this column are solely those of the author and do not necessarily represent those of RT.
The statements, views and opinions expressed in this column are solely those of the author and do not necessarily represent those of RT.
You can share this story on social media: