Garbage and gas: Inside Turkey's protest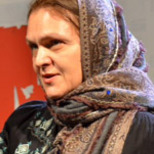 Nadezhda Kevorkova has worked at RT since 2010, before which she was a special correspondent for 'Novaya gazeta,' 'Nezavisimaya gazeta,' and 'Gazeta.' Kevorkova has also worked extensively in Russian mass-media. As a war correspondent, she covered the Arab Spring, military and religious conflicts, and the anti-globalization movement. She has worked as a reporter in Egypt, Sudan, Palestine, Jordan, Lebanon, Syria, Iraq, Iran, Pakistan, Azerbaijan, Ukraine, Hungary, Greece, Turkey, Cuba, and in the republics of the North Caucasus, Tatarstan, and in the Far East. In 2001, after an invitation from US State Department, Kevorkova visited a number of states, including Alaska. As a correspondent of 'Gazeta' she reported from Indian settlements in the US. She covered the 'Gaza Freedom Flotilla' in 2008, 2010 and 2011; she also visited Gaza several times during the blockade. In 2010, Kevorkova was nominated for the 'International Women of Courage' award.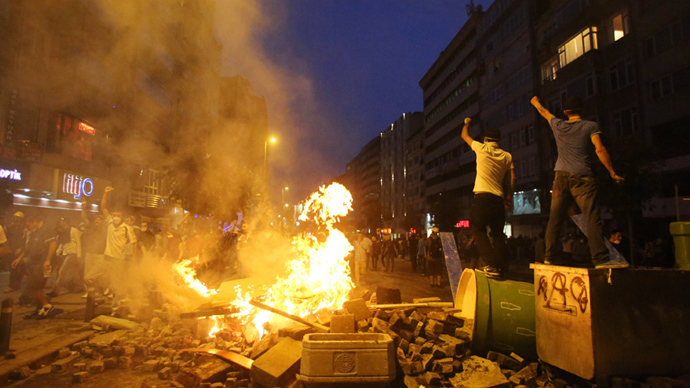 On Saturday night Gezi Park was flooded with people playing guitars and singing songs: the protest was clearly stagnating.
I was there with a local Muslim man who had come to the park for the first time in two weeks to see what was going on,  and he met lots of his friends from the neighborhood. Most of them had little to do with the protest itself: they just wanted to have a look.
At the same time Prime Minister Erdogan gathered a few hundred thousand of his supporters in Ankara, and the rally was broadcast by most TV channels. Some people were even upset that all the media were talking about Gezi Park and no one said a single word about the international Turkish language contest attended by 40,000 Turks from across the world.
At sunset, street vendors flooded Taksim Square, offering food, helmets and gas masks. These people clearly have an incredible flair for making money! But there is no price boosting: pastry, kebabs and cherries in Taksim Square are no more expensive than elsewhere.
The weekend demand for a snack was clearly higher than for a gas mask.
One could hardly spot a policeman on the square – they were all strolling around the back streets, posing for photos as the locals and tourists. The general atmosphere was nothing if not peaceful.
I had spent the whole day talking to social scientists and political analysts, all keen to discuss what stands behind the Taksim uprising. And no one acknowledged there were long-standing problems that finally came to a head and spurred a reasonable protest. But was it reasonable at all?
The protest slogans range from telling Erdogan to step down to cheering a café owner, 'Hold on there, kebab!' in the middle of a gas-covered street.
Erdogan's supporters call the unrest a problem.
Erdogan's opponents call him a dictator, however, citing few arguments.
Intellectuals speculate that foreign-funded organizations engage in scheming and intriguing to undermine Turkey because the West envies its economic growth.
The future scenarios were simple and straightforward. Some believed the police would raid Gezi Park from time to time – only to see it full of protesters again the very next morning. Others said it would slowly fade away in eight months – when the elections will start. Many hoped the protest would die a natural death, as Erdogan enjoys obviously stable ratings of at least 62%.  The Erdogan elite often recalls a poll conducted by a pro-American institute, which ranked Erdogan as the most popular leader in the world today, who left behind even President Obama and David Cameron. The idea of a massive violent crackdown by the security forces on the protester's tent camp was not even considered. 

By 9 pm, the idle bystanders had gone. Young people started pouring into Istiqlal and the adjacent streets in groups of twenty to thirty. For about an hour and a half they kept yelling 'Erdogan must go!' and throwing garbage at the policemen. Then the security forces arrived and chased the protesters away, firing tear gas at the tent camp. It took them two hours to clear protesters out of the place.
Even if you are not in the thick of the events, you quickly learn what is going on: your skin and eyes itch, and then you have gas coming in through the windows. If you don't close them, you are going to have a tough time.
Turkish tear gas is different from other substances I have been exposed to covering other protests. If you use a wet cloth to breathe, like you would do in any other gas attack, it makes your face burn. So do the tears. But it's a perfect 'Hollywood' gas, coming out in puffs from a small box and carried away by the wind – a very cinematic picture. If you have a gas mask on and the wind blows in the right direction, you can put together a wonderful snapshot portfolio. Every third protester was carrying a professional camera. I'd never seen so many well-equipped media in Iraq, Lebanon, Palestine or Syria.
Tear gas streaming down the face is not the only hurdle if you want to make your way through the streets. To get to my hotel, I was to cross the street and walk some 500 meters. I put on a hood and the people told me, you look so much like the protesters that the police will target you. I put on a headscarf and the people told me, you look like a Muslim woman, protesters may hit you. They told me a terrifying story of how the protesters attacked a young mother, the sister-in-law of a local official, who was waiting for her husband in the street. They stopped short of beating her to death, calling her 'Erdogan's whore'.  

The young guys who hurled stones tried to work out an escape strategy for me. They told my companion,  'Take her by the hand, pretend you two are in love and walk in front of the police. Hopefully they will let you go safely.' Unfortunately the plan wouldn't work: I had left my gloves in the hotel, and a gloveless woman cannot touch a Muslim man who is not her husband. My companion was keeping strictly to Muslim rules.
Then came another gas attack, so we ran to the nearest hotel. The owner was so kind as to offer free rooms for a while to those who were carrying no money. I had some cash on me, so they gave me a single room where I stayed alone.
Meanwhile, the protesters weren't going anywhere. When the gas and dust settled down, they would yell again, 'Erdogan must quit!' The closer they came and the more garbage they hurled, the faster the security forces would respond with tear gas.
Finally at 4 in the morning, the streets went quiet. At dawn, trucks were already collecting refuse at Istiqlal. Taksim was fully cordoned off by the police. The pink tractor, symbol of the unrest, had gone, and so had the protesters.  We saw CNN journalists reporting live from the empty square in Istanbul, which would host a rally of Erdogan's supporters later that day.

The statements, views and opinions expressed in this column are solely those of the author and do not necessarily represent those of RT.