Dutch downgraded: EU shoots messenger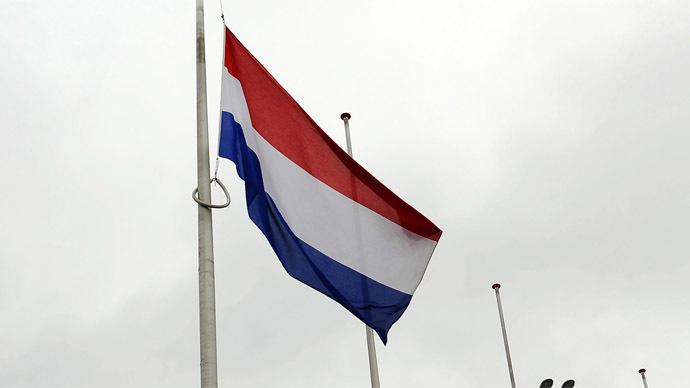 The industrious Dutch have lost their coveted AAA credit rating, as the folly of the EU's deluded 'third way' economic model becomes ever more dangerous to the global economy.
The 10 top-tier AAA nations:

Australia (approx 23.2 million population)

Canada (35.1 mn)

Denmark (5.6 mn)

Finland (5.5mn)

Germany (80.5mn)

Luxembourg (0.5 mn)

Norway (5.1mn)

Singapore (5.3 mn)

Sweden (9.7 mn)

Switzerland (8 mn)
Another clog has dropped. A paltry 10 nations retain a perfect credit rating. The prospect of all AAA sovereign heads of state meeting in a telephone box may only be months away.
The Netherlands, home to whacky wooden footwear and a rather remarkably dynamic economy is hardly a Mediterranean basket case. And therein lies the terrifying reality of Europe's continuing decline.
Despite reasonable fiscal governance, Dutch debt to GDP at around 71 percent is beyond the reasonably- deemed threshold of 60 percent, but it is hardly the North Sea's answer to Greece or even the USA. Holland's problems stem from a decade when Germany needed low interest rates to grow a stagnant economy, but pretty much no other euro nation had such a problem. Fuelled by cheap money, Dutch consumers inflated a property bubble.
It isn't quite Latvia, Ireland or Spain, but Dutch property prices are sinking despite the dykes keeping the nation physically above water. Household borrowing has spiraled. The total private/public debt ratio in the Netherlands stands at an eye-watering 300 percent - higher even than Italy.
Credit ratings provide clear evidence that the euro crisis is merely resting, building kinetic energy for another volcanic eruption. A paltry three of the 17 eurozone nations now have AAA status. Germany (80.5 million population) amounts to almost one third of the total of AAA citizens! The other euro-nations maintaining top rating are modestly-sized Finland (5.5 million) and microstate Luxembourg, whose entire 500,000 population is less than a third of the number of daily commuters to Manhattan!
There is clear evidence that the euro has impoverished its citizens, while the persistently irresponsible US government has also been downgraded. Governments are stubbornly fixated with an unsustainable centralized spending model that didn't work for the Soviet Union and certainly won't work in the digital age either. (No prizes for guessing why some folk love bitcoin).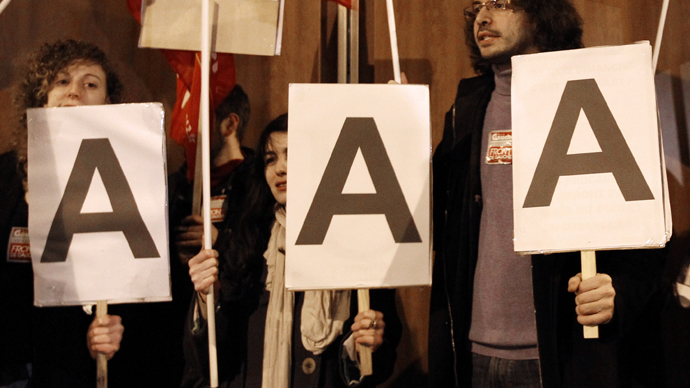 Interestingly, while no fewer than seven of the world's top rated nations are in Europe, most are either not in the euro (Denmark, Sweden) or not in the EU at all (Norway, Switzerland). That alone ought to be a salient lesson to Brussels where obsessive imperial delusion is driving the eurozone towards penury in any currency.
The terrifying conclusion is just how few nations remotely manage their budgets responsibly. Emerging nations who sustain growth and budgetary prudence may be promoted, but few look like breaking into the top tier anytime soon. Meanwhile, the total population of AAA nations has declined by more than a half a billion citizens in two years to under 180 million today. This terrifying statistic is a damning indictment of the ongoing banker-influenced corporatist-socialist mindset.
The West is broadly spending with the irresponsibility of a drug addict. Whatever your political persuasion, the numbers simply do not add up. No group rich or poor can make these numbers balance. Somewhere up ahead there is either a miraculous revolution in productivity & wealth...or more likely a modest increment from nano- and bio-tech which will kick the can further down the road. Somewhere ahead, perhaps sooner than later, a hideous day of reckoning awaits the unsustainable government addiction to debt and spending. Without an outbreak of leadership, many nations, particularly in the West, are doomed to terminal decline.
Citibank analysts have gone a step further, predicting sovereign ratings: they believe only Canada and Scandinavia can retain their coveted AAA status - sub 1 percent of the globe's 7.1 billion population (and less than the total population of the UK)! Clearly many of the 99 percent in this equation have grounds to believe they are being poorly governed.
Naturally the EU has struck back...by targeting the messenger. Rather than encourage government accountability, regulators contend the ratings agencies have miscalculated sovereign debt. Another tragic example of backdoor totalitarianism seeking to stifle dissent...or perhaps the lines of unemployed in Greece, Italy and Spain (let alone France et al) and those massive piles of debt created from unsustainable spending are just a mirage.
The statements, views and opinions expressed in this column are solely those of the author and do not necessarily represent those of RT.
The statements, views and opinions expressed in this column are solely those of the author and do not necessarily represent those of RT.
You can share this story on social media: