CAR is victim of West vs China fight for influence in Africa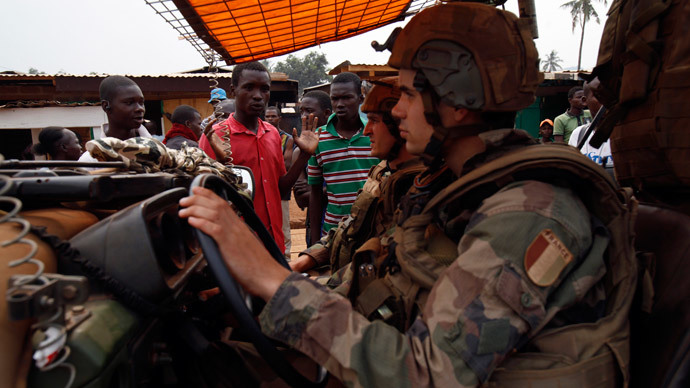 There is competition in Africa between Western powers and China, while local tensions in the Central African Republic are just used as a pretext to intervene, historian Bruno Drweski told RT.
On February 25, French lawmakers approved an extension of the country's military operation in the Central African Republic as the UN warned of a potential new bloodbath in the troubled African state. The approval had been anticipated with deputies almost unanimously agreeing that, whatever their reservations, pulling out the 2,000 French troops now in the CAR was not a viable option. Initially Paris sent its soldiers to stop violence between warring clans in the volatile state, selling the campaign as a short-term military deployment.
RT:Why is it so difficult for France to end its involvement in the Central African Republic?
Bruno Drweski: The situation in Central Africa is not very new. France did intervene a lot of times in Africa, especially in Central Africa from the very beginning of independence, so it's very surprising that now we are speaking about the situation as if it was an unprecedented one, as if it didn't happen already. France knew it would happen in Central Africa for a long time, so I think it's just a pretext, especially that you have much bigger and much longer violence in the neighboring Eastern Congo, where you have millions of people who were killed in the last 10 years. And France didn't intervene in Congo even [though] earlier in the 1970s the French army also intervened in Congo. So the situation is just a pretext which appears as a new situation, as it was already in Ivory Coast and Mali where the French army also did intervene.
RT:We have the UN saying that we need someone in the area to protect Muslim minority. Is it really like that? Are 15,000 people under risk of attack?
BD: Yes, of course. But we can ask why the UN did nothing for the Eastern Congo. UN is just a pretext, it's a double standard. Sometimes they want to have the UN, sometimes they intervene without the UN approval as it was, for example, in the case of Libya. It's a double standard and of course it's obvious that there are tensions and violence in Central Africa, but we have to think why there is violence and why there was no reaction earlier. And who is responsible for this violence and where the Central Africa government was before the French intervention. Of course now it can seem logical that there is something to be done, but it's a little bit late and the responsibility is partly of France or of Western countries in a larger way.
RT:Do you think President Hollande realized that there would be a need to extend the troops' presence in CAR when he first deployed them?
BD: CAR is a country bigger than France, so I really doubt that it's possible to give peace back just using the actual army that is there. So I really think this situation now is going to stay long, the solution won't be very quick. It's just like Ivory Coast where the French intervention was done long ago, we can say the nightmare of the Ivory and its people is not finishing, it's the same case in Mali and in Central Africa.
Basically I think that the problem is that there is competition in Africa between Western powers and China. And local tensions are just used as a pretext to intervene. There were no religious conflicts in CAR for a long time. What we call a religious conflict is not really a religious conflict. The religious conflict aims to convert people to your religion, which is not the case [there]. It's just warlords using religious pretext to intervene. And you know the Saudi like Islam just as the Islamic copy of the new Anglo-Saxon evangelism Christian dogma or Jewish Zionism. It's tribalization of religion. It's not local, it came from abroad, especially from Saudi Arabia which is the ally of the US. We have to look at that in a broader way.
The statements, views and opinions expressed in this column are solely those of the author and do not necessarily represent those of RT.