​Brazilians tired of taking to the streets ahead of World Cup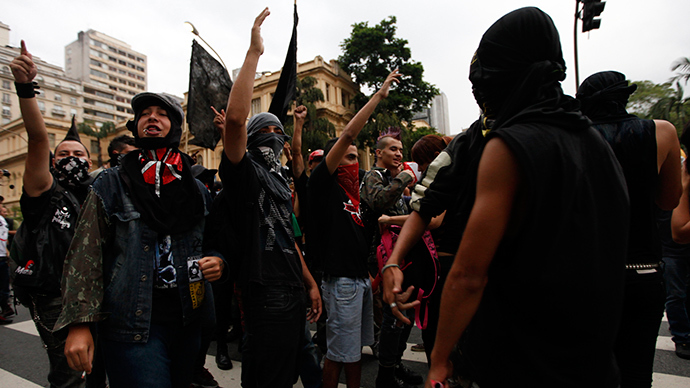 Fears that a tense World Cup will take place amid demonstrations of millions of Brazilians and heavy security operations by an unreliable police force, after the fuss of the last few months, may not materialize.
Recent polls and smaller protests in the streets of Rio de Janeiro and São Paulo show the enthusiasm for marches, picketing and in some cases vandalism is waning in the host country of football's most important tournament.
In June, when the massive protests kicked off, polster Datafolha said astonishing 81 percent of Brazilians were in favour of the demonstrations – which began to oppose a rise in transport fares and ended up as a channel for all the grievances in the country. That support has now dropped to 52 percent. Now 42 percent are against taking to the streets at all, a big increase on the 15 percent of the population who opposed the demonstrations when the country hosted the 2013 Confederation Cup.
The polling numbers were obtained after February 10 amid heavy commotion. Brazil was still in shock after the accidental death of a cameraman, hit on the head by a mortar thrown by protesters in Rio. Most middle-class supporters that thickened the demonstrations in the middle of 2013 are now back in their homes. Since June, many of them gave up protesting after a heterogenous group using violent "black block" tactics infiltrated peaceful protests.
Brazilian police have a habit of carrying out arbitrary arrests and very likely to be just as violent against peaceful protesters. Add that to "black block" protesters throwing rocks at banks, public buildings and the police. The result, the polls show, is waning interest from the average Brazilian. In the next few weeks the results could be even less thrilling for demonstrators, since police succeeded in pre-emptively arresting 260 people on Saturday in a Minority Report-like incident.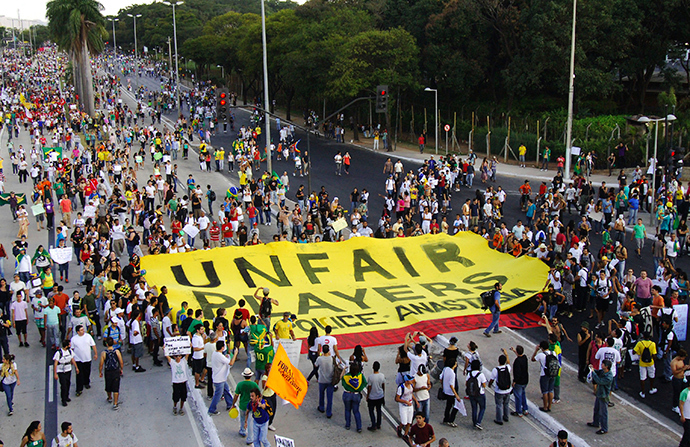 Another poll showed other interesting results about what the soul-searching Brazilians are thinking before their country hosts the World Cup. It comes out at a moment the Brazilian government is trying to stimulate some pride for hosting the World Cup. Pollster MDA says 85 percent of respondents believe there will be protests during the World Cup. But only 15 percent said they would take part in them.
There is usually some bitterness before big sporting events and Brazilians are showing that too. As four World Cup stadiums are still at risk and as protesters reject the high spending on the organization of the tournament, 51 percent of locals say they wouldn't support a bid to host the World Cup if was launched today, MDA says.
The federal government and President Dilma Rousseff, the favorite to win re-election in October, are betting on their propaganda and the size of the event to boost their popularity – as does FIFA, a body surrounded by controversies and corruption allegations that has been troubled by Brazil's slow pace in sorting its bottlenecks related to World Cup infrastructure.
The lack of enthusiasm Brazilians have shown towards protests is probably good news for a leader who wants to remain in power. But in South America's powerhouse these revolts have been brewing for a long time, and they really caught experts off guard. They might be cooking now again. A little sparkle could still bring blazing fire to Brazilian streets again.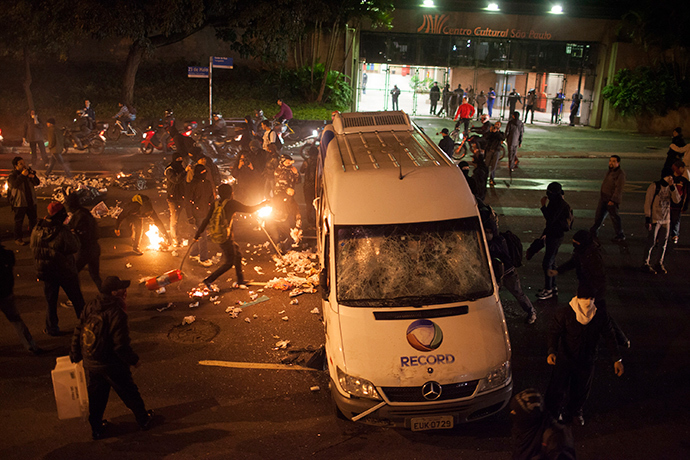 The statements, views and opinions expressed in this column are solely those of the author and do not necessarily represent those of RT.
The statements, views and opinions expressed in this column are solely those of the author and do not necessarily represent those of RT.
You can share this story on social media: