World Cup 2014: Why Brazilian footballers are fighting back, and getting political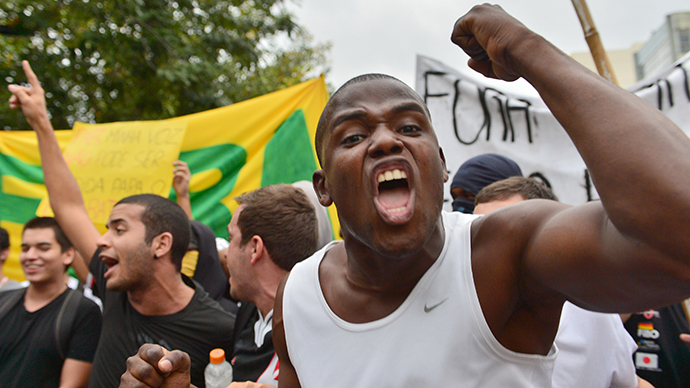 The massive wave of protests that shook Brazil this June during the Confederations Cup football matches has surprisingly come onto the pitch.
After years of contempt from their national football association, Brazil's professional footballers are getting political.

They are furious because the 2014 calendar was adapted to the World Cup without consultation. Their quest started with just 10 top division players meeting over Skype – but now they have more than 300 members and have formed Common Sense FC, a political organization of Brazilian footballers.
The footballing activists love to debate. But they also target officials, unions, journalists and colleagues who haven't yet embraced their cause. They are the most popular politicians in the country, which will host football's creme de la creme next year.
On the record, the player-activists like to say they just want to negotiate better conditions, and that a strike is out of question. But when the camera is off, they admit they want much more than sports officials are willing to give them. They think they can pose a real challenge to the status quo after the World Cup is finished. And they believe players will get more political as the movement grows.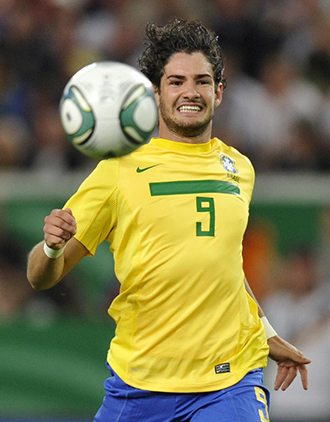 Among their members are world-class stars Clarence Seedorf, Alexandre Pato and Dida, World Cup winners Gilberto Silva and Rogério Ceni and local heroes of Serie A and B. Ronaldinho, who is looking to make friends in the Brazilian FA so he has a chance to be picked for the national team, is absent.
There are too many problems in the Brazilian football calendar to list, but the main issue is this: footballers would have to start the 2014 season much earlier than usual. That would stop them from having a proper pre-season and the month-long vacations they are entitled to. That's why they took it to the pitch. Minutes before every match, they gather hand-in-hand to form a circle so everyone has a chance to speak out. They are comprehensibly sick of playing up to 80 matches every year, traveling huge distances within Brazil and being more injury-prone as a result. Chelsea, the most active European team in the last season, played less than 70 times.
The atmosphere of the June 2013 protests – when more than 1 million people came onto the streets with renewed calls for an end to government corruption and demands for better public services at a time when the government spends billions of dollars for the World Cup 2014 – has surely influenced the players to become more political, says Paulo André, a Corinthians defender and one of the leaders of Common Sense FC. He and his comrades have already ditched a very ineffective union, lambasted critics to the media and forced some minor changes in the match calendar.

"Brazilian football has to be better. We understand the protesters, we sympathize with them and we want real change too," André says. "It is the first time in 30 years Brazilian players are more active off the pitch, we have to seize this moment."
It was a very different place in the 1980s, when Brazil was suffering under a military dictatorship. Under the legendary footballer Socrates, André's Corinthians defied the regime. Their players took a democratic vote on their everyday activities and issues relating to the team, setting a good example for the democracy yet to come. That was the first time politics and football openly blended here. One of the rules of Brazilian etiquette was to never discuss these two subjects with people you don't know. 
Now times are different. The World Cup has already made such a big impact that to see footballers joining with protesters and discussing politics is no more than common sense.

That was particularly true during the dictatorship (1964-1985). Whoever took on the political status quo suffered the consequences. Just before the 1970 World Cup Brazil coach João Saldanha didn't accept dictator Emilio Médici's suggestion to bring in striker Dada Maravilha. "He picks his ministers and I pick my players," he said. Saldanha was sacked. Mario Zagallo took over, changed very little and accepted Dada Maravilha on the bench. A big chunk of the Brazilian left cheered against their team because they were used as regime propaganda.
A little later, midfielder Afonsinho was watched by the security forces and had his career shortened because of politics. Botafogo didn't want him to grow a Che Guevara beard and long hair, so they stopped him from training or signing for another team. Many experts claim Brasilia was behind it, since he was during a campaign to give more flexibility to transfers. It was only in the nineties that every Brazilian player could play wherever they wanted -- and it didn't happen because footballers pushed hard for it.
The only happy ending story in the politics vs. football face off in Brazil happened at Corinthians for two big reasons: it was a team decision that delivered silverware, and it happened in the fading years of the dictatorship. It doesn't mean establishment politicians liked it, since the players were very vocal for democracy and hugely popular. Socrates was so influential he almost succeeded in making Congress pass a bill for people to vote for the President -- it was MPs that decided it then. "If this succeeds, I won't sign for Fiorentina! I will stay in Brazil," he cried before hundreds of thousands in São Paulo. Too bad he had to go.
The statements, views and opinions expressed in this column are solely those of the author and do not necessarily represent those of RT.
The statements, views and opinions expressed in this column are solely those of the author and do not necessarily represent those of RT.
You can share this story on social media: