Hamas: Syrian regime is 'fully responsible' for internal conflict escalation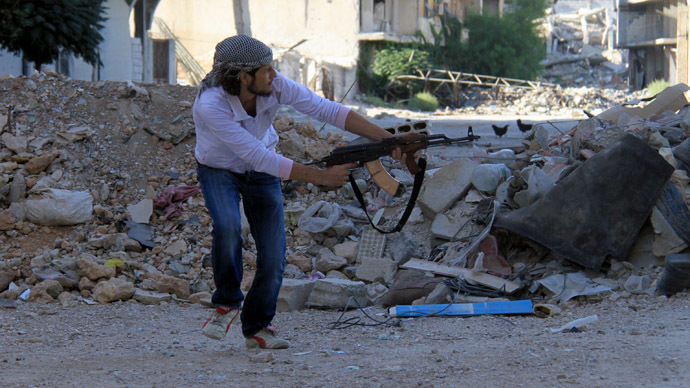 The Assad regime is fully responsible for allowing protests to evolve into a military standoff, Ali Baraka, a Hamas spokesman in Lebanon, told RT. Now everything depends on the world superpowers, not on Syrian forces or Arab nations, he added.
RT:What you think about chemical weapons use in Syria?

Ali Baraka: We condemn the use of chemical weapons in Syria and the murders of the Syrian people, and we stand for the kind of peaceful political settlement of the Syrian crisis that would secure Syria's integrity and fulfillment of the Syrian people's hopes for freedom, social justice and high living standards. We stand against military intervention into Syria and condemn the threats to deliver a military strike on Syria put forward recently by the American government. 
We believe that the United States is not treating the nations of the Arab world fairly. The US has no right to take up the role of a judge towards the Arab nations since it's always supported the Zionist regime of Israel that occupied the Palestinian territories, the Golan Heights and some other Arab territories.
RT:You mentioned 'no matter who'. Who does Hamas think is behind the attack?
AB: We are not a party to the conflict in Syria. The chemical attack is being investigated by international organizations now. The incident has been brought to the attention of the UN. There are no observers from Hamas in Syria who could provide verified information on the issue. In general, we condemn any use of chemical weapons, which is prohibited all over the world – that is our stance. We disapprove of such attacks by any party, be it the Syrian government or the rebels. We are against the use of chemical weapons and we urge the parties of the Syrian crisis to sit down at the negotiating table and achieve a political settlement.
RT:You said that Hamas is now in Syria. You withdrew shortly after the conflict there started. Would you like to go back?
AB: Of course, we consider Syria a source of power for Hamas. Syria has always supported the Palestinian people and Palestinian resistance. When we left Syria, we lost a significant part of our support. We hope that when the crisis and violence in Syria are over and it becomes a safe country again through a peaceful solution, when freedom, security and stability are restored, Syria will begin to support the Palestinians in the same way as before.
RT:So you would like to go back?
AB: We hope to return to all Arab countries, especially Palestine's neighbors, because our presence in the neighboring countries is key to resolving the Palestinian issue.
We had no disagreements with the Syrian regime on the key issues, particularly the problems of Palestinian resistance or the conflict with Israel. However, we disagreed about ways to solve the Syrian crisis. We thought the right thing to do was find a political solution, as opposed to using force. We tried to stay neutral. When we were asked to take sides in the conflict, we decided it was time to leave Syria.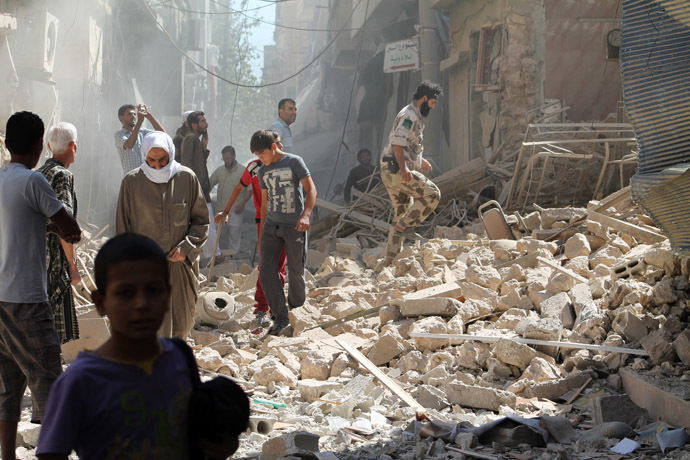 RT:So what is the difference? You call for a political solution? And the Syrian side?
AB: In 2011, in the first 10 months after the beginning of the Syrian crisis, we tried to help find a political solution to the problem and reach a national reconciliation. In order to achieve that, we worked together with Hezbollah, the Islamic Republic of Iran, and the Arab League. Hamas came up with several proposals for the Syrian government. At first, the authorities welcomed the ideas, but later rejected them. 
We were looking for dialogue, reforms, and a political solution to the crisis. When the Syrian regime decided to use force instead, we thought it best to leave Syria. We are still convinced that the Syrian crisis can only be resolved through political means. We didn't leave Syria as the crisis started. Hamas leaders left the country in January 2012, i.e. almost 11 months after the crisis started. We had been trying to put an end to this crisis through cooperation with the Syrian government and our allies in order to have the conflict resolved internally – inside Syria or at least inside the Arab world. Sadly, however, the Syrian crisis has grown into a global one and its future now depends on the US and Russia. And it is no longer possible to settle this conflict through Syrian-only or Arab World-only efforts.
We are very concerned with the fact that no solution to the Syrian crisis has been found yet, since as long as the conflict continues there will be no end to bloodshed in Syria.
RT:Do you criticize the Syrian authorities?
AB: We were in Syria as the crisis broke out and we saw that political settlement was a possibility. But the regime resorted to force in Daraa during the very first month of the Syrian crisis. We intervened in the situation, and President Assad agreed with the initiative put forward by Hamas in mid-April 2011. Hasan Nasrallah supported this initiative; he secretly travelled to Syria and met Bashar Assad there. The president agreed with the Hamas initiative, and it was based on this initiative and the approval of President Assad that Khaled Mashal held a meeting with Syria's internal opposition. 
However, a mere three days after that we were contacted by a government official saying that the president demanded that we should stop this activity. This is the reason why we are saying that the regime is fully responsible for allowing these events that are called so many different things – some call them a revolution, or an uprising, or protests – to evolve into a military standoff.  Hamas, Hezbollah and Iran wanted a peaceful settlement to the Syrian crisis, and it was possible. But now it all depends on the world superpowers and not any more on Syrian forces or the Arab nations.
RT:You are both financially and militarily supported by Iran, which is among Syria's closest allies, and it turns out you don't share its opinion on the crisis. Do you feel any pressure because of that? Is there any dispute between you in Tehran?
AB: The fact that we differ in opinions about how best to achieve a peaceful settlement in Syria does not mean that we differ on everything else. We do share the same position with Iran on a number of important and serious issues. In particular, we both stand against Israel and Zionist actions in the Middle East. We have maintained our relations with Iran throughout the entire Syrian crisis. We've kept up our consultations, including those on the issues of the Syrian crisis. 
Iran still supports the resistance movement in Palestine, and that is notwithstanding our differences on Syria. We highly appreciate Iran's support of the Palestinian problem and its help to the Palestinian people. I believe that Iran's position is not politically charged – rather it's ideologically or religiously charged.

There's a reason why Iran supports the Palestinian movement. That's because the issue of Jerusalem is of concern to the entire Islamic world and therefore to Iran which is an Islamic republic. And so our relations with Iran continue; we continue our meetings and discuss both the issues we differ on and the issues we agree on. A week ago, a high-ranking Hamas representative paid an official visit to Iran where he met with Iranian leaders. At the beginning of the year, in January and February, members of the Hamas Political Bureau also visited Iran. We continue to work together to coordinate our steps and to consult on our bilateral relations and the issues of support to the Palestinian resistance movement despite the disagreements we have on some other issues.
RT:Is Iran not angry? If I gave money and weapons to someone I would most likely expect total obedience.
AB: The disagreement we have with Iran on Syria is not political in its essence; it is a disagreement on a particular political problem, disagreement on the approach to the Syrian crisis settlement. We have been cooperating with Iran from the very beginning of the crisis in pursuit of the peaceful political settlement that we unfortunately failed to achieve. But this does not mean that we differ on other issues. We do agree with Iran on a number of issues, especially those related to opposing the Zionist enemy. This is a more important issue. We hope that the Syrian crisis will come to an end and that we will have the opportunity to strengthen our relations, make them more structured, and to revamp the 'Axis of Resistance'.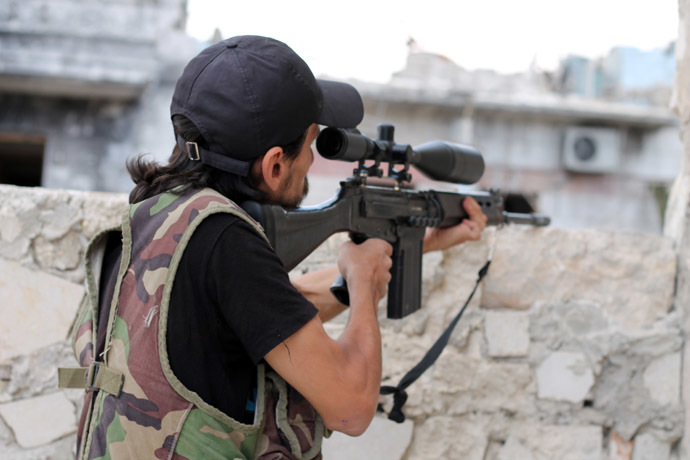 RT:You said that you wish to come back to good relations with Iran. Does that mean they are not as good as they used to be?
AB: I said that we need to revamp and restructure the Axis of Resistance. It was seriously damaged by the Arab Spring. We need to reassess the situation and go through the events all over again to learn the lessons. I want to say that there are many more things we agree on than things we disagree on. That is why we need to cooperate on the issues we have in common, which are many. On top of that, we need to meet each other half way on the issues we have disagreements on and to work out solutions together. 

RT:The whole world is now discussing and has been debating since the beginning: who is fighting against Assad in Syria? I want to ask you as an expert, who you think they are.
AB: There are many common issues where we cooperate, but there are also some differences in the way we look at the Syrian crisis. It's very important for us to interact, to assess the situation and propose solutions that could go as far as reforming the Axis of Resistance. If you look at the union of the moderates, I mean the pro-US force, they have got back on their feet. So it's high time we also get our issues sorted out, the issues that came as a result of this disruption. We were hit by the Syrian crisis but we should not be pessimistic and back down. We need to settle any issues that we might have.
Generally, Hamas is against any foreign intervention in Syria, whichever side it could come from, be it Arab or any other states. We advocate a political solution in Syria and hope that Syrians will come together and agree on the path forward. The Syrian crisis is not a local regional one. It involves many states, parties, groups and individuals. It's our principled position that we are against any foreign military intervention in Syrian affairs, no matter in whose favor it will be – for Bashar Assad or against him. We stand against such an intervention because it would only make the crisis more complicated. What's necessary is to help the Syrians sit down at the negotiating table to hammer out a political solution. 
RT:Al-Nusra Font is fighting in Syria, and they don't make any secret about it. You supported those who were opposed Bashar Assad at the beginning and you said that you would like Assad to give these people what they want. What about those now fighting in Syria? Should the authorities give them what they want?
AB: From the very start, we've been saying that the demands of the Syrian people are only fair and President Assad should satisfy their needs. We called on him and proposed a number of initiatives which I mentioned earlier in this interview. But within a year or several months the Syrian crisis became an international one. 
Today Syria is a battleground of different states. The fighting has taken on an international scale – it's now America v Russia, America v Iran, Palestinian resistance v Israel, and Syrians v Syrians. The Syrian issue has now become extremely complicated and that's why we are against any foreign military intervention in Syria. 
Anyone who sincerely wants integrity for Syria and the Syrian people, the Syrian state and the Syrian army, must help Syrians to reach reconciliation. It's vital to come to an appropriate political solution that would stop the bloodshed going on in Syria and resolve the crisis, empowering people to fulfill their aspirations for freedom and reforms. 
Syria must remain a strong power in the region and continue to play an important role in our common Arab mission, particularly in the settlement of the Palestinian issue.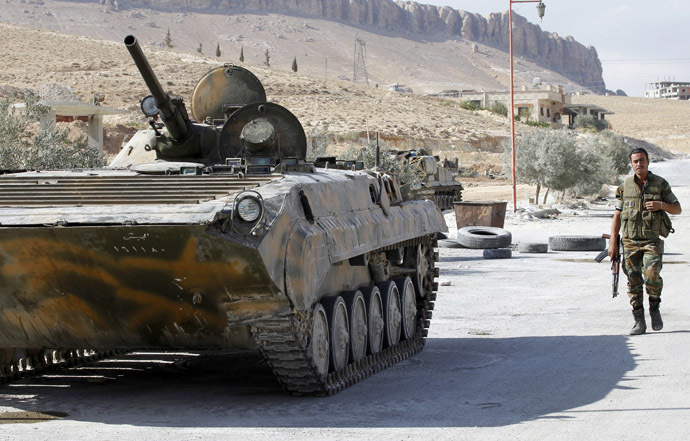 RT:What do you think about many unconfirmed videos coming from Syria showing people executing other people, beheading, kids involved..? What do you think about what this conflict has become?
AB: We have vehemently condemned any violence or crimes against the civilian population. We are against the use of military force in Syria and endorse the efforts aimed at a political settlement of the Syrian crisis. Being a liberation movement, Hamas supports the aspiration of the Arab nations for freedom and better life. We reject any attempts by the US or Israel to interfere with the domestic affairs of the Arab states. Hamas is a moderate Islamist movement. It does not support Islamist extremism and re-affirms the need to resolve internal problems through dialogue and not weapons.
RT:There was information about a Hamas fighter killed in Syria, yet you say Hamas is not on the ground. Could you please clarify this?
AB: A lot of Hamas supporters were killed in the camps of Palestinian refugees – in the Yarmouk camp, Sayyidah Zaynab and al-Husseini. These unarmed men were killed by the supporters of the Syrian regime. They are all Palestinian citizens who support Hamas.
I would like to point out once again that Hamas is not fighting in Syria and does not have any of its military units present there. Al-Qassam Brigades, the military wing of Hamas, is acting exclusively on the Palestinian territories, fighting against Israeli occupation and the Israeli occupation forces.
The number of Palestinians killed in Syria now totals 1,570. They were civilians, not militants. Some of them supported Hamas, some Fatah. Others didn't support any movement and did not belong to any organization. I believe you have to draw a line here between civilians and armed individuals. Again, I would like to confirm that Hamas is not fighting in Syria. 
On December 17, 2012 a Syrian fighter bombed the Abdul-Qader al-Husseini mosque killing and wounding many civilians, including Syrian citizens. The Syrian Air Force conducts raids on camps like al-Husseini, Siniya, Homs, al-Nayrab and Hindarat. These camps house many Palestinian refugees, many of whom support Hamas and other Palestinian organizations.
RT:What are your relations with Hezbollah today?
AB: Our relations with Hezbollah were never severed. We are in constant contact with this organization. Right now we are holding this conversion in Tahrit Sidestreet, in the stronghold of Hezbollah in Lebanon. This is the location of our office, and the operations headquarters of Hezbollah is located on a neighboring street. We have regular contacts with Hezbollah, we hold joint consultations on the Palestinian issue in Lebanon. We also coordinate our activities in terms of ongoing confrontation with the Zionist enemy.
The statements, views and opinions expressed in this column are solely those of the author and do not necessarily represent those of RT.