Yasukuni shrine: Japan's Abe spirited away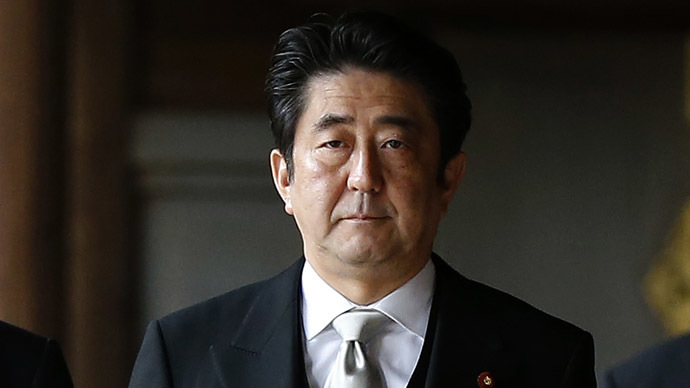 Prime Minister Shinzo Abe is a great believer in the Japanese spirit, literally. Three days after Emperor Akihito's 80th birthday, Abe underlined his nationalist stance and will to confront China head on by visiting the controversial Yasukuni war shrine.
Technically, the shrine (which is run privately, not by the government) is reserved for fallen military personnel who died for the cause of Imperial Japan. After their enshrinement, the deceased become "kami" – spirits. There are over 2.5 million of them at Yasukuni.
All kami (spirits) get egalitarian treatment
The treatment of Kami is egalitarian in Japan. Their previous lives and deeds do not count. Beijing and Seoul cry, rightly so, that some kami were former Class-A war criminals. Tokyo contends that religion and politics are two separate things. So why does the Prime Minister visit the controversial shrine, even if, as he said, it's for private reasons?
After his visit to the shrine, Abe reminded the Chinese and Koreans that strengthening ties with Japan are in their best interest. In the spirit of non-interference into national affairs, Japan is the sole master over its own spiritualism and customs. Fair enough, but observers worry that Abe's Japan may further play down its past war atrocities over portraying itself as the victim of two US atomic bombs. Already, Abe's Liberal Democratic Party (LDP) is determined to remove 'self-condemning' views from the nation's school textbooks.
It is not difficult to understand Japan in the current geopolitical context. Tokyo is afraid of China's rise and, more so, of China's possible retribution – be that economic, cultural, or political.
China's anti-Japanese stance is hard-wired and should give Beijing some headaches in 2014. Although the last visit to Yasukuni by a Prime Minister, Junichiro Koizumi, was in August 2006, each year East Asia's media speculates about which top official is going, and when. Only meetings of Japan's top politicians with His Holiness the 14th Dalai Lama are more controversial.
The Yasukuni shrine is a constant reminder to Japan's neighboring states of the horrors of the Manchurian expedition, the taking of the Korean peninsula, the Massacre of Nanjing, and the abduction of tens of thousands of 'comfort women' by the Japanese army. In particular, to the 1.35 billion Chinese, Yasukuni is a symbol of militarism.
Don't infringe on my affairs and I won't infringe on yours
When Junichiro Koizumi visited the shrine in 2006 he was the outgoing Prime Minister. Shinzo Abe replaced Koizumi that same year, but held office only for one year. He always regretted, he would say later, that he hadn't visited the shrine when he was in high office. When he became Prime Minister again in September 2012, he would impress Japan and the world with his aggressive nationalist agenda to revive the nation's economy (known as 'Abenomics') and revise Japan's pacifist constitution.
Tokyo shocked the Chinese in September 2012 when it bought the controversial Senkaku islands (known in China as Diaoyu island) from a private owner. China had mentally shelved the dispute for future generations to resolve. On November 23, 2013, Beijing established a new 'Air Defense Identification Zone' (ADIZ) in the Eastern China sea, only to find the United States and Japan deliberately ignoring it by sending, among others, two US B-52 bombers right through that zone. Beijing responded on November 29 by navigating its first aircraft carrier, the Liaoning, accompanied by missile boats, through the Taiwan Straits.
The United States has military bases in Japan and about 40,000 soldiers stationed in Okinawa, from where it polices that part of the world. Understandably, many Chinese analysts believe the US to be a major force behind all of Japan's actions against China.
Japan's culture is said to be rich in allegories and parables about the spiritual world. It is often the mission of those "spirited-away" (kamikakushi) to free themselves and others and return to the human world. This human world is currently in a geopolitical mess, with a rising China challenging each and every of its (rival) neighbors.
On spirits, Christmas, and Mao Zedong's 120 anniversary
Most commentators endeavor to find some hidden meaning in the timing of Abe's visit with the spirits. Does it matter that it's also December 26th, Christmas, when the West itself is spirited away and busying itself with a strange religious ritual?
The People's Republic and its media arm were busy on Thursday celebrating the 120th birthday anniversary of its founder, Mao Zedong. The great dictator died in 1976 but he is still venerated for having liberated China from foreign oppression, and for having driven out the Japanese forces. Beijing will almost certainly fill the remaining days of 2013 with written statements, warnings, and possible political retaliation to Abe's bold move.
Thorsten Pattberg for RT
Thorsten Pattberg is a German writer, scholar, and cultural critic. He is a former research fellow at The Institute for Advanced Humanistic Studies at Peking University and the author of 'The East-West Dichotomy'.