Will Prince Andrew's US sex abuse trial spell the end of the British monarchy?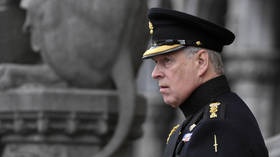 It seems Prince Andrew will have to face an embarrassing court case in the US after all. A judge in New York has ruled that the duke's latest effort to have the case thrown out on a technicality was baseless.
Now, a potential humiliating court case could take place later this year, where Prince Andrew's alleged sexual misdemeanours are sure to be global news.
The case surrounds an allegation that Prince Andrew engaged in sexual activity with a minor back in 2001. The woman involved is Virginia Giuffre, or Roberts, as she was known when the alleged offences took place.
Guiffre was one of the many victims of paedophile Jeffrey Epstein, who was an 'associate' of Prince Andrew. She claims that she was trafficked by Epstein and forced to have sex with Prince Andrew in London, New York, and on Epstein's private island, when she was aged 17.
Prince Andrew denies that the events ever took place. With regards to the London allegation, he claims that he was, at the time, in a Pizza Express restaurant with his daughter, and then spent the night in question at home with his children.
In a bizarre interview given to the BBC, Prince Andrew also questioned Guiffre's allegation that he sweated all over her during the alleged sexual encounter, claiming that a medical condition prevented him from sweating at the time.
The prince even questions the authenticity of a photograph of him with his arm around Giuffre and claims to have never met her. Interestingly, the only other person in the photo in question is a smiling Ghislaine Maxwell, British socialite and Epstein's girlfriend.
Maxwell was found guilty a fortnight ago for, amongst other things, trafficking underage girls for Epstein. For the record, Epstein hanged himself in a prison cell in 2019 after being arrested for sex trafficking. Prince Andrew obviously did not choose his friends wisely and kept bad company.
The red flags have been there for a while now regarding the case, and Prince Andrew's legal team have tried to use all kinds of technicalities to get him off the hook. They first attempted to have the case thrown out on the basis that as Giuffre "lives in Australia" and not in the US, as she claims. They therefore argued that an American court did not have jurisdiction to hear the case.
At the time Giuffre's lawyer said it was "just another in a series of tired attempts by Prince Andrew to duck and dodge the legal merits of the case brought against him." This bid by the prince's lawyers to have the case thrown out was rejected by the New York court on New Year's Day.
And now Prince Andrew's legal team have suffered another setback. They argued that a $500,000 financial settlement Giuffre made with Epstein in 2009 shielded him from the lawsuit. This was today also rejected by the court, allowing for the legal proceedings to continue, which could result in a court case later this year.
Whether Prince Andrew is guilty or not, it is not a good look to attempt – and fail – on multiple occasions to have the case thrown out on technicalities. It allows for the court of public opinion to make its own judgment.
Prince Andrew's lawyers also claim that Giuffre is bringing the case against the Duke of York for financial gain. So, it will be telling if Giuffre accepts an out of court settlement, which could potentially run into millions of dollars.
However, if Giuffre is determined to have her day in court, then an immense amount of harm could be done to the royal family. Indeed, it could make Prince Harry and Meghan Markle's allegations of racism and dysfunctionality pale into insignificance. Indeed, the case has the potential of generating as much global interest as the O.J. Simpson trial of the mid-1990s.
The person you have to feel sorry for is the Queen, who last year lost her husband. How unedifying it could be that this year, which is her Platinum Jubilee, could be overshadowed by her favourite son's alleged sexual exploits being plastered over the world.
But could such a court case have ramifications for the monarchy? Support for the Queen in the UK is particularly high. Polls regularly show that there is little appetite in the UK for republicanism while she is on the throne.
Nevertheless, the Queen cannot go on forever. She is 95 now and there is no guarantee that the warmth felt towards her will be replicated for her descendants. Indeed, polls show that around a third of Brits would like to see the monarchy disbanded after the Queen dies and move to a republic.
The monarchy has survived sex scandals before, but that was in the days before social media and 24-hour rolling news. The sight of a British royal's sex life being poured over in an American court will of course be embarrassing, but in the longer term, it could prove fatal for the royal family.
The statements, views and opinions expressed in this column are solely those of the author and do not necessarily represent those of RT.
You can share this story on social media: