A socialist or the son of a Nazi? The choice facing Chile this weekend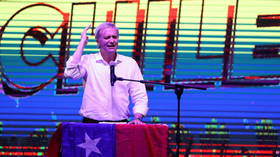 Chile's upcoming presidential election pits a progressive against a hardline right candidate, showing that the country is just as politically divided as it is economically.
Nineteen million Chileans will head to the polls on Sunday to vote in one of the most polarizing and dramatic presidential elections Latin America has seen in recent times. After years of protests against inequality and the ongoing constitutional assembly as a backdrop, this election will mark a major shift in Chile's political direction that could influence the region and the world. The only question is, which direction will that be?
From the left flank, there's Gabriel Boric, a 35-year-old longtime activist who wants to expand the country's social programs, including nationalizing the country's pension system. He plans to do this, for example, by taxing major mining companies that operate in Chile. Boric also wants to protect abortion rights and same-sex marriage, as well as give Indigenous communities more rights.
On the (far) right, there's José Antonio Kast, a conservative Catholic that wants to cut taxes, halt immigration, and return to what his supporters call "traditional family values." He is an open admirer of former dictator General Augusto Pinochet, whom his brother Miguel served under as the country's central bank president.
His father was also recently revealed to have been a member of Adolf Hitler's Nazi Party, which is ironic since he's supported by a wide swath of Chile's Jewish community thanks to his opponent's criticism of Israel.
The latest poll reported by Reuters shows that a quarter of voters remain undecided. However, it still has Boric up by a narrow four-point lead, down from eight points at the end of November. At the same time, it was Kast that shocked the country by winning a plurality of votes in the first-round election. By any assessment this race is about as close as it gets, but what's exactly at stake?
Well, for one, the country's political future. Back in October 2020, 78% of Chilean voters backed the creation of a new constitution, which was an indictment of the current constitution adopted in 1973 under the right-wing junta of General Pinochet.
For all intents and purposes, neoliberalism, as it was concocted in the University of Chicago, was born in Chile and, according to the results of that referendum, could very well die in Chile. (This was also the content of one popular slogan during the lead-up to the referendum).
However, just because that plebiscite made clear that Chileans want change, it did not specify what kind of change. That's why Chileans selected a (to be fair, left-leaning) assembly to draft a new constitution, which is taking place now as the backdrop to this presidential election. The outcome of which will doubtless influence the content of the constitution.
In the grander scheme, the entire discussion about the constitution and the intense divide between the two presidential candidates reflects the country's deep inequality, which, according to OECD data, is among the worst in the world. Chile has seen ongoing protests, mainly against inequality, since October 2019, which sparked international headlines and was the impetus for the constitutional referendum.
Both candidates want to address inequality in fundamentally different ways, with Boric wanting redistributive policies that aim to reduce inequality by footing the bill to private corporations and Kast in favor of doubling down on the Pinochet model that he and his supporters see as having been successful but was, in reality, the thing that turbo-charged inequality.
In addition, Kast has also focused the final weeks of his campaign on immigration because of large anti-immigration protests sparked in reaction to migrants coming in, mainly from Venezuela, but also Haiti. Kast and his supporters have blamed much of the country's woes on the nearly 1.5 million migrants in the country, saying that tougher restrictions – even trenches on the borders – are needed to take pressure off the state and society.
On the other hand, Boric has deferred to human rights and humanitarian conventions with no clear specifics on how his government would address the problem. Many on the left view this issue as a scapegoat by Kast and his supporters for pressing domestic issues, and I would agree, however, it's an issue that may indeed be eroding Boric's slim lead because of the traction it's gaining on social media.
In any case, social issues aside, as important as they may be for voters, the results of this election will be indicative of Chile's future political and socio-economic direction. It is essentially a battle between Chile's wealthy and its working class, and this has massive implications for Chile and the region.
This is because it could represent a hard turn away from neoliberalism, as was the case in Bolivia, or, on the other hand, a hard doubling down, like in Ecuador. Given Chile's relative wealth and stability in Latin America, it could determine the fate of a growing anti-imperialist coalition in the region after a string of left-wing election wins.
The statements, views and opinions expressed in this column are solely those of the author and do not necessarily represent those of RT.
You can share this story on social media: