Tara Reade: The shaming of sexual assault whistleblowers has to stop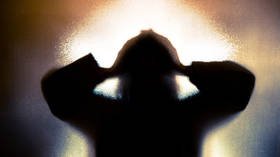 The abhorrent tactic of victim-shaming the women who speak out against those committing sexual harassment is now all too common in the US. It signifies the diabolical intent to protect powerful predators at the expense of truth.
When Amy Franck decided to become a whistleblower on sexual assault and sexual harassment in the United States military, she realized that it meant possibly losing her career due to the retaliation that regularly faces those who challenge and expose a broken system.
However, as a survivor herself, Franck was determined to speak up for young soldiers and victims of soldiers who were denied access to justice. The cases included domestic violence as well as sexual assault, and some resulted in suicide by the victim, murder, and unexplained deaths.
In a recent episode of my podcast 'The Politics of Survival', Franck – who'd held the position of sexual assault response coordinator and sexual assault program manager for Army Service Component Commands – discussed the harsh reality of the military's lack of response to an epidemic of sexual assault in the ranks, and the damage it has done.
Franck stated bluntly, "One in four women in the military will be sexually assaulted. The rates of suicide … we have had over 30,000 kill themselves [since 9/11]. [There is] no data how many are related to sexual assault."
"They wanted me to shut up, [and] not speak up about what was happening to these soldiers. They are trying to revoke my credentials and take away my security clearance." As well as that, Franck's own case was leaked, violating her confidentiality, and she was denied access to advocates.
But that has not deterred her from continuing to speak out. She explained, "My soldiers trust me … like the lady who was raped at 17 years old and she was still getting retaliation. She emailed me from Kuwait still unable to get help. Even though I was suspended, I was trying to get her help."
Franck created a nonprofit, Never Alone, to help soldiers and their families access resources and advocacy. She cites one case where a victim took her own life after nine special forces officers gang-raped her and nothing was investigated. According to Franck, the pervasiveness of sexual assault and domestic violence in the military ensure that Never Alone is a much-needed resource.
She also has experience of the problems of dealing with the Time's Up Legal Defense Fund, receiving an attorney who then dropped her two weeks before her rebuttal hearing. Franck was left with a complicated legal case and potentially no representation to face the US inspector general, but resourcefully found a new attorney and is now waiting to see if Time's Up will come through with the funding it promised.
Franck concluded, "When I hold the hands of moms and dads whose children killed themselves because they were raped and their commanders did not protect them … they deserve a voice." Since our conversation on the podcast, Franck has again been threatened with the stripping of her credentials. She has filed a rebuttal and continues to ask for an investigation into the response to sexual assault cases in the US military.
As Franck's story demonstrates, it is not easy to be a whistleblower in any situation, but especially in institutions with embedded misogyny. As we have seen in the case of former New York Governor Andrew Cuomo, finding the truth was not necessarily top of the agenda.
The attorney general of New York released the details of the criminal investigation into Cuomo's behavior toward his own staff, with startling and damning results. In one exchange between upper-level Cuomo staff, it was discussed how to "shame a victim" publicly, referring to Lindsey Boylan and Charlotte Bennett, by employing the same tactics Joe Biden used against me during his campaign.
The 'playbook' is to discredit and shame survivors into silence. We are made into inhuman objects of ridicule to shield the powerful predator from being exposed with his sexual misconduct. The intention is to destroy and demean survivors.
These tactics were used against Rose McGowan for years, the Cosby survivors, and so many others – including me. The criminal investigation by the NY attorney general revealed how Chris Cuomo, the long-time anchor on CNN, used his media contacts to try to downplay the charges of sexual misconduct against his brother. After the public airing of the report CNN suspended him from his duties.
The truth is, though, there were many complicit with trying to silence the truth about Andrew Cuomo that would lead to his resignation. The incriminating messages in the attorney general's report provided a snapshot of how an elite is protected.
"Pull what Biden said when he was accused during campaign," ex-Cuomo aide Dani Lever said to other advisers.
"This absolutely did not happen," Lever then wrote, quoting what the Biden campaign said about me verbatim, before upping the ante by advising the wider team around Cuomo, "I think we can victim-shame on the record."
Lever concluded her texts by saying, "And Biden camp never mentioned Biden in the denial part only the part about women. It elevates it. This will be a Cuomo spox 'there's simply no truth to these claims.'"
The diabolical intent to win at the expense of the truth is clear. And it is the pervasive attitude in the Democratic leadership. The plan was not only to silence Lindsey Boylan but to destroy her reputation (as mine was destroyed by the Biden campaign machine), further illustrating the Machiavellian approach to governance in America.
The only solution is to keep exposing the political corruption and the rotted infrastructure that destroys its own citizens. The process of coming forward about sexual misconduct should not mean whistleblowers are targeted. There is another path: one of honoring each other's humanity and learning from past mistakes, instead of the perpetuation of a cycle of misconduct and misuse of power.
The statements, views and opinions expressed in this column are solely those of the author and do not necessarily represent those of RT.
You can share this story on social media: