Free market didn't work: How a major business boss admitted the failure of capitalism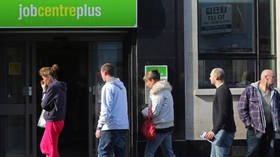 'Capitalism has failed' was the essence of Confederation of British Industry Director General Tony Danker's message to its annual conference – presumably motivated by being on the right side of history.
The Port of Tyne in South Shields in England's north-east is not an obvious place for Britain's business leaders to meet.
The area was once central to the country's industry, but has been decimated by government policy and a callous carelessness by politicians from all sides of the political spectrum over the past five decades.
This has meant that South Shields – just like other areas such as East Durham, South Yorkshire, Staffordshire, and Nottinghamshire –has been left without hope for generations. It's become one of those places labelled as 'the left behind', although a truer description would be 'purposefully and politically left out'.
Yet it was here that the Confederation of British Industry held its three-day annual conference, unexpectedly dominating headlines on account of Boris Johnson's disastrous speech, with the prime minister losing his place, shuffling his papers, throwing out incoherent anecdotes about Peppa Pig, and making car noises. Predictably Johnson's bizarre behaviour dominated discussion on news programmes and Twitter.
The focus, however, should have been on the serious and pressing discussions on the industrial and economic future of Britain. Perhaps the nonsensical debates about Johnson's relationship with an animated character were a deliberate distraction, because when Tony Danker, the director general of the CBI, addressed the floor, his words were scathing and worthy of further analysis.
Bearing in mind he is a captain of industry and the CBI a champion of free market capitalism, Danker used his speech to deliver a damning critique of it, which he said had left swathes of the country in decline, accusing successive governments of allowing "old industries to die" with communities facing "benign neglect," adding, "We've had five decades where the free market has palpably failed."
Danker criticised Thatcherism and Blairism, but also the current government's 'levelling up agenda', hitting out at PM Johnson for giving "very little" detail on how he planned to boost wealth around the country.
And he attacked current and historical government policies which have left great swathes of the North and the Midlands on lower wages, with poor and low-level work that offers no pride and dignity, and results in boarded-up high streets.
I wonder why these words have not been given more prominence in the mainstream media – "capitalism has failed, says capitalist" – and instead the focus has been put on the bumbling of our hopeless PM, preventing a serious and much needed debate about industry, growth, and inequality in Britain today.
It's interesting that Danker has started to talk about the right side of history, a contemporary concern among many in politics, whether in government or on Twitter. Everyone claims to be on the right side of history, despite the fact that it is time and historians and public reflexivity which will decide that – not columnists like Owen Jones in The Guardian.
It is coming up to 40 years since the miners went into dispute with the government about pit closures. The National Union of Miners, the miners themselves, and their wider communities knew that the battle was not over the industry alone, but a fight to the death for those communities – our dignity and our future and our class.
We lost. Our villages, towns, and cities very quickly became filled with drugs as the jobs left, and anyone who could get out did, including me. Those communities are still hanging on, but only because of the resilience of the people – because even today they are still being attacked, ignored, and vilified by politicians, the media, and an ever-increasing fearful and mediocre middle class who are terrified of the British working class.
It is the mediocre middle class in particular who desperately need to be on the right side of history, through their use of whatever fashionable identity politics they need to fight for today – to appease their conscience and attempt to justify their unearned class advantages.
And yet we have had political leaders who have been on the right side of history, and it is time that their words were remembered. Arthur Scargill, the leader of the NUM, went to war with free market capitalism, because he understood what was coming once our industries had disappeared – the power that working-class people collectively relied upon would be gone and that imbalance would lead to an ever-widening inequality gap, with the poorest becoming poorer, the middle class clinging on to their position like limpets, and the elites soaring away from the rest.
In 1984, Scargill addressed the NUM conference with a straight-talking passion and a love for the people he represented that today is absent in our politics. His words now seem prescient. "The devastation threatening our communities is dramatically and tragically compounded by the destructive monetarist policies which this Government has unleashed. With over four-and-a-half million unemployed people, Britain's industrial base crippled by lack of investment, and the nation's social services network being torn to shreds, there is a climate of helplessness, hopelessness and outright despair. It is our responsibility as trade unionists to fight that despair and oppose the policies which created it."
History was written by the miners' strike, and is now being lived painfully every day through every flippant joke and nasty sneer about 'the stupid and racist' working class, and in every food bank, every suicide, and every crack house that has opened up amongst our deindustrialised working class communities.
I ask you how history will judge you.
If you like this story, share it with a friend!
The statements, views and opinions expressed in this column are solely those of the author and do not necessarily represent those of RT.
You can share this story on social media: