Let's remember who's really to blame for the disastrous night Rittenhouse shot two dead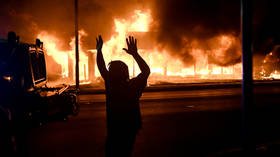 The trial of Kyle Rittenhouse, the deaths of two men, the destruction of a Wisconsin town – none of this happens if progressive Governor Tony Evers had been tougher and prevented a riot from happening.
It all took place less than a 45-minute drive from my front door amidst the quiet green of Wisconsin: The police shooting of Jacob Blake in 2020; the subsequent protest marches through Milwaukee that summer; the riots that burned Kenosha; the arming of Kyle Rittenhouse; the deadly gunplay that killed convicted criminals Joseph Rosenbaum and Anthony Huber; the ugly trial of Rittenhouse that captured the nation's nauseated attention; and the inevitable and destructive verdict of not guilty.
What's lost in these days of deepening racial animus in the wake of the verdict is the cynical truth that those August 2020 riots and the confrontation of Rittenhouse, Rosenbaum, and Huber would never have happened if the weak, impotent progressive Evers hadn't given his passive permission for the Kenosha protesters to torch the city rather than risk offending the nation's blue voting base.
As the jury's controversial decision arrived on a tense Friday afternoon last week, a predictable torrent of muddy, partisan celebration poured from one sewer, while outrage flowed from the other. Across broadcast and social media, Rittenhouse was either a patriot defending himself and others or a bloodthirsty white supremacist. All wary eyes atop the nation's watchtowers turned to see if tiny Kenosha would burn again as our culture seems determined to learn nothing, crisis to crisis.
As the weekend played out, some well-organized looting of high-end retail stores struck a blow for racial harmony here and there across the US. Otherwise, a sprinkling of underwhelming, half-hearted protests moped around bigger cities more out of requirement than passion.
You can mark that social justice fizzle down to two possibilities. 1) It's no fun for half-hearted, narcissism-driven modern activists to march and take selfies when half the US is sinking into winter temperatures. 2) There's a subtle feeling in the country's political zeitgeist that the Rittenhouse case was dead on arrival because the real crime of pearl-clutching inactivity by Evers occurred after the cop's gunplay and before Rittenhouse opened fire.
And now, sadly, we wait on the motive for the Christmas parade attack in Waukesha. Evers' inaction will seem all the more horrific if that attack is tagged as a Rittenhouse response.
The Kenosha police shooting of the raging and confrontational Blake did not happen in a bubble. It filled headlines hot on the heels of the George Floyd tragedy. The country's racial nerves were worn raw by the image of a sociopathic sadist with a badge killing a non-violent suspect by kneeling on his neck.
The officer who fired in southeastern Wisconsin was not Derek Chauvin, and Blake was not George Floyd. After multiple non-lethal attempts to restrain Blake in the midst of his trespassing, the cops found themselves confronted by a wild, non-compliant man with a history of violence raging in close proximity to children. They fired on Blake and paralyzed him. Naturally, since the modern civil rights movement seems capable only of choosing accused criminals like Blake or failed NFL quarterbacks as heroes and role models, the "me first" activist crowd flocked to little Kenosha to slash tires and light fires.
Neither polarized, partisan camp will admit the truth that Rittenhouse is an odd, awkward teenager playing Rambo with his assault rifle who ran into a group of violent protestors with criminal records seeing themselves as John Brown's freedom fighters for a night. A bunch of hyped-up buffoons enabled by a simpleton's political argument met on the street, and people died. It should never have gone that far.
Of course, like every other state in the Union, Wisconsin has a standing National Guard always ready for assembly and assignment. A governor can deploy those troops for everything from disaster assistance to peacekeeping. In 2020, with the nationwide riots following Floyd's death still smoking in the rearview mirror, it didn't take a gifted political vision to assume Kenosha was headed for trouble after the Blake shooting.
With that in mind, Evers had at his disposal a combined force of more than 7,700 Guard troops available to keep the lid on the protests. Folks could still march and chant through the streets as long as they liked, but it's harder to smash and grab with soldiers on your six.
Evers waited 24 hours after the Blake incident and then deployed only 250. Those troops weren't getting into Kenosha until the riots were already underway. The town was in a terrified lockdown. Shops were on fire. Rittenhouse would arrive that night with a rifle and shoot three in the midst of the chaos.
Why did Evers hesitate? For the most basic explanation, leadership requires a resolute leader, and Evers need not apply. Look at this feckless weed. Somewhere, 'Night of the Living Dead' is missing a zombie. Evers' leadership style has all the bold reassurance of a kitten's yawn, and only the poor and helpless microphones forced into his gaunt puss bother listening to his wheezing policy pronouncements. He swept into power only when his corrupt predecessor (failed presidential candidate Scott Walker) became too unpopular to re-elect, and he's a dead man walking (or deader man) when his term ends.
Faced with a racial justice controversy and resulting destructive unrest, Evers mumbled out a call for peace, made a token gesture of putting the Guard on standby, and hid in his Madison mansion.
Beyond Evers' sloth-based display of gubernatorial splendor, he let Kenosha suffer out of loyalty to the national progressive base. The 2020 political campaign was in full swing, and the destruction of a small Wisconsin city didn't make Donald Trump's America look well-mannered or well-managed.
Also, starting with the national Floyd riots, there seemed to be an unofficial understanding in progressive enclaves that even the most deadly protests that did the most damage to the property of innocent taxpayers should be not only allowed to continue, but also celebrated as expressions of peaceful free speech. The ugly underlining, wink and a nod theme read, "America struggled to settle racial issues in its history. It's only fair folks get to destroy property and loot clothing stores. We'll let you get a good head start and look the other way."
The result in Wisconsin? More than $50 million in property damage and two deaths.
The moment government officials apply partisan philosophies to condone violence, the entire purpose of having any government disintegrates. If our safety isn't protected, why have authorities charged with protecting us? Whether we see face-painted grunts storming the US Senate floor on January 6, or halfwit, wannabe civil rights heroes torching and looting storefronts in Kenosha circa 2020, a riot is a riot. People die in such events. Property is destroyed. The livelihoods of innocent people smolder through the night.
Now, progressives on all sides can revel in their faux outrage for a couple of weeks following the Rittenhouse verdict. Deep down, they're never happier than when they have a race-driven dust-up to pontificate over while staying as far away from actual social progress as Evers did from the National Guard hotline during the night of Kyle Rittenhouse.
Think your friends would be interested? Share this story!
The statements, views and opinions expressed in this column are solely those of the author and do not necessarily represent those of RT.
You can share this story on social media: