Has the situation at the US border improved under Biden? If anything, it's worse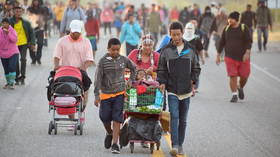 Joe Biden continues to uphold the Trump-era 'Title 42' emergency policy, allowing the controversial mass deportation of migrants, under the guise of fighting the spread of Covid-19. But is he any better than his predecessor?
President Biden has been repeatedly slammed from the left over his 'Trumpian' approach to securing the US border. To learn more about the migrants attempting to enter the country, RT spoke to Benjamin Wein, a Mexico-based journalist who has been travelling with one of the numerous migrant caravans currently heading towards the US border.
Ben believes the laws the US has been enforcing since the Obama administration are "not fit for purpose," and urges a complete re-think on the issue of migration. He argues the reason many of these laws were not enforced in the past was due to an understanding it was nearly impossible to make them work.
Describing the conditions for those travelling with the caravan, Ben said they were: "extreme heat, sleeping in small towns and villages that don't have any services … just sleeping in the open air … at the plazas and in the local parks."All the while, the migrants were "being closely pursued by immigration officials and the police," he noted.
"The size of the caravan fluctuated as people joined and left," Ben continued, "My figure at the start was 2,000, and I revised that up to 2,500; that's now dropped to between 1,000 and 1,500, but there are still a core of people that were there at the start and are still there now, without a doubt. Media figures have varied widely: some media had reported 6,000, which was always out of the question, so pinning down numbers has been a bit tricky."
Who is leading the caravan?
"The two leaders are Mexicans who have had traumatic experiences with authority," Ben said. "One has a history of migration to the United States – when he was young, his family migrated there. His father was treated poorly from what I can ascertain from migration officials, and that trauma has remained with him. The other worked for the Attorney General's Office in Mexico City. He was imprisoned for some ridiculous amount of time, like 70 years or so, and was released I think after 11 years, claiming that he was a political prisoner, and organisations like Amnesty International campaigned on his behalf – successfully, in the end."
Where have the people come from?
An interesting mix of nationalities are participating in this caravan, Ben shared: "The type of people in the caravan, nationalities wise, is largely Central American; the majority of the people in the caravan were from Honduras, the largest migration wave to Mexico recently has been from Haiti, but they did not make up the large proportion of the caravan. Although there were Haitians, there were Venezuelans, there were Cubans, and people from further afield – there were Africans: Ghanaians, Malians, Nigerians. There was also one man from Palestine, and there was a Chinese family, but I think they left the caravan quite early."
"Some were old, above 70, some disabled, there were people in the caravan in wheelchairs," Ben said of those making the arduous trip. "There were a high proportion of children and pregnant women; other women travelling on their own with children, [women] whose husbands had been murdered in Central America. It was the highest proportion of children and women that there have been in any caravan, the organisers said. Largely they were ... not rich people, but many were not coming from poverty, which is certainly a point of discussion."
Why were they making this dangerous journey?
"The stated motivations in most cases are to go to the United States and to claim asylum," he explained. "Especially if they are coming from violent situations, which were common in Honduras particularly, and one Nigerian I spoke to had a similar tale of violence."
Ben then pointed out an interesting element to US policy, adding, "People who aren't coming from life-threatening situations are looking to claim asylum, based on their nationality. This is how the asylum situation seems to work. People from Cuba, Venezuela, and Nicaragua have the best chance of claiming asylum in the States, due to the political differences that the countries have. It wouldn't be as easy for a Honduran, even though the chances of them coming from an extremely violent situation are potentially higher."
Ben was locked up in a migrant detention centre himself after being found without his passport by authorities. Revealing the shocking conditions he was kept in at the compound in Tapachula, near the Mexican/Guatemalan border, he said: "It's a prison. It's termed as 'rescue' by migration officials and the foreign secretary, but it's a door that closes and you are not allowed to leave. You just have to wait your turn for your name to eventually be called. That could be months. That's what migrants are going through when they enter Mexico. "
But before they are even detained, the migrants face serious hardship. Ben revealed, "There are a lot of people who are not in any shape to be walking 30 kilometres in the beating sun, people with very very young children, young children suffering from the heat, dehydration, and there was a dengue fever outbreak." He added, "Nutrition is a big issue; there isn't enough food going around by a long shot, people are not eating in a regular way. Some of the towns would kindly bring out food and drinks, which was kind of them but it wasn't really enough to nourish people properly."
Plenty of organisations are involved in observing the caravan, such as the Mexican Human Rights Commission, the UN refugee organisation, and the UN migrant organisation. "There were some medical officials involved, which the migration authority in Mexico was in pains to point out, in every press release," Ben added. "They were providing medical attention, but it was very little, and there were four people for 2,500 migrants and there were no doctors among them – they weren't even able to prescribe anything of strength."
Ben also revealed a violent incident that unfolded between the caravan and the Mexican authorities. "The caravan was tailed by a big truck of 30 or so military police who were ready to pick off anyone who fell behind," he said. "Everyone was fearful of falling behind or going too slow, because they'd be picked off and they'd be sent somewhere that they really didn't want to go. That broke into violence that was quite extreme, about a week ago.
"The migrants said that the police had been abusive in the way that they were detaining people. There was a big reaction and the migrants gave these riot police a pretty good kicking, to be honest. In one case, there was a police officer who was beaten whilst unconscious, and then another video showed him being protected by other migrants who then took him back to the police line."
Ben stressed that, aside from this incident, there had been little violence.
Is all this the policy of the Biden administration?
"Whether it's connected to US policy, Mexico is surely under pressure from the US to stem the flow of migrants, that's without doubt." Ben said. "What money is going where is a question I don't know the answer to, but Mexicans aren't doing this out of the good of their hearts; they realise that the migrants want to go to the US and that eventually they will go to the US, at least to the border, so there's a motive here which is a bit unexplained, and there is clearly serious pressure from the US and possibly a good reward for the work that the Mexicans are doing on their behalf."
"I don't think the situation changed dramatically between Trump and Biden," he said. "There's always been a massive amount of migration between Mexico and the United States. What's changed is that laws are being enforced, in the States, that were not enforced in the past… starting with the Obama administration and a massive number of Mexicans are being deported from other countries, and it's really squeezing Central America. And Mexico's a neighbour, so they'll always be able to migrate more easily, but the fact that Mexico is enforcing laws on the US' behalf, so to speak, is really squeezing and isolating Central America... It seems that there's two sides of the aisle in the United States that aren't really interested enough in this issue to address it with any seriousness. There's a right wing that thinks that the migrants are all criminals and they're dangerous, and there's a left wing that thinks they are impoverished and in need of their sympathy, and neither of those are really helping."
What can be done to end the crisis?
"My view is that they need a thorough re-think and the whole way that we think about migration needs to shift; it's not optional. There's gonna be migration, there always has been, and that will continue." Ben said. Offering a distinctly un-Trumpian solution to the crisis, he continued, "I think the best approach for the United States is to offer six-month visas, or however long they may be, to Central Americans and Haitians and Mexicans. They can go to the country, they have to leave after six months, and then they'll go back to their countries – and they'll have made a lot of dollars, they'll live quite well like that. It could be a path to citizenship eventually, but that could be up to the US authorities, and I think Central Americans and Haitians would be entirely satisfied with that. They are not necessarily looking for the so-called American dream, it's not citizenship or nothing for them; many would be happy to earn better money, to be able to look after their families in their countries."
Like this story? Share it with a friend!
The statements, views and opinions expressed in this column are solely those of the author and do not necessarily represent those of RT.
You can share this story on social media: