This is why everything is so expensive, and why nobody in power seems to care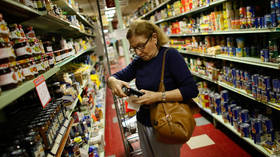 Across the West, prices are rising at their fastest rate for years but politicians and the media obsessed with climate change, Covid and culture wars don't seem bothered with the hardship inflation is causing to ordinary people.
Just look at the UK. In Britain, the Consumer Price Index, which measures the average change in prices over time of goods and services, leapt to 4.2% in October, its highest rate since 2012. But that official figure only tells half the story because the prices of other essentials have risen much higher. Take petrol.
On May 29, 2020 the average price of a litre of petrol was 106.83p. By November 16, 2021 it climbed to 146.6p – amounting to a 37.22% increase. On May 29, 2020 it cost £58.76 to fill up a Ford Focus with a 55 litre petrol tank, on November 16, 2021, it was £80.63.
Then there's utility bills. Gas bills rose 28.1% in the year to October. Electricity bills by 18.8%. Whether we're talking used cars (27.4% increase since April), apples (24.1%), margarine (19.7%), hotel accommodation or fish and chips, it's hard to think of anything which isn't more expensive – in some cases a great deal more expensive than 18 months ago.
Back in the 1960s and '70s, such significant price spikes would have dominated the political debate. I'm old enough to remember when entire elections were fought around 'the cost of living'. 'The shopping basket' was the thing that determined the all-important 'swing vote'.
Today though, the political elite and the punditocracy have loftier things to discuss. Climate change. Covid. Culture wars. ID politics. Gender pronouns. Meanwhile, as the 'commentators' shout over themselves in TV studios, arguing about topics that seem alien to the general public, millions of families, looking at their latest energy bills, or seeing the prices at the pumps, are asking the simple question: 'How are we going to make ends meet when everything has become so expensive?' The disconnect between the ruling class (with both its faux-right and faux-left wings) and the governed has never been greater.
There are a number of reasons for the big rise in the cost of living – which, it must be said, other countries in the West and not just Britain are also experiencing. The 'Great Reset/Net Zero Green agenda' – enthusiastically pursued by all the main parties – is undoubtedly one of the main causes. As if the highest petrol prices in a decade wasn't enough, in London, the virtue-signalling, anti-car Mayor Sadiq Khan has expanded the new Ultra Low Emissions Zone, meaning thousands of drivers of older cars have to pay an extra £12.50 a day on top of the existing £15 Congestion Charge. £27.50 a day to drive in London? Leave it out, Rodney! No one is saying we shouldn't be addressing climate change and analysing its causes very carefully, but the introduction of Khan's scheme when well-heeled 'inside the tenters' were flying into Glasgow on their private jets for 'COP26' was as blatant an example of 'class war' as you'll ever find. You can have Davos-approved 'climate change legislation' and you can have policies to lower the cost of living but you can't have both.
The long lockdowns of 2020 and 2021 have also led, quite predictably, not just to problems in global supply chains but to companies who lost revenue during that time attempting to claw back some of their income by hiking their prices. The situation has been made worse by the threat of further lockdowns – and more restrictions – still hanging over sectors such as hospitality and the leisure industry. And of course, the difficulties in travelling abroad inevitably have led to prices going up for domestic accommodation as millions of Brits have no real option but to stay at home for their holidays.
The UK government has pledged £500 million for its 'Household Support Fund', for the 'most vulnerable' families, but it's not enough. For a start, it needs to reverse its shameful decision to suspend the Triple Lock mechanism for rises in the state pension. Unless that happens, Britain's pensioners will receive only a paltry 3.1% increase next year at a time when their gas bills are going through the roof. The government also needs to reduce duties on motor fuel and so-called 'green taxes' and make it clear that there will be no more lockdowns or costly 'Plan B' restrictions on business – which always end up being passed on to the consumer.
It's quite fashionable in certain circles to say 'Who cares about inflation?' but it's very different if we see inflation as a tax on savings. Interest rates are at a record low of 0.1%. Savers have had it really bad in Britain in recent years, and it's getting even worse with the latest price rises. The Bank of England warns that the CPI will hit 5% in April, and energy bills are predicted to go up again sharply next year.
A recent exchange on a television programme showed us what we're up against. The presenter was noting how the government had frozen fuel duty in the Budget but one pundit seemed angry that the price of petrol wasn't going up still further. What world do these people live in? Not the same one as you and I, that's for sure.
Think your friends would be interested? Share this story!
The statements, views and opinions expressed in this column are solely those of the author and do not necessarily represent those of RT.
You can share this story on social media: