Hungary staying in the EU will cause more problems than leaving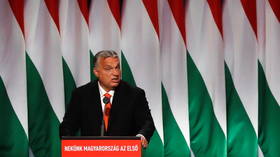 Hungarian PM Viktor Orban's announcement that he aims to reform the European Union from within will be greeted with alarm by some Western European nations tired of the problems he is constantly causing them. 
Orban has made it clear that his country does not want to leave the European Union – although he has also signalled his intent to fight for significant changes within the bloc.
In a speech given in Budapest to his Fidesz party supporters, Orban said that "We don't want to leave the EU at all, they can't get rid of us so easily … we want to keep our sovereignty and we don't want to find ourselves in a United States of Europe, instead of integration." In reference to Hungary's past, Orban also said, "After communist bureaucracy… we don't want new dictates this time from Brussels."
Orban has also been increasingly uncomfortable about where the EU is headed in recent years, and is particularly concerned how Western European liberal values are being imposed on all member states, regardless of whether they agree or not.
The PM told the cheering crowd that "we will not give up the right to defend our borders, to stop migrants … we insist that marriage in Hungary is between a man and a woman, a father is a man and a mother is a woman … and they should leave our children alone."
Over the past few years, Orban has been a constant headache for Brussels – so much so that some EU member states would prefer if Hungary left the bloc altogether. Indeed, Dutch PM Mark Rutte recently said that "Hungary has no place in the EU anymore," which prompted Hungarian Justice Minister Judit Varga to respond, "Hungary doesn't want to leave the EU. On the contrary, we want to save it from hypocrites."
Dutch @MinPres Mark Rutte's statement today is not more than another episode from the political blackmailing series. #Hungary doesn't want to leave the #EU. On the contrary, we want to save it from hypocrites.

— Judit Varga (@JuditVarga_EU) June 24, 2021
I, for one, am not sure the EU can be saved in the long term. The problems are clearly mounting, and Brussels seems to be constantly attempting to put out fires – whether it is Covid on the rise again on the continent, the migrant issue on the Poland- Belarus border, or the constant battle with the UK over Brexit.
And added into this mix is a hostile Hungary, which, as Orban said, is determined to seek the kinds of reforms that Brussels does not want to give. So, what kind of reforms is he keen to see?
Well, first and foremost, he wants nation states to have the power to oversee and enact their own laws, which are in accordance with their own traditions and values. Orban also wants an end to further integration, which he believes is diluting the sovereignty of nation states. Put simply, he wants less EU interference in his country's affairs.
This puts Orban on a direct collision course with the EU, whose clear goal from its inception was the integration of its member states. Indeed, as the old saying goes, "the proof is in the pudding," and the flag, the anthem, the Euro currency, and now the proposed EU army are all clear indicators of where the project is headed.
Orban has recently clashed with the EU on a number of issues. His government's determination to keep LGBT literature out of schools has provoked an extreme reaction from MEPs, who have called for sanctions to be imposed. An undeterred Orban has responded by threatening to call a national referendum on the issue.
Orban also wants to see proper border controls imposed, and he wants the EU to pay for them. Although Brussels initially dismissed the idea of funding border walls or fences, it seems to be performing an embarrassing volte face following the chaotic scenes on the Poland-Belarus border. So, we could be witnessing a victory for Orban and his government.
Orban has indicated that he is prepared to fight for these objectives from within in the EU, and this could present a major problem for Brussels – especially as there is no real mechanism to kick out a member state, as that requires unanimity of the European Council.
An example of how troublesome Orban can be came last year when Hungary, along with Poland, blocked the ratification of the 1.8-trillion-euro EU budget until they received concessions on the issue of EU law.
Orban is also attempting to form alliances with ideological brethren. For example, he has been a vocal supporter of the Polish government in its recent battles with Brussels over the primacy of EU law. Indeed, his own government could be on the cusp of a similar battle with the EU over the deportation of refugees.
Finally, Orban has recently been attempting to unite Europe's right in an effort to block further EU integration, and he has held a series of meetings with his counterparts from Italy, France, Poland, the Czech Republic, and Slovenia in an effort to promote this idea. The ultimate aim is to form a group of like-minded MEPs in the European Parliament, who will become the second-largest group in the chamber.
In the long term, I firmly believe that Hungary will one day leave the EU, as will a number of other states. However, in the short and medium term, it is clear that Orban is going to be a persistent thorn in Brussels' side and will continue to infuriate the leaders of the liberal Western European member states.
If you like this story, share it with a friend!
The statements, views and opinions expressed in this column are solely those of the author and do not necessarily represent those of RT.
You can share this story on social media: