The EU-Hungary row over an anti-LGBTQ law is a clash of cultures that underpins why European integration will never work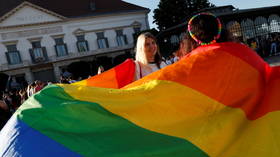 Hungary's controversial law banning the promotion of homosexuality to minors is none of the EU's business, and Brussels' attempts to interfere in its internal affairs with a sense of moral superiority is akin to neo-colonialism.
The European Parliament backed a resolution on Thursday advocating reprisals against Hungary over a new law that bans the portrayal and promotion of LGBTQ lifestyles in schools. The resolution called for the country to suffer financial penalties, and encouraged EU member states to pursue Hungary through the EU's courts. MEPs voted with 459 in favour, 147 against and 58 abstentions, and, in a series of speeches, called for a restriction on monies from the EU budget and the recently agreed Covid-19 recovery fund going to Budapest.
The European Parliament has had a rocky relationship with Hungary for a number of years. Indeed, it has never been a fan of Prime Minister Viktor Orban. During his 11-year tenure as PM, Orban has become its pantomime villain. MEPs were particularly incensed by his hardline response to the migrant crisis in 2016, not to mention his general disdain for Brussels.
Also on rt.com
EU's Von der Leyen condemns Hungary's anti-LGBTQ law in Hungary as it comes in force, threatens punishment
Their displeasure mirrored the response of the president of the European Commission, Ursula Von der Leyen, who stated on Wednesday that, under Hungary's new law, "homosexuality is equated with pornography. This legislation uses the protection of children as an excuse to discriminate against people because of their sexual orientation." Von der Leyen's denunciations, however, fell some way short of those posited by Mark Rutte, the prime minister of the Netherlands, who last month said, "For me, Hungary has no place in the EU anymore."
Now, I must say here that I do not agree with Hungary's new law either. Frankly, I couldn't care less about a person's sexuality or lifestyle – live and let live is what I say. However, I wouldn't have voted for a resolution in the European Parliament that called for both legal and financial reprisals against Hungary. And here's why.
First, because it is none of the EU's business. Education is not one of the EU's competences and therefore what Hungary does in its schools is its own affair. It is certainly not the business of foreign leaders such as Rutte. We've seen what happens when foreign leaders stick their noses in other countries' affairs. Take, for example, the fall-out when then-US president Barack Obama told the British people to remain in the EU,, back in 2016. The Brits did not like this interference and subsequently voted to leave. If Orban is to be punished for this policy, then let it come from his own people through the ballot box, not because of pressure from other presidents or prime ministers. He is up for re-election next year anyway.
Also on rt.com
Hungary declares LGBT+ activists will be barred from schools as EU opens inquiry into law restricting promotion of homosexuality
Second, I'd argue that those leaders who denounce Hungary are unwittingly playing into Orban's hands. I suspect he is secretly overjoyed with the reaction this law has provoked within the EU. It allows him to indulge in a siege mentality – a case of Hungary versus the world. And we know from recent experience that perceived victimhood is a very powerful weapon in politics. The actions being taken by world leaders and MEPs are only aiding Orban's re-election campaign.
I believe this crisis represents a clash of cultures and underpins why full European integration will never work. The European Parliament is attempting to impose liberal Western morals on the more traditional ethics of the East. It's surely no surprise that the Hungarian position has been supported by both Poland and Slovenia. Indeed, Slovenian Prime Minister Janez Jansa condemned the EU's Western states for imposing "imaginary European values" without respecting local cultures.
Also on rt.com
Slovenian PM says EU's 'imaginary values' could trigger 'collapse' of bloc, amid Hungary LGBT row
In my view, it's wrong for the EU and foreign leaders to intervene in another country's affairs – especially when they do so with such a sense of moral superiority. It could be argued that it's a form of neo-colonialism. A century ago, we Europeans believed Africa was home to primitive people, and it was our duty to educate them, school them in our values and our culture. These days, this would be denounced as inappropriate imperialism, but is this really any different to what the EU is now doing to Hungary? I'm not so sure.
The whole debate regarding Hungary's new anti-LGBTQ law highlights the fact that the EU is not a homogeneous bloc but rather a collective of individual states with their own distinct identities. In its efforts to standardise their values and their culture, the EU may well unwittingly be bringing about its own eventual fragmentation.
Like this story? Share it with a friend!
The statements, views and opinions expressed in this column are solely those of the author and do not necessarily represent those of RT.
You can share this story on social media: