Billionaires and celebs are right to fear climate change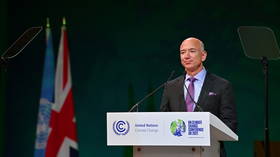 Don't you just hate being preached to about climate change by people who pollute way more than you? To mark the end of COP26, we look at some of the wealthy A-listers who could bear the brunt of the impending doom.
It'll be obvious when humanity has truly lost the climate change game. You know how?
All those preachy COP26 multi-billionaires and the sermonising celebs who travel in their slipstream will start to sell off their beachfront houses.
Why?
Well, the first places that are gonna be washed away in this creeping Armageddon are those closest to sea level, those super expensive yet garish waterfront properties beloved by your average billionaire and Hollywood star.
Not that you'd ever get to see these places, mind you. They tend to be behind a HUGE wall, with security cameras and heavily armed guards. So don't go paddling towards any of their gates when the seas rise – just like any self-respecting Bond villain, you'll only be able to get in by helicopter, private jet, or one of their absurd toy rocket ships.
Oh, and by yacht. Those luxury tubs will come in handy, eh? Just like Noah and his Ark, they'll be able to drop anchor on a mountain. Cool!
Never mind that all their machines and gadgets and toys spew out toxic gases that are choking our children and grandchildren – the mega-rich are not so worried about that, either, is my guess. When the time comes, their offspring will breathe purified air and they'll pump out their CO2 for any survivor plebs like the progeny of you and I to enjoy, from a big funnel atop their mountains.
All these billionaire blokes – and it IS mostly men – seem to know how to read a market and therefore turn a profit. You can be damn sure whenever you walk down the street, flick a switch, look at your phone, buy anything, fill your car with petrol, turn on a TV, get online – whatever – one of these guys is getting their slice.
There are, according to Forbes moneybags magazine, almost 3,000 billionaires on planet Earth. Chances are you've never actually met one of these people, but it's a racing certainty at least one of them has had his fat little hand in your pocket today. In fact, every day.
So, here's a random look at some of the mega-wealthy A-listers with most to fear from the impending implosion. Keep your eye on this crowd, because when they run for the hills, we're all doomed...
Jeff Bezos
The day that weird, squiff-eyed alien and multi-billionaire Jeff Bezos sells his remote island home on Maui, Hawaii, you know the game's up, peeps. It cost him $78 million and is very much surrounded by water.
Though he seems to be making plans to depart the Earth back to whichever planet he came from on his own rocket, he pledged $2 billion at the COP26 summit to help save the world. Nice. His Amazon online shopping empire has grown at just about the same rate as the Amazon rainforest has shrunk.
Bezos bounces back and forth between first and second spot on the world's rich list with Elon Musk and is worth somewhere around $200 billion. So, a couple of billion bucks is bobbins for Bezos really, when you think about it.
READ MORE: Doctor diagnoses elderly woman with a case of 'CLIMATE CHANGE'
Maybe he shouldn't invite the next guy on the list around for supper on Maui, though, seeing as his partner Lauren Sanchez seems to be rather besotted with the guy...
Leonardo DiCaprio
OK, OK, he's not a billionaire. But Hollywood megastar Leo DiCaprio recently splashed out a hefty $13.8 million for a seafront getaway on Malibu. Leo, who is probably the guru of all preachy celebrities, actually once owned three pads beside the California beach beloved by the rich and famous.
He blessed Glasgow with his glowing presence as a United Nations climate change ambassador, and has tried to do his bit to highlight the oncoming doom. Leo even made a speech at the Oscars in 2016 saying climate change was "the most urgent threat facing our entire species."
Dunno about you, but I'd listen to Leo over climate scientists and their boring data any day.
A whole host of other A-list celebs
It's not just DiCaprio who faces having his pretty waterfront home washed away: LOADS of celebrities are his neighbours in Malibu. And while not all have been as vocal as Leo on the danger of climate change, you can bet they'll pack up pretty sharpish when the water levels start rising.
Mel Gibson, Jennifer Aniston, Louis Tomlinson, Charlize Theron, Will Smith, Simon Cowell, Cher, Beyoncé and Jay Z, Barbra Streisand, Pink, Kenny G, Julia Roberts, Kid Rock, Bob Dylan, Lady Gaga, Dustin Hoffman, Cindy Crawford… the list goes on.
Maybe they could share a raft?
Of course, other coastal destinations are available. Singer Rihanna has a $22 million gaff on Barbados, the Caribbean island where she was born. And there's even a row of celebrity-owned seaside homes near not-so-sunny Brighton in the UK. Sir Paul McCartney, Adele, Fat Boy Slim, and David Walliams are all occasional neighbours. Though they've all yet to be seen together sitting on deckchairs in the rain.
Sir Richard Branson
Like Jeff Bezos, Sir Richard Branson has his own plans for heading into space. And Sir Dick reckons anyone who criticises him for spewing toxic fumes so rich people can go on their jollies a few miles up from sea level is, well, a bit thick.
The founder of Virgin Records/airline/shops/banking etc doesn't seem to be all that worried about future floods, though. He has long owned the private Necker Island in the British Virgin Islands and has reportedly added a second clump of Mother Earth called Moskito Island to his portfolio.
Necker is also beloved by celebrities, having been graced by the likes of Mariah Carey, Kate Winslet, Oprah Winfrey, Jimmy Fallon, and David Beckham. You can rent the entire island for $42,000 a night, or just slum it and rent a villa for $27,000 a week.
A bargain. So long as the seas don't rise while you're there. Or you're hit by a hurricane.
Harry and Meghan
The Duke and Duchess of Sussex – Harry and Meg – don't quite live on the coast. But they LOVE to preach. Free from the shackles of the British royal family, they now spend their time telling the rest of us how to live.
Prince Harry spoke of his climate change concerns (like most of the royals these days) in the Apple TV+ special called 'The Me You Can't See: A Path Forward'.
"With kids growing up in today's world, pretty depressing, right, depending on where you live, your home country is either on fire, it's either underwater, houses or forests are being flattened," Harry said.
"Climate change is really playing a huge part in this as well as social media, and we just don't – well, I mean, I know lots of people out there are doing as best they can to try and fix these issues – but that whole sort of analogy of walking into the bathroom with a mop when the bath is over-flooding, rather than just turning the tap off…"
Etcetera.
At least they can do their preaching in comfort, for now, in their modest and environmentally sympathetic, nine-bedroom, 16-bathroom $14.65 million home in the town of Montecito, near Santa Barbara on the west coast of the USA. Neighbours include Oprah Winfrey, Ellen DeGeneres, Gwyneth Paltrow, Ariana Grande, and Natalie Portman.
Montecito is beside the ocean, yet it seems quite hilly really. So maybe the Sussexes won't need to paddle the 90 minutes home from Los Angeles quite as soon as some other big names.
Elon Musk
Now Elon Musk, the boss of SpaceX and electric car maker Tesla, strikes me as a billionaire with his eye on the ball. He may bounce back and forth for top spot on the rich list with Jeff Bezos, but I reckon Musk can see into the future.
He recently sold off his California property portfolio for $100 million and is now living in a tiny rented $50,000 prefab house near his SpaceX headquarters in Texas.
I wonder if it floats?
Like this story? Share it with a friend!
The statements, views and opinions expressed in this column are solely those of the author and do not necessarily represent those of RT.
You can share this story on social media: