How elections in France came to be guided by the far-right narrative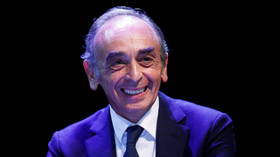 He hasn't yet declared as a candidate for next year's French presidential election, but TV firebrand Eric Zemmour has already made his mark – by dictating the key issues it will be fought over.
A shock opinion poll in France has put controversial media personality Zemmour on course to win enough votes to make it into the second round of next year's election against the incumbent, Emmanuel Macron.
The poll, conducted by Harris, had Zemmour on 18-19% of the vote for the first round, compared to Macron's 23-24%. Trailing behind is Marine Le Pen, on 15-16%. Interestingly, the poll shows Macron winning the second round of voting, whether his opponent is Zemmour or Le Pen, but by a far smaller margin than in 2017. Four years ago, Macron won 66% of the vote against Le Pen, while, this time, he'd secure only 58% against Zemmour and as little as 55% against Le Pen, so it's clear that there is all to play for.
Also on rt.com
Watch out Macron & Le Pen? TV firebrand Eric Zemmour has topped French ratings with his takes on immigration, Islam and Napoleon
There can be no doubt that all the running is being made by Zemmour. He gatecrashed the election race over the summer and has been rising in the polls since then. His ideas have caused a stir and he's been accused of being racist, Islamophobic, sexist and homophobic. Pretty much every other "ism" you can imagine has been thrown at him, too. His hardline views on immigration, Islam and the European Union, which he advocates leaving, have certainly spooked the other candidates and, as a result, they're either imitating him or attacking him.
Le Pen, for example, who has seen her poll numbers drop like a stone, has turned from being ambivalent about Zemmour to downright hostile. Indeed, until recently, she'd dismissed him as a bit of a joke and even welcomed his entering the race, saying, "I'm always happy that there are extra candidates who start saying the things we've said for 20 years … there have always been marginal candidates."
Now, she is no longer welcoming his candidacy and has instead gone on the attack. She recently claimed Zemmour has "a problem with women." As evidence, she cited a provocative book he wrote back in 2006, in which he argued that women have an innate attraction to "the male victor," which is why, he claimed, French women slept with Germans and then Americans during World War II.
However, while Le Pen is attempting to paint Zemmour as a misogynist – and she may well have landed on a tactic that will suppress his appeal – others are clearly trying to imitate him. And none more so than the would-be traditional centre-right candidates.
Xavier Bertrand, who is favourite to win the centre-right candidacy, launched his campaign this week with a commitment to get immigration under control, which is something Zemmour has been advocating for many years. Bertrand is arguing that "no one is at the helm anymore. France is subjected to immigration that it no longer chooses … it is urgent to take back control."
Meanwhile, Bertrand's main competitor, Michel Barnier, who was the European Union's Brexit negotiator, recently said he wanted to arm all local police officers and, in an effort to combat radical Islam, "expel all foreigners representing a serious threat to public order." It all sounds very Zemmour.
Even President Macron is sufficiently concerned to be getting in on the act. Indeed, it's been suggested that his recent confrontation with the UK regarding fishing rights was largely concocted to ward off the growing threat of Zemmour and Le Pen. He has also spoken out about the threat of "Islamic separatism," stating that "the problem is [that it is] an ideology that claims its own laws should be superior to those of the republic." It seems the shadow of Zemmour also looms large in the Elysée.
Unbelievably, while all this has been happening, Zemmour himself has yet to officially declare his candidacy. However, last week, he gave his strongest indication yet that he will be entering the race, when he announced, "Everything is ready. All I have to do is decide and push the button. I decide when and how. There are a lot of people who want me to be a presidential candidate, a lot of people who want me to be president of the republic. I will not let these people down."
Also on rt.com
France's political right is tearing itself apart and could be handing unloved Macron the keys to the Elysee for another four years
Nevertheless, whether he is officially in the race or not is irrelevant, as he is clearly driving the agenda and turning the political dial rightwards. Indeed, all the other potential candidates are dancing to his tune, either attacking him and thereby providing him with more publicity, or attempting to 'out-Zemmour' Zemmour. This is a foolish tactic, in my opinion, as it takes the debate on to his turf, and he will always win on these issues, as he's been arguing these points on TV for years.
Moreover, I expect him to receive a further bounce in the polls when he does finally declare his candidacy, meaning that, as we head into the new year, the race for the Elysée is wide open, and we could well be on the cusp of another French revolution.
Think your friends would be interested? Share this story!
The statements, views and opinions expressed in this column are solely those of the author and do not necessarily represent those of RT.
You can share this story on social media: