Do women really suffer more from climate change?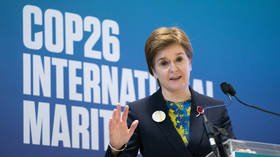 Scottish First Minister Nicola Sturgeon claims climate change is a feminist issue. But the real danger posed to billions of women is that their lifestyles will be seriously compromised by unrealistic plans to achieve net zero.
Speaking at the COP26 summit alongside US Speaker of the House Nancy Pelosi, Nicola Sturgeon called for "women and girls" to be central to the fight against climate change. "We must ensure that climate change is a feminist issue," Sturgeon told delegates, "We must make sure that the experiences of women and girls across the world who are so often disproportionately impacted by climate change are understood as we devise the solutions."
When it comes to climate change, there are plenty of issues to discuss. There's the enormous cost of achieving net zero, and the impact such a goal will have on our daily lives and living standards, for starters. So, why does Sturgeon want to talk about feminism all of a sudden?
Also on rt.com
Scottish First Minister Nicola Sturgeon says Boris doesn't want to meet with her due to his 'fragile MALE EGO'
Let's put to one side her patronising practice of lumping together "women and girls". As a fully grown-up female, I no more want political lessons from 'girls' than I do from 'boys' – and, yes, that includes Greta. Constantly equating women and girls seems exactly the opposite of feminist and empowering.
Let's also set aside Sturgeon's confusion about who women and girls actually are. The first minister has championed the cause of gender self-identification and wants it made far easier for Scottish men to become Scottish women. When Pelosi claimed that "80% of the people displaced in climate change globally are women," Sturgeon presumably nodded along with this incredible statistic on the basis that many of them are the male-bodied variety of women.
Let's focus instead on the matter of the moment: climate change. Even then, we must first overlook the fact that Scotland has missed its target to reduce greenhouse gas emissions for three years in a row. Sturgeon is far happier talking about feminism than her own government's performance, it seems. And rather than treating us like adults and having an honest conversation about the costs of achieving net zero, she prefers to guilt-trip us into changing our behaviour without asking awkward questions.
The idea that women are disproportionately affected by climate change is nonsense. Females do not live in isolated, single-sex communities: we live alongside our brothers, fathers, sons and male friends and colleagues. The fortunes of men and women are interdependent. Climate change – and, more specifically, the measures world leaders seem intent on driving through to counteract it – will indeed have an impact on some groups more than others. But it's not gender that dictates whose lives will be made worse – it's poverty.
Pelosi wants us to focus on the "most vulnerable" women in "indigenous communities". This distracts us from talking about the 118 private jets that brought the world leaders to Glasgow for the COP26 summit. But it also takes our attention away from what is really going to have a devastating impact on the precarious lives of people in poor countries.
The reality of net zero is that economic development is stopped in its tracks. In the absence of grand plans to introduce a global network of nuclear power stations or to invest massive sums of money in radically transformative new technologies, we have instead 'sustainability'. If you are poor, sustainability means you stay poor. Worse, when people in the West stop travelling abroad or purchasing exported goods, then sustainability means your standard of living drops even further.
Sturgeon and Pelosi need to be honest. It's not climate change that will impoverish and shorten the lives of vulnerable women in indigenous communities: it is the choices COP26 delegates are foisting on us in their determination to turn the clock back on industrialisation and progress. Women who live in poverty in undeveloped countries could have their lives transformed by running water, affordable electricity, abundant nutritious food and regular well-paid employment. The elite obsession with climate change makes it far less likely they will get any of these things.
But it's not just in developing countries that women's lives will be made harder by environmental targets. Closer to home, we are already beginning to see that achieving net zero means private jets for some and a squeezed standard of living for others. The stark reality is that there will be women in Scotland who cannot afford to heat their houses this winter. Ever-rising fuel prices will leave some mothers having to choose between buying food for their children or keeping them warm. This is not because of climate change, but because carbon taxes, combined with a refusal to safeguard a reliable and affordable national fuel source, have sent household bills soaring.
Also on rt.com
We'll never solve the problems COP26 is trying to address until those in power understand how real people actually live
As a woman, a mother and a full-time worker, my lifestyle has been made possible by disposable nappies, supermarket deliveries, and having a car, a dishwasher and a tumble-drier. The expense of net zero means all of these things are being called into question. There is nothing remotely feminist about turning the clock back on women's lives.
Climate change is a feminist issue – just not for the reasons Sturgeon or Pelosi think. Rather than being shamed into backing net zero, we need to ask what is really in the best interests of "women and girls". Rather than turning back the clock, we need progress, prosperity and development. But, sadly, no one at COP26 is arguing for that.
Think your friends would be interested? Share this story!
The statements, views and opinions expressed in this column are solely those of the author and do not necessarily represent those of RT.
You can share this story on social media: