Hijab is not freedom. Stop pretending it is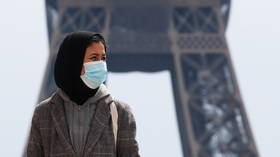 Questions need to be asked about how EU taxpayer money was used to fund a 'hijab is freedom' online campaign that makes a mockery of women's rights and flies in the face of France's hugely important secular values.
The Council of Europe's (CoE) jaw-droppingly tin-eared campaign to promote the wearing of the hijab among women was doomed from launch, thanks to a lack of any sort of real intelligence behind the ill-fated stunt.
Even in the planning stages of deciding to promote the idea that wearing the head covering was, for Muslim women, in some way empowering or a celebration of freedom, surely someone should have put their hand up and suggested, "Maybe this won't go down so well in France?"
And if that wasn't the case, then who employed these cretins?
So, when the campaign launched on social media announcing slogans such as "Beauty is in diversity as freedom is in hijab," "How boring it would be if everyone looked the same? Celebrate diversity and respect hijab," and "My headscarf, my choice," the French choked on their croissants. It was always just a matter of time before the whole initiative was flushed down the khazi. Surprisingly, it lasted around five days.
Also on rt.com
Swiss government calls on voters to reject nationwide burqa ban in March referendum
The writing was on the wall, however, when not even the secretary-general of the body that co-funded the campaign could find the will to support it. The CoE's Marija Pejcinovic Buric lamely explained that the hijab messaging "reflected the statements made individually by participants in one of the workshops of the project and do not represent the position of the Council of Europe."
Blame those idiots in marketing and their progressively liberal workshops. Er, thanks, boss!
It needn't have taken a bunch of French politicians to point out how this campaign was not only offensive to an entire nation, but ignorant of how women who don't have the luxury of choice feel about wearing the hijab. Attractive young models in full make-up declaring their joy at being able to wear this symbol of male oppression – which is exactly what the hijab is – would most certainly confuse many women in Iran, Saudi Arabia, Afghanistan and beyond as not being part of their experience.
But what do these women count for, when the liberals in Western Europe are intent on some serious virtue signalling?
While Islamic scholars might debate whether wearing the hijab is a religious symbol to differentiate between Muslim and non-Muslim women, or simply an obligation under the Koran, both ideas have one thing in common: they preclude women from having any sort of choice.
This imbues the hijab with a political significance that in various countries across Europe – such as the Netherlands, Belgium and, in particular, France – runs counter to public sentiment about the encroachment of Islam into the national culture, along with its more repressive elements, particularly in regard to women's rights.
That is most clearly evident in France, where the deeply entrenched tradition of secularism – la laicité – means the wearing of religious head coverings is barred in state schools and public-service jobs. Earlier this year, an anti-separatism bill was passed by the French parliament looking to ban, among other things, those very obvious practices that differentiated Muslims and non-Muslims. The hijab, the niqab and the burqa all fall into that category.
The volume level of conversation among French politicians rocketed – nothing to do with the presidential elections next year, of course – with Minister for Young People Sarah El Hairy declaring she was "profoundly shocked" and that the campaign was "the opposite of the values that France defends, it is promoting the wearing of the hijab."
Right-wing firebrand and potential presidential candidate Eric Zemmour pulled no punches, tweeting, "Islam is the enemy of freedom. This campaign is the enemy of truth," while his fellow traveller Marine Le Pen said, "This European campaign promoting the Islamist veil is scandalous and indecent at a time when millions of women courageously fight against this enslavement."
Even European establishment figure Michel Barnier rose to the occasion, saying, "I would have liked the people responsible for this bad campaign to go and question... the women of Kabul who are fighting not to wear this veil."
So this online campaign is dead. Deader than dead. Sure, the CoE has suggested "We have taken down these tweet messages while we reflect on a better presentation of this project." But it's hard to see how this might be resurrected in any way, shape or form that doesn't offend millions of European taxpayers who are ultimately paying for this nonsense.
It's back to the mind maps and whiteboard for this one I'm afraid. Don't expect any results too soon.
Like this story? Share it with a friend!
The statements, views and opinions expressed in this column are solely those of the author and do not necessarily represent those of RT.
You can share this story on social media: