China's bid to join digital trade pact is another example of how it is consistently outflanking the US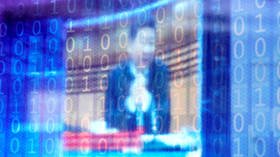 Beijing's application to join a small group focusing on the digital economy is part of a wider policy to build international relationships to ensure it's not isolated by America. And it's a strategy that's working well.
China's formal application to join the 'Digital Economy Partnership Agreement' (DEPA), a small international grouping designed to encourage collaboration in digital trade issues and e-commerce, may seem insignificant, with Chile, Singapore, and New Zealand the only members. But this is a bigger deal than it may look.
The application is a strategic move with major geopolitical implications and is related directly to Beijing's battle with the United States across the Asia-Pacific region, where it is trying to beat back America's bid to isolate it, while retaining the upper hand in the economic domain.
Also on rt.com
Why a diplomatic strategy of poking the Beijing bear is working out well for Taiwan
And it might be considered a stepping stone towards China's application to join the Comprehensive and Progressive Agreement for Trans-Pacific Partnership (a free-trade agreement known as the CPTPP), which all three DEPA states are a part of, making this an ambitious effort at 'divide and rule' diplomacy.
Beijing has consistently resorted to a specific gameplan in response to the American pressure and attempts to contain it – and that is to double down on its economic integration and agreements with other countries to reduce the risks of being isolated.
While the US has attempted to push countries towards locking China out, Beijing has responded by seeking to intertwine its economy with others. For example, China pushed for the completion of the Regional Comprehensive Economic Partnership (RCEP) by the end of 2020, it reached an "agreement in principle" with the European Union on the Comprehensive Agreement on Investment (CAI), has upgraded its bilateral trade agreements with many countries, including New Zealand (and is looking to do so with South Korea), and recently lodged its application for the CPTPP in response to the AUKUS deal.
This also takes advantage of the current window of opportunity whereby the US is not able to compete with China on a level playing field, primarily because it is locked into a strategy of protectionism and opposition to free trade.
As a result, while the US talks about more tariffs and protecting jobs at home, China is doubling down on free and multilateral trade, using market access to its enormous consumer base as a negotiating tool. It is carefully playing to all its strengths, which the US cannot respond to and is left merely to try to obstruct China with bad faith actions.
Joining the CPTPP would be the crown jewel. This would fuse China into a significant intercontinental economic pact – one which the US willingly abandoned in 2017 – and see Beijing claim a huge political scalp in the process.
But it won't be an easy task, because several obstacles lie in the way. The bloc contains some states which are very loyal to the US, such as Canada, Japan, and Australia – which share similar objectives of seeking to contain China, despite their own robust trade ties with it. And to complicate matters, Taiwan is trying to throw a spanner in the works of China's bid by applying to join itself, making the diplomatic process more difficult.
On the other hand, there are other countries in the bloc which would be happy for Beijing to join, such as Malaysia, Singapore, Chile, Peru, and New Zealand. So what does China do? It has created a sub-strategy aiming to isolate its opponents in the CPTPP, dividing the group, while at the same time further deepening economic ties with other parties. And this is where DEPA comes in. Although it's a smaller agreement, and focused on the digital economy only, it involves three states who are all very open towards ties with China on an economic level.
Providing Beijing makes concessions on digital economy-related matters and standards, it seems highly unlikely that any of these three would block its entry path to the CPTPP. New Zealand, in particular, is considered the 'weak link' of the five Anglosphere states geopolitically, and is carefully avoiding confrontation with China under Jacinda Ardern.
But there's more to it than just the broader goal of joining the CPTPP. China's entry into DEPA is also about pre-empting specific American foreign policy ambitions. The US has signalled over the past few weeks that it wants to build a "digital trade agreement" which would be used to "set technology standards" – almost certainly with the goal of isolating China.
President Biden talked about this at the recent Association of Southeast Asian Nations (ASEAN) summit. (Of course, that's what the CPTPP itself was designed for on trade until Donald Trump decided to pull out). But by rushing to join DEPA, Beijing recognises it can quickly thwart America's initiatives and set its own standards, with the potential for the group to be extended to other countries in the region in future.
In Beijing's eyes, the goal of all these manoeuvres is to limit America's ability to economically isolate it by making mutual commitments with others, thus solidifying its status as the existing centre of the regional economy. And if it is prevented from joining the CPTPP due to hostile states blocking the way, it will simply carve out smaller bilateral agreements with the countries who want it to join.
Also on rt.com
Greece-ing the wheels: Athens' positive tilt back towards China proves Beijing still has it all to play for in Europe
It's proof again of China's diplomatic agility. Beijing's ability to play its cards in this manner is a reminder that the claim it is isolating itself through so-called 'wolf warrior diplomacy' from unoriginal mainstream media commentators is nonsense. China's ability to outflank the US is significantly underrated.
While America is a formidable adversary on a military level, Beijing recognizes that on trade and commerce, the US has lost the argument and has no serious ability to keep up. And so it will continue to push ahead and join trade deals and pacts that Washington cannot because it has tied its own hands.
Yes, the US can give Australia nuclear submarines. But what it can't do is economically integrate itself further with the region it professes to care about so much. Beijing eyes its chance here, and is going for the goal.
Think your friends would be interested? Share this story!
The statements, views and opinions expressed in this column are solely those of the author and do not necessarily represent those of RT.
You can share this story on social media: