Why a diplomatic strategy of poking the Beijing bear is working out well for Taiwan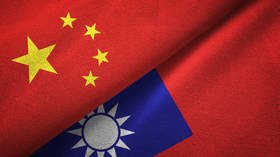 Taipei's bid to join the TPP trade bloc is just the latest example of its constant provocations towards China. And the problem for Beijing is that however it responds, it will feed the narrative that it is the aggressor.
Just days after China seemingly pulled off a diplomatic stunt by applying to join the Trans-Pacific Partnership (TPP) trade agreement in the wake of the United States, United Kingdom, and Australia AUKUS deal, Taiwan has also decided it wants to join the TPP pact.
The move was immediately welcomed by Japan but drew instant condemnation from China's Foreign Ministry, which made its position clear that Taipei should not be allowed to sign up.
Chinese FM said China firmly opposes official exchanges between any country and the island of #Taiwan, and firmly objects the Taiwan region from joining any official agreement or organization, after the island of Taiwan applied to join the #CPTPP one week after the mainland. pic.twitter.com/nam8Dd142u

— Global Times (@globaltimesnews) September 23, 2021
The move is cheeky, yet it is also an aggravation for Beijing; it seems deliberately designed to create a fresh diplomatic controversy, with the awkward possibility of both Taipei and Beijing joining the same trade pact. Taiwan might not succeed, but Tokyo's response creates problems for China, which will undoubtedly now leverage this situation in talks (even if, on an economic and trade level, Taiwan has no genuine ability to compete with China's market size and exports).
But what is really going on here? Under the Democratic Progressive Party (DPP), Taiwan is pursuing a foreign policy and diplomatic strategy of 'provocateering' against China in an attempt to break itself out of isolation and attract support from others. This term essentially describes the tactical ploy of using provocative behaviour to attain political gain, with the island transforming its own status into a 'wedge issue' to drive into China's relationships with others, cause controversy, and reap rewards for itself.
It's a strategy that exploits the rigidity of Beijing's 'One China Policy', which offers little compromise on the Taiwan issue and aims to deliberately create drama. In pursuing this tactic, Taipei exerts all of its energy in informal diplomacy, setting the bar low with largely symbolic gestures that nonetheless have a significant impact on Beijing.
The position of other countries is making things easier. A good recent example of this has been the ongoing Lithuania row. Taipei encouraged the Baltic country to allow it to open a 'Taiwanese representative office' in Vilnius, which included the name 'Taiwan' as a deliberate provocation. It could have opened this office with the name 'Taipei' as usual and Beijing would have shrugged it off, but instead it chose this name with the intention of making a political statement. China reacted furiously and responded by downgrading ties with Lithuania, citing a violation of the One China Policy. And so, Taipei was handed a small – albeit symbolic – diplomatic victory, as other Western countries then rallied to support Lithuania.
Another tactic Taiwan uses is actively inviting sympathetic parliamentarians of other countries to visit the island. Again, it calculates that this is something which makes Beijing angry and often results in retaliations by China against the country as a whole. The Czech Republic, for example, found this out in 2019 after provocations from the mayor of Prague.
Taipei recognises that even a relationship with a relatively low-level politician can undermine China's relationship with an entire country. And so it is no coincidence in that in the wake of the fallout between the US and France in the wake of the AUKUS controversy, a number of French senators immediately announced they would be visiting Taiwan – a stunt again likely coordinated by Taipei.
In utilizing these tactics, Taipei lures Beijing into traps which frustrate it and force it into inflexible, harsh responses that often damage its relationships. But they are not big enough provocations to violate China's red lines altogether and risk incurring military action against it.
Taiwan is constantly reaching out to just about anyone prepared to support it, is incredibly vocal on social media, and has aggressively marketed the products China has banned – as was seen when pineapples and, more recently, custard apples were promoted on various platforms to Japanese consumers.
Also on rt.com
China boxes clever and seeks to outwit America's growing military belligerence through its economic clout
Similarly, when China sanctioned Australian wine, Taiwan responded by buying loads, and now it's buying Lithuanian chocolate too. The strategy is simple: to exploit every single dispute China has. Taipei has found this tactic hugely effective, and Beijing doesn't have the wit to respond to it.
And so now we have Taiwan applying to join the TPP. It might not succeed in doing so, but it is hoping that by forcing itself into the discussion, it will undermine China's bid and prevent Beijing from dominating the economic order of the entire Pacific, which would isolate Taipei further.
China would have to adhere to the bloc's high standard of rules – which will require extensive negotiation – but the Taiwanese move presents another problem altogether. The anti-China parties in the TPP agreement, specifically Australia and Japan, will use Taiwan's application as a bargaining chip to make things difficult for Beijing and make it harder to reach a compromise on terms favourable to China.
On the other hand, Taipei recognises it has a head start because its economy is smaller, and so it will theoretically be easier for it to negotiate itself into the bloc, as it would mean less disruption than the integration of China's mega-economy. This could even mean it joins before Beijing, which would be further embarrassment for the Chinese.
Of course, China has some supporters in the bloc too, and so if Beijing puts pressure on any of these countries – such as Malaysia – to veto Taiwan's membership, it then runs the risk of creating diplomatic controversy and division within it. If Taiwan is excluded, Japan, for example, could subsequently block China's route. To put it bluntly, Taiwan is aiming to 'suicide bomb' China's application. If neither joins the bloc, Taipei would still see that as a victory.
In a nutshell, what we are seeing here is how Taiwan, with few formal diplomatic ties, is using constant provocation to force itself onto the international agenda and win a war of words against its neighbour. Taiwan has the support of the Western media; Beijing does not, and it is also painfully lacking in soft power.
China takes the politics of reunification extremely seriously and as a non-negotiable issue, which Taipei is now readily exploiting to cause as much trouble as possible for Beijing and win more sympathy in the West.
By continually forcing China to take a hard line, it allows the narrative of Beijing as an aggressor to gather momentum. China needs to think more carefully about how to respond to this provocative, small-scale, yet effective diplomatic strategy. How it will end regarding the TPP is yet to be seen, but Taiwan has clearly identified Tokyo's increased support for it as an opportunity, and made its move. What happens next promises to be fascinating.
Think your friends would be interested? Share this story!
The statements, views and opinions expressed in this column are solely those of the author and do not necessarily represent those of RT.
You can share this story on social media: