Vegan condoms, olive oil lube & solar-powered sex toys: Environmentalists want us to have eco-friendly sex and no babies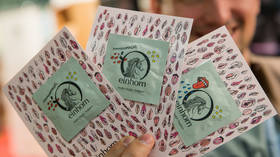 As the COP26 conference on climate change gets underway, environmentalists are telling us how we should behave in the most private sphere of personal relations.
As if being assailed by greenies over our choices of transport, our meat-dominated diets and even the clothes we wear, was not enough, we now have them invading our bedrooms to dispense advice on how we procreate – or rather, don't, please.
Sex – in the right environmentally-friendly fashion, of course – is good, but having children is bad, as there are already far too many of us carbon-creating, polluting, globe-destroying human emitters in the world.
Contraception is therefore necessary, but as with food, travel, garments and footwear, it's an eco minefield. Greenpeace USA advocates women using an intrauterine device (IUD) "for maybe several years at a time" as "it rocks for the environment." Whether it does for the woman, is a different matter.
Condoms, mostly made from synthetic latex which cannot be recycled, should be chosen carefully. "Lambskin condoms are sometimes argued to be more biodegradable," according to Greenpeace. But, as it recognizes, such condoms are made from animals – 'yep, a lamb had to die for that condom' – and do not protect people from sexually transmitted diseases. So vegan condoms are being promoted as the ethical choice in 2021.
Whatever your choice of condom, "do not flush condoms down the toilet. They can wreak havoc on sewage systems and aquatic life. They belong in the trash to biodegrade," warns Greenpeace.
Similarly, natural and organic lubricants, or lubes, which are often water-based are recommended instead of those which are petroleum-based: "Lubricants can contain horrible, often petroleum-based chemicals. You don't want those on your intimate parts or in your digestive tract, do you?! No way!" Alternatively, there are DIY natural options like olive oil.
Of course, plastic sex toys increase your carbon footprint, so those made from glass, porcelain, natural crystals or wood are the green options. But no battery-powered Rabbits, please: solar-powered sex toys help adults get off the electricity grid.
If you are into lingerie, Greenpeace advised that you find products that have been detoxed or are made from sustainable materials. Likewise, organic and sustainable bedding are being widely marketed. How long will it be before greens tell us to use second-hand lingerie, bedding and sex toys like second-hand clothes?
Predictably, lights should be turned off during sex, yet Greenpeace allows beeswax candles or other types of sustainable candles.
As with seemingly all go-greener advice, it's rife with contradictions. Harriet Orrell of the BBC World Service told us in the week before COP26 that eco-friendly sex includes "avoiding shower sex, using less hot water." In contrast, Greenpeace states, "If you bath or shower when or after you make love, conserve water by sharing the shower!" So can we have sex in the shower or not? Maybe it's ok in a cold shower?
There is also confusing consensus about the impact of procreation on climate change. It has become increasingly fashionable to reject parenthood for environmental reasons since celebrity Miley Cyrus told ELLE US in 2019, "Until I feel like my kid would live on an earth with fish in the water, I'm not bringing in another person to deal with that."
Although fish have not disappeared from seas or rivers, Prince Harry and Meghan Markle decided to have two children was ok, but no more. Prince Harry famously declared "two maximum" in British Vogue, while discussing children, nature and future generations.
After the birth of the couple's second child this year, the UK-based charity Population Matters gave them an award as environmental 'role models' for deciding to have only two children to limit their impact on the planet. The giving of this award begs the question, why did they get it for having two children, rather than having no kids?
Also on rt.com
Flying, meat, pets... now having CHILDREN is a climate crime, green activists imply
The simple reason is that some environmentalists believe stopping one more birth means one less human polluting the planet. They fail to recognize that people can be creative and every new person born has the potential to solve environmental and other problems. For instance, people can improve waste management systems to prevent plastics from entering rivers and oceans. Moreover, we can create better incinerators with carbon capture and storage to burn plastic sex toys, latex condoms and other waste, while generating energy.
These are legitimate issues for public debate about our climate. However, how we have sex and the decisions that we make about having kids are private matters and should not be part of public debates about climate change. Environmentalists should butt out of our sex lives.
Like this story? Share it with a friend!
The statements, views and opinions expressed in this column are solely those of the author and do not necessarily represent those of RT.
You can share this story on social media: