Tesla's $1 trillion market cap valuation is not just a bubble, it is a market mania of biblical proportions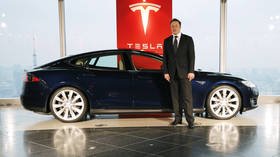 Elon Musk is currently laughing all the way to the bank off the back of Tesla's stratospheric valuation, but a company built on the CEO's showmanship, broken promises and shaky technology is always ripe for a fall.
Tesla is all about its CEO, Elon Musk. Musk is an epic showman and a slick salesman who can sell anything to anyone. Tesla, with its questionable profitability, still has a market capitalization that exceeds $1 trillion. In fact, Holon Global Investment's Whitney Tilson predicts Tesla's market capitalization is headed to $10 trillion or higher!
This forces one to ask, is Tesla overvalued and has the CEO's projections been reliable?
Also on rt.com
Tesla's market value breaches $1 TRILLION for first time, after rental car giant Hertz orders 100,000 EVs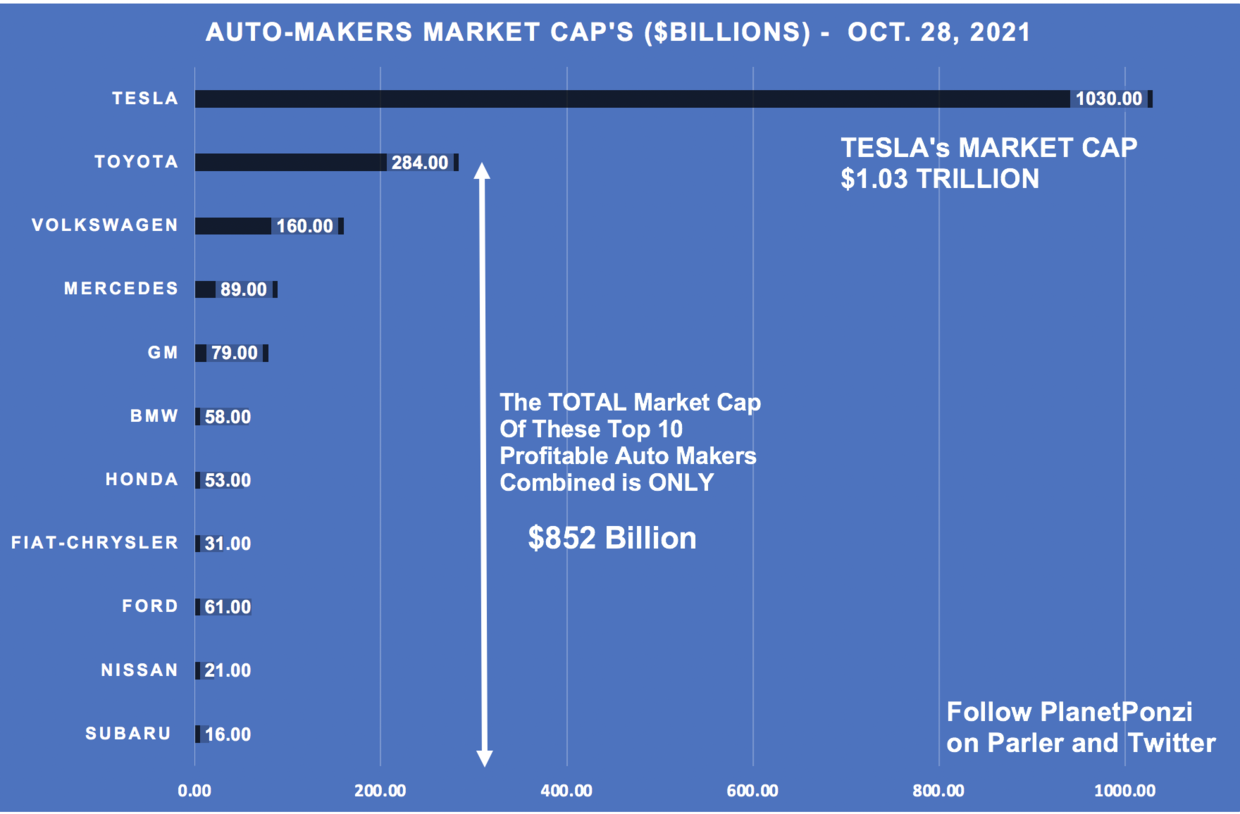 Musk is a Pied Piper to millennials, utilizing an army of internet influencers and deploying public relations strategies that tout an unproven planet-saving vision of providing environmental benefits to justify gigantic taxpayer subsidies. As Tesla's CEO and majority shareholder, Musk has made unbelievable financial and production forecasts since 2014, and today, Musk's net worth is over $280 billion. The more outrageous the claims are, the more the media fawns over his bizarre promises and the more publicity Tesla receives, causing the share price to skyrocket.
Since 2015, Tesla has been marketing and selling a feature called 'Full Self-Driving Capability'. Back then, Musk said that "fully autonomous" Teslas were just two years away, and in 2016, Tesla announced that all-new Teslas had hardware capable of 'Full Self-Driving', but the software needed "tweaks."
ARK Investment's Cathie Wood supported Musk's claims of 'robo-taxis' and other science fiction proclamations that justified her "high confidence" that Tesla shares would trade at $7,000 by 2025. Wood's best-case scenario is Tesla shares hitting $15,000.
Musk has made many similar statements since 2016, but in Q3 2021, Tesla is still nowhere near achieving a 'Full Self-Driving' automobile. In fact, after 'Full Self-Driving Capability' caused both deaths and several accidents, feckless US regulators are investigating Tesla and another investigation into deceptive trading practices could be on the cards.
Musk has not only consistently failed to deliver on technological and financial projections, but he has also failed to hire the new employees he promised governments that provided Tesla with billions in taxpayer-funded subsidies in exchange for employment guarantees that never materialized.
In 2013, Nevada Governor Brian Sandoval provided Tesla with $1.3 billion in payroll tax breaks, sales tax breaks, and other incentives lasting 20 years in exchange for Musk's promise to build a job-creating $5 billion Gigafactory. Sandoval boasted how his Tesla agreement "changed the trajectory of our state forever." Sandoval's office estimated the $1.3 billion would generate over 25,000 Nevada jobs. Said factory has been "30% complete" since 2018 and currently employs just 7,000.
In 2014, Musk partnered with disgraced New York Governor Andrew Cuomo to create 5,000 'clean energy' jobs in Buffalo, NY. In return, New York state taxpayers would be on the hook for $750 million. Cuomo heralded the deal with Musk as "of critical importance to US economic competitiveness and energy independence." Musk said, "We made that commitment to the state of New York," describing the company's plan to hire thousands at a colossal factory opening in Buffalo that taxpayers funded. "We are going to keep that commitment." The 5,000 jobs never happened, and New York taxpayers' $750 million disappeared.
In 2016, Musk was a majority shareholder of SolarCity, a solar panel energy company founded by his cousins. The company was haemorrhaging cash and hurtling toward bankruptcy faster than a Space-X rocket, but St. Elon created a visionary 'Master Plan, Part Deux' in which Tesla would become an 'integrated energy company' by purchasing SolarCity with Tesla shares. How did that end? Not well. Tesla shareholders have taken Musk to court; their lawsuit could see Musk on the hook for $9.4 billion or more over his decision to bail out SolarCity, himself, and his cousins by purchasing SolarCity with Tesla shares. In Tesla's latest third-quarter earnings for 2021, SolarCity remains unprofitable, and the court battle continues.
In 2018, Musk made a deal with the Chinese Communist Party for $2 billion to open a Shanghai Gigafactory that would produce 250,000 cars per year with expansion capabilities up to 500,000 per year. In 2020, Musk trumpeted, "China rocks; its workers are smart, hard-working people," while chastising American workers as "entitled and complacent." In 2021, Musk's China relationship soured, sales collapsed and Musk suspended expansion plans.In Germany, Musk's $7 billion Gigafactory project is behind schedule. And yet, even with all this, Musk has been able to ink a deal with Texas to build a $1.1 billion facility, promising to create 5,000 jobs in Texas. For this, Tesla will receive at least $60 million in taxpayer subsidies.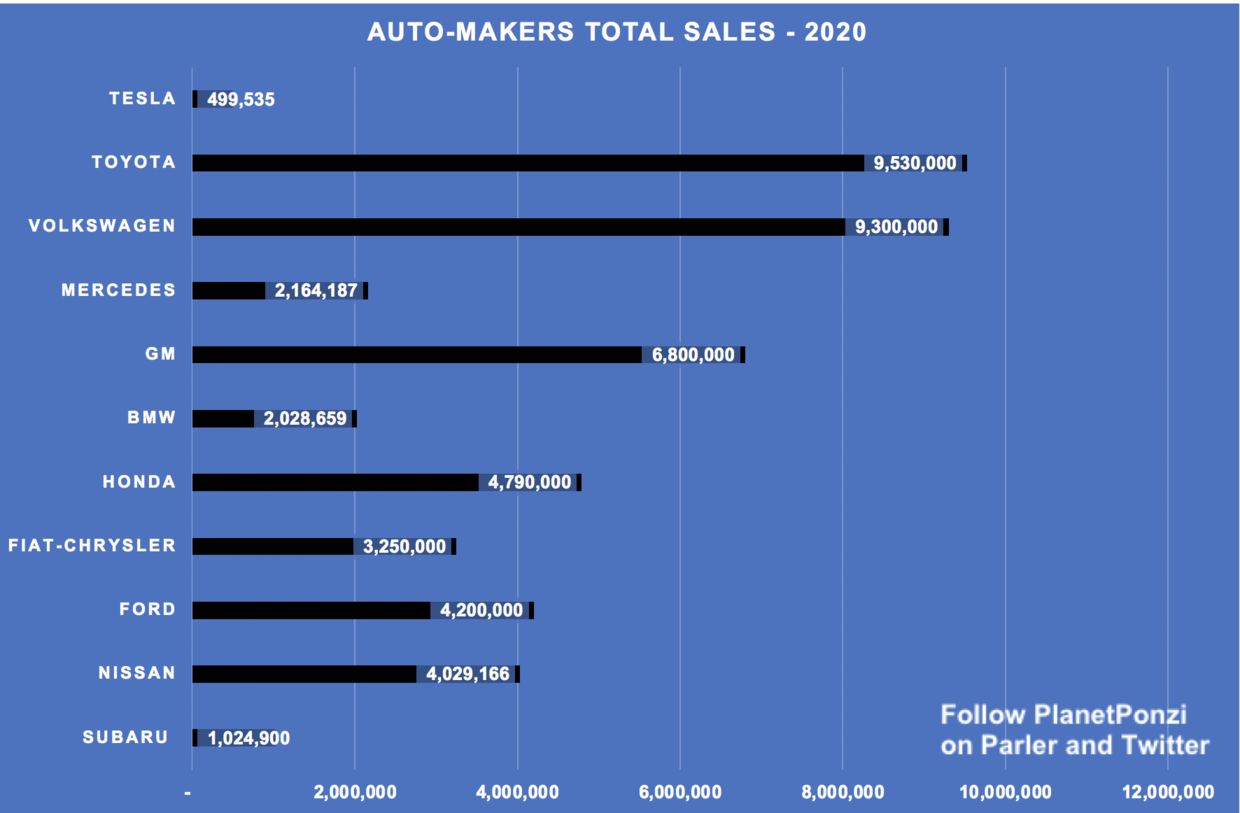 It's also almost certain that Musk will come to the UK for a taxpayer-funded 'deal', promising jobs galore. Britain needs to remember how Musk's other 'deals' ended for taxpayers. The UK's electricity grid is already deficient, so how does Prime Minister Boris Johnson intend to support charging for his electric vehicle revolution? Johnson previously sold voters a fake 'oven-ready Brexit deal', but like that whopper, is Boris's 'green vision' half-baked? You bet it is!
Even with momentum traders, world-class hype and public relations, carbon credit sales, bitcoin trading, and taxpayer subsidies, Tesla still struggles to turn a profit – and yet, its market capitalization is stratospheric. But mark my words: Tesla will be a Harvard Business School case study highlighting irrational exuberance, public relations hype, and euphoric market mania.
Also on rt.com
Tesla shrugs off chip crisis as electric vehicle deliveries hit another record
Tesla has come a long way in five years. Tesla's valuation is not a bubble, it's an unsustainable mania. It is impossible to pick the exact peak of the Tesla mania but here is a frightening comparison: Tesla's Free Cash Flow versus Volkswagen's. Tesla's Free Cash Flow grew by nearly $4 billion (a three-hundred and fifty price to free cash flow multiple) while Volkswagen's grew by $34 billion (a five times price to free cash flow multiple) in the same period. While Tesla may have EV's first-mover advantage, Musk is about to be run over by his competition, and at today's insane nosebleed market capitalization, Tesla's stock is a sell here.
Think your friends would be interested? Share this story!
The statements, views and opinions expressed in this column are solely those of the author and do not necessarily represent those of RT.
You can share this story on social media: