Erotic wellness TV shows? Mindfulness cruises? Gwyneth Paltrow should rename Goop 'Puke', as that's what she makes me want to do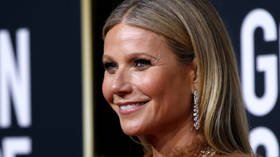 With her lifestyle brand Goop branching out to offer sex advice on Netflix and 'self-optimisation' cruises, Gwyneth Paltrow has surely sealed her status as the most annoying person ever. It's a journey she's been on for a while…
It was so bad, so cringeworthy, I almost had to hide behind my sofa. Gwyneth Paltrow's acceptance speech meltdown at the Oscars was worse than anything David Brent ever did in 'The Office'. It was up there with his toe-curling 'Disco Inferno' dance.
It was at this precise point in time, the Academy Awards ceremony on March 21, 1999, that I realised just how truly irritating Gwynnie could be. She won that ugly gold-plated stick bloke thing for Best Actress... but you'd have thought she'd been given the all-clear for cancer.
Also on rt.com
Netflix roasted for leading viewers astray with 'health misinformation' in Gwyneth Paltrow's Goop show
The gong was given for playing a role in the 1998 flick 'Shakespeare In Love'. I confess, I've never actually seen this 'romantic period comedy drama' because, well, nobody knows a damn thing about William Shakespeare the man, never mind his love life. So, it sounded like a load of old bollocks to me.
Jack Nicholson announced the winner was Paltrow, and... cue the tears. "I would like to thank the Academy from the bottom of my heart. I would like to thank ... and ... and ... and ... I would like to thank Harvey Weinstein and everybody at Miramax Films for their undying support of me…"
Oh yeah, I forgot about that. 'Shakespeare In Love' was produced by that sexual predator, all-round ogre, and now convicted rapist Harvey Weinstein, who was a big fan of Gwynnie's at the time.
Anyway, she went on thanking everyone she'd ever met, basically. It took a tear-sodden while: "I would not have been able to play this role had I not understood love of a tremendous magnitude, and for that I thank my family…" Etcetera, etcetera, etcetera.
Gwynnie had a massive struggle breaking into showbiz; it was a tough road on account of having actually been born on Tinseltown's doorstep in Los Angeles. And she had few connections, other than her wealthy father, a well-known TV director and producer, and her mother, a famous actress.
Turns out that acceptance speech was simply the opening act. A few years later she married the singer from Coldplay, Chris Martin. And that should have been the proverbial 'match made in heaven', because he is almost as preachy and annoying as she is. Almost, but not quite.
Chrissy was born and raised in genteel middle-class Devon and went to posh private schools. He's the son of a music teacher and, wait for it, a chartered accountant. The family also owned a caravan business and had links to Winston Churchill. Rock 'n' roll, baby!
No wonder his tunes are so pretty yet utterly bland; "music for bedwetters," as Oasis' one-time manager Alan McGee so aptly put it.
Imagine being invited to dinner by Gwynnie and Chrissy: they'd have lectured you on everything from diet to diapers. Anyway, nope, their marriage didn't last. They knocked out a couple of sprogs, the now-teenage Apple and Moses, then split up.
They couldn't just – like the rest of us divorcees – simply accept that they had failed at the marriage game. Oh no. They had to sugarcoat that failure in a dribbly phrase that could only have been birthed on the west coast of the USA. They didn't just split up, they did some "conscious uncoupling." Oh God.
A statement from the pair appeared on the website of Paltrow's Goop 'lifestyle brand' on March 25, 2014, 15 years almost to the day from her Oscars meltdown: "It is with hearts full of sadness that we have decided to separate. We have been working hard for well over a year, some of it together, some of it separated, to see what might have been possible between us, and we have come to the conclusion that while we love each other very much we will remain separate. We have always conducted our relationship privately, and we hope that as we consciously uncouple and coparent, we will be able to continue in the same manner."
Err? Anyone know what that psycho-babble actually means? Me neither. They divorced in 2016, though. So, I guess they just wanted to avoid those two brutal words: 'failure' and 'divorce'.
I have only seen a handful of films in which Gwynnie appears, the first being 'Se7en' way back in 1995. Because she's SO annoying. She starred in 'Se7en' alongside Brad Pitt, who was one of the few men to ever threaten to kill the hideous Weinstein for inappropriate behaviour with his then girlfriend… Gwyneth Paltrow.
Goop seems to get most of her love and attention these days, rather than acting. Last week, she was giving interviews on the sex advice she offers to her kids, as part of the promotion for her new Netflix series 'Sex, Love and Goop'. Ready?
"I think if I've learned anything throughout the course of my life, it is that we as individuals really can impact the outcome of how we feel in our day-to-day lives," she told Entertainment Tonight. "What is the relationship that we have with ourselves, and how does that determine how we feel out in the world with ourselves and other people?"
Yeah, right, don't worry: I have no idea what she actually means either. The show explores 'erotic wellness' and urges couples to be 'sexually vulnerable' – apparently that means the use of feather boas, whips, and blindfolds and such like. There is, of course, an array of sex toys available for sale on her Goop website: a 'gold wand' vibrator is a bargain at $1,249, a 'crystal whip' is $380, and an 'Olga' gold dildo is a snip at $3,490. Actually, it looks a bit like her Oscar statuette (and maybe that's the point, as only Gwynnie knows what Gwynnie does when she's home all alone).
I guess you need to lie on a super-expensive shrink's super-expensive couch in LA to really get the depth of it all. Or, if you're a stronger person than me and have a very strong Gwyneth constitution – if she doesn't just make you actually want to puke – there's a perfect place to go… on a Goop cruise. Oh yeah!
This is my idea of hell, but maybe you'd like to shell out $750 or so and jump aboard for some 'self-optimisation'?
You can do Goop-approved workouts, and mindfulness training and all that, while you sail around the Caribbean. You'd probably need to pack a fair bit of cash, though, and check the small print on anything you buy. A couple of years ago Goop was hit with a $145,000 fine in California for "unsubstantiated marketing claims" about the company's jade eggs – that they could improve orgasms, prevent uterine prolapse, balance hormones, and regulate menstrual cycles. They're still on sale, at $66 a pop. "Yoni eggs harness the power of energy work, crystal healing, and a Kegel-like physical practice. Insert the egg into your vagina and feel the connection with your body by squeezing and releasing the egg."
Yup, "crystal healing?" Dunno what that means either. How about shelling out $75 on a 'This Smells Like My Vagina' candle? Whose vagina? I don't have a vagina but, if they're handing out freebies, I'll take one home. And well, she must be selling a few of these things: Goop is said to be worth $250million.
Also on rt.com
Goop focused on poop? Gwyneth Paltrow's firm selling posh toilet paper 'with a conscience'
Gwyn the wellness queen herself isn't on board, but there's a video message waiting for every guest in their cabin. "We've always been curious about different ways to make our lives and our relationships more meaningful, as well as things that bring a little more beauty into the world… I've worked with my team to curate holistic wellness programming and products that we hope will make your time on board even more restorative… have a wonderful trip."
Oh God, doesn't that sound just like her Oscars acceptance speech? Is there a sofa to hide behind? If you sail on a Goop At Sea cruise, keep a life vest on at all times – in case you get the urge to jump overboard.
Think your friends would be interested? Share this story!
The statements, views and opinions expressed in this column are solely those of the author and do not necessarily represent those of RT.
You can share this story on social media: