The US ban on China Telecom is an act of petty hypocrisy in the global battle for the domination of phone networks & the internet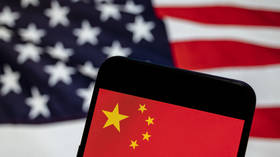 Washington's stripping of China Telecom's licence to operate in the US due to fears of espionage is revealing, illustrating just how much America fears losing its own covert capabilities in a domain in which it has long dominated.
On Tuesday evening, the United States announced that it would be revoking the licence of China Telecom, one of China's largest phone-service providers, branding it a national security threat and preventing it from operating in America.
The move by the Federal Communications Commission was sudden. Yet it clearly follows the path laid down by the Biden administration of seeking ways to appear tough on Beijing, while at the same time talking to it on other matters, with economic dialogue between the two ongoing. The decision came only hours after US Treasury Secretary Janet Yellen spoke to China's Vice Premier Liu He about the current state of the global economy.
Also on rt.com
China Telecom debuts in Shanghai as world's largest IPO of 2021
China Telecom now has just 60 days left to end its operations in the US. Predictably, the mainstream media responded to the ban by focusing on America's main argument, that there is a risk it could be used for espionage – despite there being zero evidence.
It's a cheap shot from the US, but it cannot be separated from the broader trend. America truly has it in for China when it comes to telecommunications companies, because this area has emerged as critical in the strategic competition between the two powers, as was famously demonstrated by Washington's campaign against Huawei and ZTE, and their participation in the US's 5G networks.
The US has constantly claimed that various networks and companies are mere vehicles for spying, and has sought to incite fear, paranoia and suspicion about them.
The reason Washington considers this domain so important is very straightforward: telecommunications and the internet now define and connect our world. Their geopolitical significance is huge and, by extension, this means they have enormous military importance too.
Who operates a nation's networks and platforms in wartime is a key question. America has dominated this arena globally for a long time, but now fears displacement. This has led to a sporadic, aggressive and hypocritical campaign against Chinese companies, which Donald Trump's administration started in 2018.
Communications are growing more politically important precisely because they are also becoming more complex, real-time and integrated. We don't live in a world where people send messages in bottles, attach cans to strings, or send messages by Morse code – those days are long gone. Communications in our world are defined by vast undersea internet cables, satellites, wireless masts and such like, amplifying the sensitive questions of who has political influence over these networks and where your data goes. The internet knows everything about us in a way that wasn't conceivable even 20 years ago.
There is no proof that Beijing has ever used Huawei or China Telecom to engage in espionage; that is a convenient McCarthyist fantasy. Yet the suggestion illustrates how the US calculates its own power and what it fears it might lose, with its influence over the internet providing a treasure trove of data and information for its own authorities to harvest.
It is a projection that reveals how America understands its interests and capabilities relative to the rest of the world, and what it fears others might do if given the same chance. And its aim is not just to block China at home in the name of so-called national security, but all over the world.
Just this week, the Australian government had its local telecommunications firm Telstra buy the Pacific arm of Digicel, the largest phone company in the region. The reason? To contain China's influence.
The pattern repeats itself across multiple policy areas, such as getting allied states to block China from building undersea internet cables, as Australia did with Papua New Guinea and Huawei, reducing the scope of China's participation in allied telecoms networks wherever possible, and restricting the flow of semiconductors and parts.
And this is not the first time China Telecom has been targeted. At the beginning of the year, it was booted off the New York Stock Exchange. But the company hasn't been too disrupted by the US posturing, even having had its licence revoked. Firstly, the ban is largely symbolic, as it doesn't rely on business in the US (although the loss of its licence does create an inconvenience for Chinese people overseas, who'll lose their roaming function because of it).
Secondly, it's a company with hundreds of millions of users, and that's financially secure and has a stake in many more firms. In addition, the US actions against it led to it listing in Shanghai instead, in August, which saw it reel in over $7 billion, pushing capital away from the US market and into China.
Also on rt.com
The US is turning the heat up in tech war with China by trying to control the entire global supply of computer chips
Given all that, while the campaign against Chinese telecommunications will roll on unabated, Beijing is likely to find this move an annoyance rather than a huge escalation. It was low-hanging fruit for the Biden administration, which, to avoid a domestic political backlash, is obsessed with keeping up the image of hostility towards China while actually engaging with it.
In short, China Telecom's expulsion doesn't change a great deal, but, at the same time, does neatly illustrate the battle over who will control the communications networks of the future, including 5G, 6G and more, not to mention the internet itself. The US is determined to keep its hegemony and maintain its espionage capabilities, and so is waging a hypocritical campaign against China's largest companies. The question is, who will win out?
Think your friends would be interested? Share this story!
The statements, views and opinions expressed in this column are solely those of the author and do not necessarily represent those of RT.
You can share this story on social media: