Ruby Rose's allegations of abuse on 'Batwoman' suggest Hollywood still doesn't practice what it preaches when it comes to gender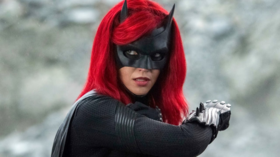 Hollywood likes to present itself as the "moral compass" of the world, championing equality, women, and people of color. But if 'Batwoman' actress Ruby Rose is to be believed, that is all a lie.
In 2019, a new comic book show called 'Batwoman' premiered on The CW Network. It was yet another comic-to-TV adaptation from producer Greg Berlanti, who had made a name for himself producing other DC comics shows such as 'Arrow', 'The Flash', and 'Heroes of Tomorrow'. Berlanti is also one of Hollywood's most powerful (and profitable) gay producers and was included in Time Magazine's '100 Most Influential People of 2020'.
So, it should be no surprise that 'Batwoman' was a Greg Berlanti production. Not only did it showcase a gay main character, but the leading role was also a woman! Two intersectional checkboxes ticked, right off the bat (pardon the pun)! Imagine how many accolades Berlanti would get at the Hollywood cocktail parties! An LGBTQ superhero show, aimed right at that coveted young demographic The CW is known for! Way to go, Mr. Gay Superproducer!
However, in all fairness, Batwoman was also a lesbian in the comics, so it could be argued that the adaptation was just being faithful to the source material. And the whole "gay superhero" thing might have been quickly forgotten if the show was actually good. Like many Berlanti-produced superhero shows, however, it was not.
In fact, 'Batwoman' was so far from good, the light from "good" would take a billion years to reach it.
The show is so cringy as to be borderline unwatchable, in fact, that an entire cottage industry has sprung up on YouTube around hate-watching the series and reviewing it. It has created a strange quasi "extreme sport" where the reviewer suffers through each episode so the general audience doesn't have to, just so they can make fun of the show.
Despite being arguably one of the worst written shows on TV, the series has been renewed for a third season. Its creator and main showrunner is Caroline Dries, a "strong independent woman" in Hollywood circles who got her start on another comic book show called 'Smallville', and eventually graduated to producing such shows as the 'Melrose Place' reboot and 'The Vampire Diaries', both for The CW. Oh, did I mention she's also a lesbian?
Also on rt.com
The Crown just cast an Australian to play Princess Diana and I am in a woke-fueled rage!
Is it any wonder that a bastion of progressivism, like The CW, wouldn't dare cancel a TV show from one of the most influential gay producers in the industry, led by a successful gay woman, featuring an LGBTQ superhero, no matter how bad it is?
Because, as we all know, Hollywood doesn't care about quality if all the intersectional identity-politics checkboxes are there. Frankly, the only thing they could have done to make 'Batwoman' even MORE progressive was race-swap the character so she was also a person of color (Oh, wait… they actually did that in the second season!).
In recent years, we've seen a tectonic shift in Hollywood to cast more people of color and more women in higher-profile roles. The "gender swapped" sequel is now a thing, and more women are being cast as leads in vehicles that were normally reserved for men. One need look no further than 'Ghostbusters' (2016), 'Oceans 8', or 'Terminator Dark Fate' to see this trend illustrated to a tee.
Propelled by the #MeToo movement, which helped get more women promoted to powerful positions within the Hollywood studio system, women are being given numerous opportunities both behind and in front of the camera, all in the name of equality, girl power, and feminism. Yay!
Except that, like everything else in Hollywood, this is complete fiction.
The sad reality is, despite Hollywood's progressive bluster about how important it is to "lift up women," it's all hollow virtue signaling with very little substance. Whether one is a man, or a woman, Hollywood is now and has always been about one thing – exploitation.
It doesn't matter what race you are, what gender you are, or what sexuality you subscribe to. If Hollywood can make a buck off you, they're going to do it, and they don't care about what happens to you along the way.
And this is further proved by 'Batwoman's original leading lady, actress Ruby Rose, who recently came out publicly with allegations about abusive conditions on the set of the series – conditions that have not only apparently led to major health issues for the star, but for others involved in the production as well.
Also on rt.com
'Y: The Last Man' went out of its way to alienate men, so it's no surprise hardly anyone watched it and it got canceled
Rose, who starred as the main character, Kate Kane, for a single season before "exiting" the show, had kept quiet about her reasons for leaving for over a year. This is not uncommon for actors, who are afraid of biting the hand that feeds them. But something must have changed in Rose's situation, because she is no longer afraid to speak out about the horrors she claims to have faced while involved in a show that was meant to promote progressive ideology.
In an Instagram Story, the actress detailed some shocking revelations that allegedly happened to her during her time involved in the series. Some of the highlights of Rose's accusations are:
Rose sustained severe injuries to her ribs and spine, which required surgery and still cause her incredible pain.
Rose was forced back to work after intensive spinal surgery, with executives threatening to fire everyone on the crew if she was not back to work 10 days after major surgery.
The show refused to shut down for Covid-19, rushing to complete filming, causing numerous safety hazards.
A female production assistant suffered an injury that rendered her a quadriplegic, the studio blamed the victim and swept the incident under the rug.
A stuntman suffered third-degree burns so severe the cast watched the skin on his face fall off. The production then forced those who witnessed the tragedy to shoot a sex scene and offered no counseling.
Showrunner Caroline Dries rarely visited the set and blamed Rose's injury on a yoga incident, despite Rose never taking yoga classes.
Rose accused the CEO of Warner Bros. Television, Peter Roth, of forcing women to pleasure him sexually and hiring a private investigator to look into Rose and her complaints in an effort to discredit her.
Rose claims co-star Dougray Scott was a nightmare on set and abused women but was never reprimanded for his behavior while Rose was for trying to protect people from his abuse. Scott"absolutely and completely refutes" the allegation.
Rose was consistently bullied and blackmailed by the production, leading to her being forced to cancel her 2019 Comic-Con appearance.
Rose did not willingly quit the production of 'Batwoman', but claims she was forced out by the studio, most likely due to her continuing to "cause trouble" by fighting back against the abuse taking place on set.
For its part, Warner Bros. strongly denies all Rose's allegations saying in a statement: "Despite the revisionist history that Ruby Rose is now sharing online aimed at the producers, the cast and crew, the network, and the Studio, the truth is that Warner Bros. Television had decided not to exercise its option to engage Ruby for season two of 'Batwoman' based on multiple complaints about workplace behavior that were extensively reviewed and handled privately out of respect for all concerned."
Also on rt.com
Superman's bisexual and dating a male reporter. Do DC Comics fans care?
Rose's allegations, if true, about how people are treated on Hollywood productions aren't unique to 'Batwoman'. In fact, Warner Bros. has been dealing with a firestorm of controversy about claims of abuse, particularly from actor Ray Fisher, who has publicly come out to accuse the WB of racism concerning his experience on the 'Justice League' film.
The fact remains that Hollywood has always been a "Do As I Say, Not As I Do" type of town. It covered up Harvey Weinstein's atrocities for decades. It protects its executives and their bad behavior until it becomes politically inconvenient to do so. It chews people up and spits them out on the regular. And it has built an entire industry around exploiting people for its own purposes.
Yet, Hollywood still presents itself as the "moral compass" for the world, championing the "repressed minorities" for the sake of equality and progressivism. But don't let movements like #MeToo and #OscarsSoWhite fool you. Hollywood doesn't care about equality. Heck, it doesn't even care about money. Hollywood only cares about power. And if they're willing to abuse their own, like Ruby Rose, so brutally…
Imagine what they're willing to do to you.
Think your friends would be interested? Share this story!
The statements, views and opinions expressed in this column are solely those of the author and do not necessarily represent those of RT.
You can share this story on social media: