Isn't it odd that 'whistleblowers' keep popping up just after Facebook announced it wanted to 'reduce the presence of politics'?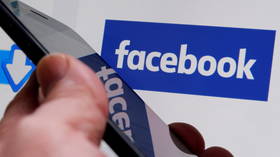 Frances Haugen had her turn on Capitol Hill across the pond, and now it is the turn of Sophie Zhang to get her 15 minutes of fame in front of UK MPs overseeing a proposed piece of cyber 'saftey' legislation.
Zhang, a former data scientist at Facebook, who claims she was fired after highlighting the tech giant's failure to tackle election interference across the globe, has just given evidence to the Draft Online Safety Bill Committee in the UK's Parliament.
Upon leaving Facebook in September 2020, she wrote "I've … found multiple blatant attempts by foreign national governments to abuse our platform on vast scales to mislead their own citizenry and caused international news on multiple occasions." So you can imagine the excitement amongst those politicians who want to see the regulation of social media.
Also on rt.com
Stop blaming 'Russian trolls' & 'RT propaganda': US democracy declining because Americans have lost faith in their elites – Moscow
They intend to achieve this in the UK through the Online Safety Bill. The bill proposes to rein in the excesses on social media by levelling substantial fines on tech companies, such as Facebook and Twitter, which fail to remove "harmful" content.
The committee overseeing the drafting of the bill is chaired by Damian Collins. This is the same Damian Collins who claimed that Russia had interfered in the Brexit referendum and demanded a Mueller-style police inquiry. He got what he wanted in terms of the investigation but, unfortunately for Collins, the British authorities found there were no links between Russia and Leave.EU – a leading Brexit campaign group.
Collins would also have been disappointed again today if he was expecting Sophie Zhang to hand him a "smoking gun." I would describe the whole affair as a damp squib and many of the members of the committee would have been disappointed by the evidence Zhang gave.
They attempted on numerous occasions to cajole her into offering up some red meat, but nothing was forthcoming. For example, when one committee member asked Zhang whether she had witnessed any interference in the 2016 election of Donald Trump, Zhang pointed out that she was only appointed in January 2018.
So, what did Zhang have to say? Well, what was fascinating was that she made it clear that Facebook had far less influence over elections in developed countries, such as the UK, than it does in the developing world. On numerous occasions she downplayed the importance of social media in politics, which, I am sure, is not what the committee wanted to hear.
However, Zhang did state that "Facebook has rewritten the rules about how information is spread," as in the old days the established media had acted as "gatekeepers."
She argued that this has had both positive and negative effects. For example, she claimed that in old days issues like LGBT rights would never have come to the fore. Yet, on the flipside, Facebook and other tech giants have allowed "the spread of radical ideas." Now this is where I part company with Zhang, because I would like to know who actually decides what is a "radical idea?"
During the hearing, Zhang argued that there are not enough people in Facebook monitoring content, and instead much of it was monitored by AI (Artificial Intelligence), which cannot determine what is and what is not "hate speech."
But again, I ask, who is to determine what is and what is not "hate speech?" Indeed, opinions are subjective and what is deemed unacceptable to one person is perfectly acceptable to another. Moreover, in the increasingly woke world we live in, where people seem to be offended by everything, the hate speech net would be cast as wide as the Atlantic Ocean.
Zhang also wants Facebook to reduce the distribution of certain posts whilst they are "fact checked," which could lead to what is known as "shadow banning." However, this is already happening and the best example I can think of is when Facebook and Twitter disgracefully censored any mention of Hunter Biden and his dodgy laptop in the run up to the 2020 presidential election.
I would argue that when Facebook attempts to censor content that it deems, as Collins put it, "problematic," it tramples all over free speech and protects the status quo. For example, I do not think that UKIP would have grown from a fringe organisation into a major political force if it had not been for its use of social media.
UKIP's ideas were purposely ignored for years by the 'gatekeepers' such as the BBC, and it was only after the party and its ideas gained a huge following, which social media augmented, that the establishment media were forced to relent and report on its activities.
Moreover, who is to be the arbiter of what is acceptable? Step forward Sir Nick Clegg, the former Liberal deputy PM of the UK … who had a visceral hatred of UKIP and Brexit. Clegg is now Vice‑President for Global Affairs and Communications at Facebook. Proof that it is possible to fail upwards. Would I really trust Clegg to be an impartial umpire? Not on your Nelly.
It may just be a coincidence, but I do find it odd that whistleblowers like MSophie Zhang are popping up just when Clegg announced that Facebook wants to "reduce the presence of politics" on its platform.
I suspect, however, that Clegg really means the wrong kind of politics, or political views with which he disagrees. And let's not forget that the 45th President of the United States is still banned from Facebook!
Anyway, back to Zhang and her evidence to Britain's parliament this week. I suspect that the MPs in attendance found the whole thing a bit of a letdown. She never gave up any new information or said anything controversial, which left Collins poking around looking for an angle to make her statements relevant.
Also on rt.com
Online hate UK MPs face is 'out of control', Raab warns in wake of David Amess' fatal stabbing
There was no real Russia-bashing and no revelations about how Donald Trump or those pesky Brexiteers cheated their way to victory. The evidence was forgettable because Zhang did not provide the committee with anything they didn't already know.
Nevertheless, that still does not get away from the fact that Facebook seems hell bent on censoring content that does not conform with the metropolitan liberal ideas of those in Silicon Valley.
Subscribe to RT newsletter to get stories the mainstream media won't tell you.
The statements, views and opinions expressed in this column are solely those of the author and do not necessarily represent those of RT.
You can share this story on social media: