The death of David Amess was shocking, but I fear more MPs will be attacked if we don't reconsider how we keep them safe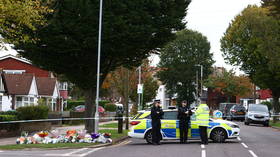 The murder of the Conservative MP Sir David Amess has shocked us all. Unfortunately, when people sign up to a role in public life, they put themselves in harm's way. Nonetheless, not enough is being done to offer them protection.
The question everyone will be asking now is why Amess was targeted. He was not a high-profile politician, nor did he court controversy. His views on many issues were mainstream.
It appears that he was not an ambitious politician. He had been a member of Parliament since 1983, but had never chosen to rise through the ranks of his party. He was, as is often said, a good constituency MP – he was simply more focused on doing his best for those he represented.
Amess was murdered for doing his job: that is, for meeting with members of the public and attempting to resolve the issues they brought to him. Moreover, days before the attack, like a good MP, he had announced on social media exactly where he was going to be for that meeting.
Also on rt.com
MP David Amess' murder proves that identity politics is a threat to democracy
My fear is, and has been for many years, that more politicians will be attacked unless there is a change in attitude towards their safety as our public representatives. Now, I don't want to see a society in which politicians are hidden away from the public and protected by burly security guards, but I'm afraid this is probably where we're headed.
When I was the leader of the UK Independence Party (UKIP), I was forced to have a security team with me at all times. I'd received death threats – including one to behead me – and, during an election, was told by the police to move out of my home for my own safety.
I don't want other politicians to have to live like that, but I'm afraid we may have been left with no alternative. And I'd argue that we've reached this point because we haven't taken the safety of politicians seriously enough in the past.
Firstly, I believe that fellow politicians must tone down their rhetoric. The deputy leader of the Labour Party, Angela Rayner, recently referring to Conservative politicians as "scum" doesn't help anybody. And the fact she refused to apologise only compounded the crassness.
It might just have been a coincidence, but at the Conservative Party conference the following week, the former Tory leader Iain Duncan Smith was hit over the head with a traffic cone by activists shouting "Tory scum". My point is that irresponsible words used by politicians only embolden some people to act on their prejudices.
Secondly, we need to treat all such assaults with the gravity they deserve. Over the past decade, politicians have been subject to an increasing number of physical attacks, and none more so than former UKIP and Brexit Party leader Nigel Farage. In 2013, he had to be locked inside an Edinburgh pub because an intimidating mob brandishing "UKIP Scum off our Streets" placards wouldn't allow him to leave. When then-Scottish First Minister Alex Salmond was given the opportunity to denounce what had happened, he backed the mob's right to protest instead.
In 2014, Farage was bashed over the head with a placard by far-left protesters. The following year, his family was attacked while enjoying a pub lunch one Sunday. When the demonstrators entered the pub, intent on finding him, his terrified family had to hide. They then trashed his car.
Yet all this was made light of because, in the eyes of the Establishment, Farage practised the wrong kind of politics. Indeed, when he asked for security paid for by the state, as is allotted to every other party leader, it was refused. When I was placed in a similar situation, the security I received was paid for by the party.
Also on rt.com
Galloway: I'm devastated by the killing of David Amess – I always felt it could happen to me. Politicians have no protection
And then, in 2019, three years after the murder of MP Jo Cox, Farage was doused in a milkshake by an anti-Brexit protester. Now, it might have been only a milkshake on this occasion, but it could just as well have been a more harmful substance. Indeed, comedienne Jo Brand joked on BBC Radio 4 that, rather than milkshake, it should have been battery acid. Unbelievably, the BBC initially defended Brand from the ensuing barrage of complaints, saying the joke had "not [been] intended to be taken seriously." It belatedly removed the remark from the recording of the show on its website, however, and said it regretted any offence caused.
At the time, the Independent's political sketch writer Tom Peck wrote, "Farage getting hit by a milkshake isn't funny, it's hilarious." Peck was rightly called out by TV host Piers Morgan, who questioned whether he would have found the incident as funny had Farage been a woman or of a different political persuasion. We all know the answer to that.
All of us need to take stock and have a serious think about what has been going on over the past decade. Two British MPs have now been murdered and numerous others have been threatened or assaulted. Therefore, may I suggest that, henceforth, politicians refrain from personal attacks? Attack the policy, yes, but not the person. And if another politician is the subject of intimidation, then his or her colleagues, regardless of their party, could they call it out, rather than back the aggressors?
And please could comedians and journalists act more responsibly by not making cheap jokes when a politician with whom they ideologically disagree is physically attacked? Instead, could they call it out for what it is – an assault on democracy – regardless of the political views of the victim?
What happened to Sir David Amess was the most appalling attack not only on him, but on everything the UK stands for. We want our politicians to be free to walk about in their community and meet with their constituents, but they should never be forced to put themselves in danger. Unfortunately, however, those days could be coming to an end.
Think your friends would be interested? Share this story!
The statements, views and opinions expressed in this column are solely those of the author and do not necessarily represent those of RT.
You can share this story on social media: