Lebanon is on the brink of another civil war, and the Western media are covering for the culprits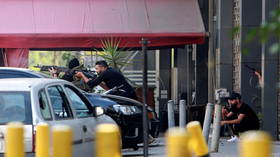 Lebanon, suffering under a collapsed economy, deteriorated to the brink of civil war yesterday, as gunmen ambushed a group of protesters in Beirut, leading to at least six deaths with over 30 seriously wounded.
To top it off, the trauma inflicted in Lebanon's capital was instantly weaponised against Hezbollah in the Western media, who are refusing to point out the key party involved in the attacks.
During what was supposed to be a peaceful protest by supporters of the Amal and Hezbollah movements, snipers suddenly began firing from rooftops in Beirut's Tayouneh area, according to eyewitness reports. The protesters were demanding the dismissal of the lead investigator, Judge Tarek Bitar, in last year's Beirut Port explosion, which Hezbollah accused of being politically biased.
Also on rt.com
One year on from the devastating Beirut port blast, no-one's been held accountable and Lebanon is sliding towards civil war
Instead of this being a regular protest, which routinely spring up in Lebanon, bystanders and demonstrators alike were caught in the middle of an ambush, which reportedly turned into a four-hour gunfight, drawing in the Lebanese Army to contain the situation.
"At the time of the ambush I was giving a class online, at home, and my kids were at school," says Marwa Osman, a university lecturer and political commentator, who had rushed to evacuate her children from danger.
"I started hearing gunfire and at first I kept my class going, but then some of the students who live in the area started panicking, they had bullets flying all over their houses, or next to their houses, so we had to end off for people's safety," she then phoned her children's school, which notified her that the kids could hear bullets and RPGs. When she decided to go and pick up her children, Marwa was advised to take a detour which took her 20 minutes longer than usual to reach her destination, during which she passed "right next to Ain al Remmaneh," where the shootings first began. "It was really, really scary," she recalled, "you can, like, hear the bullets, the whizzing of the bullets, the RPGs, it was a tense situation and anxiety was through the roof, but we made it home safely, al-hamdulillah."
An eyewitness who I spoke to over the phone and did not want to be identified claims to have been present in Ain al Remmaneh and says that the scenes were shocking. "I didn't know what to do, everyone was running and all I heard were shots like they were coming from everywhere," adding that "it was an ambush, it broke out of nowhere and they had people in the buildings."
When I asked how it started, he said, "I think this was sort of planned, I can't understand how snipers would be already in the buildings, on the tops of roofs, if it was not already decided before that they were going to do this."
A joint statement on the attack was released by Hezbollah and Amal, in which they said, "Groups from the Lebanese Forces party dispersed on building rooftops and directly sniped with intent to kill," they also urged their supporters to not escalate the situation.
Samir Geagea, the president of the Lebanese Forces political party, denounced the violence, but did not deny his party's role, adding that "The main cause of these developments lies in the presence of uncontrolled and rampant weapons that threaten the citizens at any time and in any place." The Lebanese Forces also released a statement, denying the charge of "premeditated murder."
"My sister works in an area where the events happened and had to flee the area as soon as the attacks began," Lebanese researcher and political commentator Hadi Nasrallah said. When asked whether he sees Samir Geagea as culpable for today's attacks, he answered: "100%. He is responsible for provoking his followers for months and inciting them against Hezbollah and for not acting to control his militants in today's events. He himself has a criminal history."
Hadi also believes that it is possible that foreign powers may have been involved in backing the Lebanese Forces in their attack, when I asked who may be behind it, he said, "Saudi and the US. The LF is not foolish enough to enter a battle with Hezbollah on their own unless they have been incited by foreign powers and promised backing and protection. LF is a party that was born from the womb of the civil war, it only makes sense that they thrive in such an atmosphere."
Despite the concerns voiced by many Lebanese, including the Hezbollah and Amal Parties, most of the focus has been on anything but Samir Geagea and his gunmen. "It was an unarmed protest, as you can see in all of the videos," Marwa Osman explained. "I didn't even see one headline which mentioned that the Lebanese Forces did anything." Unfortunately, she was correct not only about the headlines, but Western media outlets ranging from the Guardian to Sky News all published entire articles without a mention of either the Lebanese Forces or their leader.
Marwa says that "The Lebanese Forces have been part of the criminals and warlords, who wreaked havoc in Beirut… They even kill Christians, they are Christian fascists in Lebanon... they get funds from Saudi Arabia, the United States and Israel, they are far-right Christians who do not represent anything to do with Christianity… now they have problems with the Free Patriotic Movement, of the Maronite majority, who have great ties with Hezbollah."
The Beirut Port explosion, in which at least 217 people were killed and 7,000 injured, evidently played a large role in stoking today's violence. Hezbollah and Amal see the current investigator heading the probe into the port explosion as being politically biased, as he refuses to summon anyone connected to the 14 March Alliance, which opposes Hezbollah. They see the judge, Tarek Bitar, as simply attacking Hezbollah and their allies, instead of searching for the truth – whilst supporters of Bitar see him as a knight in shining armour, believing he will at least put someone behind bars for last year's tragedy.
Also on rt.com
Recent Israel-Lebanon escalation shows Iran & Hezbollah are interlinked...an attack against one is seen as an attack against both
Regardless of what happens in the investigation, the violence witnessed this Thursday is a bleak reminder of how quickly the country could plunge into the depths of another civil war. Also, what the gunfight has further revealed is that the enemy states to Hezbollah, such as the United States, and their media machines, will use anything they can latch their hands onto to attack the group. This time it was the shootings, which claimed the lives of only one person belonging to Hezbollah; along with mother of five Maryam Farhat, an innocent civilian who was killed inside her home; and the rest were Amal supporters. Yet headlines by the likes of the Daily Mail would have you believe that Hezbollah were the main reason for the deadly ambush.
As Lebanon can barely keep the lights on amidst its ongoing fuel crisis, the truly grotesque reporting in the Western media is not doing anything to calm sectarian tensions inside of a nation which could erupt at any moment.
If you like this story, share it with a friend!
The statements, views and opinions expressed in this column are solely those of the author and do not necessarily represent those of RT.
You can share this story on social media: