Queen of Investing: Just how did Nancy Pelosi build a $120mn fortune on a $223,000 annual salary?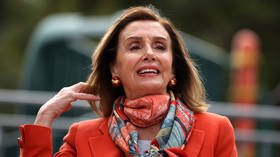 The Democrat House speaker has become the latest member of Congress to show the rest of us how to make money on Wall Street. But please don't put it down to insider trading, because that's illegal.
In case you missed it, Speaker Nancy Pelosi (D-California) is being panned by the Twitterverse, if not by regulators and ethicists, for a series of stock transactions conducted by her husband Paul.
"The week before the House Judiciary Committee voted on reigning in big tech," reported Fortune in July, "Speaker Nancy Pelosi's husband exercised a bullish bet on Google-parent Alphabet, in a timely transaction that netted him $5.3 million."
Also on rt.com
Nancy Pelosi's TV meltdown shows the pressure the Democrats are now under on Covid-19 relief
See? It's really easy.
All you have to do is become a party leader in Congress with access to information that no one else has, and bingo, you too can become a dot-com, or Big Tech, or biotech millionaire, by trading on that insider information.
Of course, that's not really how it happened in this case. According to a spokesperson for Pelosi: "The speaker has no involvement or prior knowledge of these transactions." That hasn't stopped some voters expressing, well, some skepticism.
While technically the practice of insider trading is illegal, if you are a member of Congress, it seems you don't really have to follow the laws they make for the rest of us.
Insider trading has a long and hallowed history amongst ambitious, yet hungry politicos, who find the six-figure salary that comes with public power inadequate to their national position.
Former Senate majority leader Harry Reid (D-Nevada) made money off of Obamacare and oil stocks back in 2008. He sold oil stocks in the summer of 2008, right before the historic energy market crash that precipitated the real estate meltdown and nearly a trillion dollars in federal bailouts – and invested the proceeds in healthcare stocks that he later regulated while punishing the oil companies that he also regulated.
That might be how he accumulated a fortune of $10 million while in public office.
That's small beer for Pelosi, 81, who's represented California since 1987 and whose husband owns a venture capital, financial consulting and real estate firm. She has an estimated net fortune of $120 million, while her congressional salary is $223,500 a year.
A study done in 2011 tracked investment returns of members of Congress between 1985 to 2001 and found he politicos had a more than 6% advantage over the general investor. A previous study by the same group found US senators had an even bigger advantage in the stock market than House members.
These people are obviously not only great, upstanding politicians, but stock market wizards beyond compare.
Studies show that professional money managers never consistently beat the market, yet somehow, politicians like Reid, Pelosi and their peers in Congress manage to do what Warren Buffett can only manage on his very longest-held investment types.
A 6% advantage may seem small, in dollar terms, but over an extended period of time, it's a huge advantage, guaranteeing nearly risk-free investing returns compared to the general investor.
Enjoying average market returns of 10% over 20 years, a member of the investing public would see $10,000 grow to $61,159, while a member of the House – with the advantage of that extra 6% – would see the amount grow to $167,765, nearly three times the amount made by ordinary folk.
And here's the thing: Insider trading is not a victimless crime, or a fringe benefit of public office, like tickets to the Met Gala.
For every trade a politician makes on their inside information, there are many others buying or selling investments while denied the information that politicians have about the prospects of an investment, and therefore at a real disadvantage.
Many of those people are teachers, firefighters, policemen and others who have retirement savings with money managers.
Even more, as we saw in the Pelosi case with the Alphabet trade over the summer, the fact that politicians trade in investments over which they enjoy regulatory power adds an extra dimension of ethical wrongdoing that even the most predatory of Wall Street wolves can't equal. Small wonder that the investing world has a new meme: Nancy Pelosi, star stock-picker, with thousands following her – well, her husband's – very shrewd trades.
Unlike the prohibition on expensive gifts such as Met Gala tickets, constituents have very little recourse against members of Congress who do trade on inside information.
While in 2012, Congress passed a law that supposedly required reporting of stock trades by members without delay, the fines for non-compliance are small. Business Insider reported that this year, 37 members of Congress failed to report stock trades in a timely manner.
"While lawmakers who violate the STOCK Act face a fine, the penalty is usually small — $200 is the standard amount — or waived by House or Senate ethics officials," said Businessinsider.
That's hardly more than a transaction fee for stock trades involving hundreds of thousands of dollars.
And it doesn't address the core issue of cheating the investing public and voters while serving in Congress. Cheating may seem like a small thing to Congress, but is a big thing to the rest of us.
Insider trading laws – as people learn when studying to become investment executives – were enacted to restore the trust that stock markets aren't a rigged game, with members of the public the marks in a con controlled by the people who run the markets.
More important today is that we restore the trust that government is not a rigged game, with the public the marks in a con controlled by the people who run the government.
Also on rt.com
Stocks for me but not for thee: Redditors playing the stock market is problematic but, if a Democrat does it, no big deal
The pandemic has gone a long way towards reinforcing the idea that there are rules the government makes the rest of us follow, but from which those in power are always exempt.
And disclosures of million-dollar stock trades that benefit Pelosi and her husband just make it clearer politicians prosper from the rules they force on us but which they ignore.
It's time to ban stock trades by our political leaders while they are in office.
Think your friends would be interested? Share this story!
The statements, views and opinions expressed in this column are solely those of the author and do not necessarily represent those of RT.
You can share this story on social media: