Nancy Pelosi's TV meltdown shows the pressure the Democrats are now under on Covid-19 relief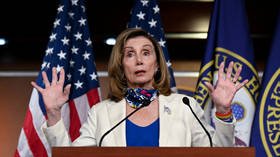 The House speaker's loss of temper in a CNN interview was instructive on how the Dems are feeling the heat on the Covid relief bill. President Trump has forced them into a corner, and they don't like it.
You could call CNN's Wolf Blitzer many things. Some of those things may not be hugely complimentary, depending on your opinion of CNN. However, I very much doubt you could really call him a 'Republican apologist' with a straight face.
Blitzer is notable for having a very good reputation as a broadcaster, with a left-wing slant on his takes. However, that didn't stop Nancy Pelosi from accusing him of such when he asked her what the House of Representatives was going to do with regard to President Trump's proposal for a Covid-19 relief package.
It goes without saying that Trump's initial decision to walk away from the negotiation table last week was boneheaded. Stocks tanked, approval ratings fell, and Pelosi, most likely, relished the president's discomfort. As one of his key political rivals, she has regularly done what she can to undercut his agenda.
However, once Trump swiftly reversed course and asked for a simple bill to aid Americans, the tables turned rather quickly. Signing a bill to give $1,200 for relief, right before the holidays, would be a big deal for the many people who have suffered terribly due to the restrictions caused by Covid-19.
Pelosi now finds herself between a rock and a hard place. With Trump putting forward such a simple request, any resistance comes across as sheer political pettiness.
At any other time, this would just seem like standard political bickering. However, we're less than a month away from an election. An unwillingness to come to the table makes voters wonder exactly what their representatives are doing, and that is far from ideal for the Democrats so close to the ballot.
As it stands, Pelosi has two options and neither is what she really wants. In her ideal world, Trump would not have come back to the table, and Joe Biden could have hammered the president on this very point all the way to the polls. Then the Democrats would likely win the election comfortably. But that's not how it's played out.
Also on rt.com
Nancy Pelosi goes BERSERK when Wolf Blitzer challenges her on pandemic relief talks, calls CNN 'apologists' for the REPUBLICANS
One option that Pelosi has is simply to be stubborn. If this is the route she decides on, no negotiations happen, no bill is passed, and nobody gets any money. This would be a disastrous choice. Even if she was to attempt to justify it by offering the excuse of not wanting to inflate the budget, no one would buy it, because she has never previously shown great concern about spending. If she chooses this option, the Democrats will lose the election.
The other option is less risky, but will still make Trump look like a hero. And that is passing what the president says he would sign. This really is the only way for her to save face. Between an impeachment that went nowhere and deliberating over Covid-19 relief for months, it already looks like all the Democrats do is waste time. If they pass a simple bill that the Senate also passes, they'll at least be able to run on that in the latter part of their re-election campaign. It doesn't give them a win, but it lessens the blow of Trump having the winning hand.
What will Pelosi do? At this point, I would assume that she will cave, and that looks to be the wise thing to do. But this relies on commonsense overriding her pettiness – and if her exchange with Wolf Blitzer is anything to go by, in no way is that a given.
Think your friends would be interested? Share this story!
The statements, views and opinions expressed in this column are solely those of the author and do not necessarily represent those of RT.
You can share this story on social media: