The revelation that Facebook puts profit before public good is no surprise, but the reality is it's more fragile than ever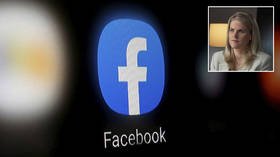 Whistleblower Frances Haugen's revelations of Facebook's ruthless pursuit of profit show that despite appearances, the company is in trouble and its defensive behaviour is an expression of decline rather than megalomania.
Problems can be like waiting for a bus – nothing comes, then two arrive simultaneously. Facebook experienced something similar this week.
On Sunday, on the news program '60 Minutes', former Facebook employee Frances Haugen publicly explained her decision to speak out about the internal workings of the company, saying she had become alarmed by what she perceived as policies that prioritised profit over public safety. She revealed she was the whistleblower behind the documents that made up The Wall Street Journal's investigative series 'The Facebook Files'.
Also on rt.com
How Amazon, Facebook, Google and Microsoft wage a domestic War on Terror, and make billions
Then on Monday, Facebook, Instagram and WhatsApp services went down and were only restored hours later, following the worst outage in the company's history. Millions of people, particularly WhatsApp users, were thrown into the dark.
Outages are not unexpected, nor are they unprecedented. But whistleblowing, on the other hand, is.
These two unrelated events highlight the dawning reality that Facebook is, in fact, fragile and is being seen to be.
This might appear counterintuitive. After all, this summer, Facebook's monthly active users reached 2.9 billion – more people than live in the world's two most populous nations, China and India, combined. And advertisers poured $54 billion into Facebook in the first half of 2021 alone – a sum that surpasses the gross domestic products of most nations on Earth. Problems? What problems, I hear you say?
Frances Haugen's interview has exposed more about this fragility than many are recognising. One can read her comments superficially. Her description of the conflicts of interest "between what was good for the public and what was good for Facebook," for example, in which she says "Facebook, over and over again, chose to optimise for its own interests, like making more money," is probably very accurate.
However, what she doesn't say is what lay behind this behaviour, other than to reinforce the childish idea that Mark Zuckerberg is a rapacious capitalist solely driven by greed and megalomania. That might fit into the contemporary narrative about the dangers of Big Tech. But it doesn't really help understand what is going on in Facebook and its consequences for the future.
If one examines TheWall Street Journal's 'Facebook Files, it becomes clear that the company is engaged in a ruthless defensive struggle to retain its position.
Hugen's evidence that Facebook has a two-tier justice system, that it knew Instagram was worsening body-image issues among girls and that it had a bigger vaccine misinformation problem than it let on, indeed revealed the power of the company and its control of the public square.
However, as the author Kevin Roose perceptively argues in a column in The New York Times, this is symptomatic of Facebook's slow, steady decline, its existential dread about losing power and influence rather than gaining it. For example, Haugen's revelations shine a light on the fact that Facebook's internal research uncovered the disturbing fact that its products are not thriving organically. The expected loss of young users – up to 40% by 2023 – is a death knell for its future.
In other words, Facebook's behaviour resembles an increasingly paranoid ageing boxer fighting the inevitable creep of old age. This is not a company floating like a butterfly across the ring, but a punch-drunk behemoth, as Roose puts it, "going to extreme lengths to improve its toxic image, and to stop users from abandoning its apps in favour of more compelling alternatives".
Of course, writing off Facebook at this stage would be very premature. It has enormous power and resources to build new apps and a war chest to buy more start-ups that can capture younger users' imaginations. The ruthless pursuit of profit indicates that it will not give up without a fight.
Also on rt.com
Facebook has revealed how it suppresses news it doesn't like and decides what's true and what isn't. It's chillingly Orwellian
The dangers of this are clear, however: far from this expanding innovation, the company's defensiveness threatens to dampen it. Politically, the implications are even more significant. For example, the clampdown on free speech, especially the intervention in elections, shows that a company with the hold that Facebook has over the public square can inflict untold damage to democracy. Defending its decline by advancing any means that will increase 'clicks' means freedom and free speech are now expediency rather than a fundamental principle to be upheld under all circumstances.
This week's outage is undoubtedly a reminder of just how much of the internet Facebook owns and how reliant we have become on its platforms. But Haugen's revelations show that Facebook's decline is much more of a threat to democracy and humanity when it's online than when it's off.
Like this story? Share it with a friend!
The statements, views and opinions expressed in this column are solely those of the author and do not necessarily represent those of RT.
You can share this story on social media: