A £70,000 salary to drive a lorry? University can truck off... I'm telling my kids to swap school for life on the open road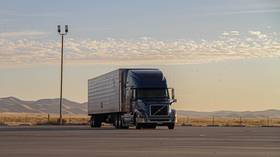 Britain's shortage of HGV drivers is pushing wages sky high. Why then should you put your kids through uni, given it can cost around £50,000 for three years and they'll learn nothing that will lead to a job in the real world?
Have you ever seen a nine-year-old boy smiling happily as he looks over the steering wheel of a supersized truck, blasting down the highway?
No? Not yet maybe, my fellow parents, but give it time. And forget medicine, architecture or the law for your offspring. Nah. Truck that. Driving a lorry is where it's at these days, as truck drivers can make £70,000 a year! There is also, apparently, the incentive of a £2,000 'golden hello' payment.
You what? Seventy grand a year, for driving a lorry? That's enough income for a big middle- class house out in the suburbs, a pair of new BMWs parked on the drive, summer breaks at the family apartment on the Algarve, a week's skiing in the Alps every winter, and all that. The good life.
And, honestly, if I share this nugget of news with my little boy, he'll quit primary school right now and immediately try to get his heavy goods vehicle (HGV) licence. He'd love life out on the open road, so long as he could stop for ice cream and shoot his Nerf gun rubber darts at other drivers at those motorway truck stops.
The human arse is his favourite target – I have the red marks to prove it – and most truckers offer a big, saggy and easy bullseye for him to aim at. It's a bit like the legendary 'builder's bum' (Google it, if you've never had the pleasure of a real-life view).
Also on rt.com
UK inflation sees highest increase on record after dramatic spike caused by heavily discounted eat-out incentive scheme
Yes, headhunters are apparently searching greasy spoon cafes and truck stops and such like, looking for drivers to deliver goods to supermarket chains such as Sainsburys and Tesco.
Then those goods may well be unloaded by shelf stackers earning the minimum wage, many of them with university degrees in subjects of absolutely no utility whatsoever. Those kids spent three years studying social pseudo-sciences or gender studies or whatever, and learnt how to DO precisely truck all.
Government intervention is desperately needed to solve the shortage of truckers, the boss of the Co-operative supermarket group says. "This won't be solved in isolation, this is a global issue where the supply chain has completely broken down," Steve Murrells told Reuters. "You can't solve [a shortage of] 90,000 HGV drivers in isolation, it needs a structural change."
Well, here's a solution. You can drive some trucks at the age of 18. So, quit school, boys and girls, right now – and get yourselves down to the driving school and study for your HGV licence. Your country needs you. Supermarket shelves are empty because the nation is short of truckers.
And, of course, you can learn the trucking song from Not The Nine O'Clock News... surely they MUST teach that as part of any HGV course? "I like trucking, I like trucking, I like trucking and I like to truck." The star of that video, Rowan 'Mr Bean' Atkinson is a true petrolhead and actually does have his HGV licence, as does actor Liam Neeson, director James Cameron, boxer Chris Eubank and athlete Kelly Holmes. So, you'd also be in good celebrity company.
Also on rt.com
UK's already hard-hit travel sector to see even more jobs culled, industry body warns, slams govt tourism policies
This trucking story reminded me of a conversation I had with a colleague a while ago. His son had just been born and he was already arranging to put money aside each month for his kid's future education.
"What if he just wants to be a hairdresser?" I asked. My mate just scowled and kind of looked confused – he had obviously never discussed such an insane concept with his wife. His kid was going to uni. No discussion, no argument.
That was 13 years ago, and because of the massive cost of higher education, my mate still isn't sure whether there's enough cash in the kitty for his son, especially seeing as his daughter came along a couple of years later and truly messed with his maths. Over 50% of British kids go to university nowadays, to go and study their own belly buttons and not much else.
And hey, parents, even the most expensive 'ultimate' package for your kid to get their HGV licence starts at just £4,350. That's bobbins, way less than three years at university. According to the Times Higher Education magazine, the average living costs alone per year for uni are £4,914. Tuition fees are £9,250. Every year.
Plus a degree in, for example, the ever-popular media studies won't necessarily lead to a job in the media. I have been an unhappy boss who hired journalists in the past, and one of those degrees on a CV never helped get anyone a job – not on my watch. All that university teaches kids these days is how to be woke.
Also on rt.com
'Brexit is making us more British': Farage & supporters celebrate return of Crown Stamp on pint glasses as victory for sovereignty
I often wonder what my grandfather would think of it all. He worked six days a week underground – as a coal miner. And he earned enough to feed his family in their council house and grab a few beers with his mates on a Saturday afternoon down the working men's club, but that was about it.
I'm pretty sure he'd be in that queue right now at the HGV school, if he knew he could earn £70k a year. And if they could lower the age to get a licence to nine, then his great-grandson would be in the queue alongside him. He'd be trucking mad not to.
Think your friends would be interested? Share this story!
The statements, views and opinions expressed in this column are solely those of the author and do not necessarily represent those of RT.
You can share this story on social media: