The bumbling inefficiency of our elites during the pandemic should dispel any notion they are capable of any kind of 'conspiracy'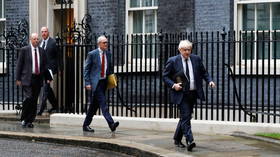 The best protection against conspiracy theories is to take a realistic look at the workings of elites when they actually attempt to deal with a problem.
We might say that the UK state's failure to manage Covid-19 represents an ideal vaccine against conspiratorial thinking–which is fitting, as vaccinations might be the only success story of the pandemic. Increasingly, the only role the state sees for itself is in telling people what to do. Decent healthcare? That's expensive! Have you tried a mask?
In this way, the UK state has shown itself to be woefully inadequate in rising to the challenge of dealing with the outbreak of disease. Yet it is precisely during such emergency situations that we want a government that can, well, govern. Instead, the pandemic has shown wherein the true skills of elites lie: in setting themselves up as managers and regulators, while doing as little as possible in the process.
Also on rt.com
Mask mandates and vaccine passports are a performance, a taking of the knee to a warped health-and-safety morality
It may come as a surprise to some that the UK had actually ranked quite highly in pandemic preparedness prior to 2020. Indeed, the World Economic Forum's Global Security Index had ranked Britain and the US as the best prepared in the world for a global pandemic in 2019. Yet this high ranking reveals a lot about the failure of these states to deal with a real-life pandemic when it hit.
As Lee Jones and Shahar Hameiri describe in a recent study of the phenomenon, over several decades the UK state has moved away from a style of government that takes a top-down, authoritative approach to securing resources and directly intervening to try and solve problems. Instead, it has gravitated toward a model that simply attempts to 'regulate' and steer others toward meeting the state's goals.
This means that rather than setting out plans for how the state will act in case of emergency, they set out tick-box rules and regulations for how other agencies should behave in such an event. For example, the Department of Health's UK Influenza Pandemic Preparedness Strategy, published in 2011 admits that health and social care services would be overwhelmed in case of even a moderate pandemic. However, rather than build extra capacity in critical care services, they direct healthcare providers to engage in their own 'surge planning', regardless of whether or not they had the capacity to deal with any surges (spoiler: they didn't).
This also at least partly explains the government's obsession with behavioural psychology. Seeing no role for itself in actually solving problems, the UK government has convinced itself that we are the problem. Closing in on two years since the first inklings of something awry in Wuhan, the NHS has still not seen its capacity increased. Staff shortages, record waiting times and reduced hospital beds remain the stark reality of the UK's public health system. Yet in all of this, the persistent message has been that we are the problem. In reality, there were no plans, only rules. And now, all we can do, we are told, is follow the rules.
Also on rt.com
It's a load of maskless balls: authoritarian elites party on regardless while ordering us to follow their Covid rules
And this approach is not limited to government. It seems there is no shortage of bodies appearing offering not to make anyone's lives better, but to create endless rules and frameworks and charters. Endless mounds of paperwork and plans that someone else is at some point expected to fulfil. In higher education, students are sometimes attracted with promises of workplace experience via credit-bearing placement options. Yet, when they arrive, they find they must source those placements themselves. The university simply provides a framework and rules that the student must demonstrate they meet, submitted for credit at the end of the semester. No 'unique opportunities'. Just more rules.
Elites everywhere are developing excellent skills in creating paperwork and PowerPoints. But when it comes to actually getting things done, that's up to us.
Think your friends would be interested? Share this story!
The statements, views and opinions expressed in this column are solely those of the author and do not necessarily represent those of RT.
You can share this story on social media: