American economic sanctions are no less a threat to the world than its military activity – Afghanistan's just the latest example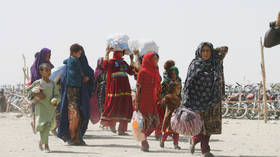 After years of war, Afghanistan is facing an economic collapse, like many other countries that the US attempted to "remake" through its military operations, or through its economic warfare.
The possibility of a complete economic collapse in Afghanistan is "serious," United Nations Secretary-General Antonio Guterres said on Monday, highlighting the country's dire need of international aid.
"The people of Afghanistan need a lifeline. After decades of war, suffering and insecurity, they face perhaps their most perilous hour," he said in Geneva, at a high-level meeting on the humanitarian situation in Afghanistan.
"Let us be clear: This conference is not simply about what we will give to the people of Afghanistan. It is about what we owe," he added.
After 20 years of war and occupation by Western countries, Afghanistan is perhaps facing its greatest challenge yet, which may come as a surprise to some. One would think that decades of ground war would destroy a country, but today one of the greatest challenges facing some countries is actually other forms of warfare, namely economic warfare.
As Guterres noted, one in three Afghans now do not know where their next meal will come from and a severe drought could potentially cause many people to lose access to their food supply by the end of the month.
This is largely because of "limitations" in the country's financial system, which has to do with the fact that the aid-dependent economy of Afghanistan was essentially being propped up by the US-led war effort and nothing else. As the Taliban regained control of the country, western nations suspended their aid to Afghanistan and a significant part of its economy has closed down, virtually overnight.
At the same time, the International Monetary Fund (IMF) has taken away Afghanistan's access to foreign exchange reserves after the American retreat, which means international commerce – including for key products like food, medicines and fuel – is going to be extremely difficult for the new government.
This is in addition to the fact that the US froze nearly $10 billion in Afghan assets, most of which are held in New York, after the Taliban retook the country.
US Secretary of State Antony Blinken pledged on Tuesday to continue  humanitarian aid to the Afghan people through nongovernmental organizations and UN agencies. The US announced it'd provide nearly $64 million in additional humanitarian assistance for the Afghan people which will bring its total aid to Afghanistan "to nearly $4 billion since 2002." That's while the US spent trillions of dollars on its 20-year War on Terror, which has largely been a disaster that sowed even more chaos in the region.
According to the UN's recently released 'Profits of War' report, since the start of the intervention in Afghanistan in October 2001, Pentagon spending has totalled $14 trillion – much of it allegedly wasted through corruption and fraud.
Also on rt.com
Shocking report exposes how US defense contractors have wasted trillions through fraud and corruption
Afghanistan looks like it's headed for a situation all too familiar to countries in the Middle East, some of which have faced severe economic challenges thanks to American economic warfare. It could mean an even worse refugee crisis, growing extremism and long-lasting damage to the country's social fabric.

Similarly, in a meeting with Russian President Vladimir Putin this week, Syrian President Bashar Assad accused Western powers of obstructing a peaceful solution to the ongoing conflict in Syria. He said that the sanctions and other coercive measures imposed on Syria by Washington, the EU and some Arab states are "anti-human" and illegitimate.
Putin added that illegally stationed foreign troops, namely those of the US and its allies, is a major problem for Syria, preventing it from "making a maximum effort to consolidate the country and move along the path of its restoration." The Damascus government controls around 90% of Syrian territory, he added.
In effect, though the Syrian government won the war that nearly tore it to shreds almost a decade ago, coercive and illegal actions by the US and its allies are making a peaceful existence impossible for the Syrian people.
The US sanctions also have regional consequences.
For example, the World Bank described the situation in neighboring Lebanon this year as one of the top three economic calamities in the past 170 years. There, the local currency's hyperinflation is making access to basic goods – including food, medicines and fuel – difficult for the average person.
However, even in the throes of this disaster, Lebanon can't import from or export to its neighbor, Syria, which would otherwise be seen as a lifeline, thanks to the new round of sanctions imposed on Damascus. Lebanese officials have asked their US counterparts for an exemption, but so far it hasn't been granted.
Similarly, Lebanon faced a challenge importing oil from Iran due to American sanctions imposed against Tehran. But a shipment is due to arrive this week, according to Lebanon's Hezbollah movement.
When announcing the end of the US withdrawal – or rather a retreat – from Afghanistan, President Joe Biden said that it marked the end of an era of a US foreign policy that had sought to "remake other countries." If that is indeed the case, he must lift the illegal sanctions and coercive actions the US has placed on countries all over the world clearly designed to starve the nations that Washington disagrees with ideologically.
American sanctions have deadly effects that extend to average people. They contravene international law and basic morality, and pose threats to global security. The US must ditch economic warfare and look for more pragmatic foreign policy instruments.
Think your friends would be interested? Share this story!
The statements, views and opinions expressed in this column are solely those of the author and do not necessarily represent those of RT.
You can share this story on social media: