The culture in the grip of Instagram influencers can ruin lives and Facebook knows it. It's time someone took responsibility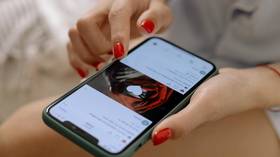 Social media stars seem to pay little attention to how influencer culture can affect other people's lives. So it is with Facebook, which, it's been revealed, knows its photo-sharing app Instagram is "toxic" for teen girls.
Can you imagine a life where you have breakfast at Harrods every morning, then go for an afternoon shopping spree at Knightsbridge, look picture-perfect on a Wednesday at noon, wear designer brands, stay in five-star hotels, fly first class, and don't have to work nine to five?
So-called influencers, who typically post their snaps on social media in lavish or exotic locations while holding a glass of prosecco, they do. And the question many are dying to ask is: who are these people and how have they managed to achieve this?
These glamorous social media public figures typically make money from endorsing favored brands, products and content for their audiences. And that industry is worth billions. Influencers form a huge part of the social-media world, especially on Instagram, a social media platform owned by Facebook Inc.
The most popular sponsored posts on Instagram are for products and services in beauty, lifestyle, fashion and travel. The photo-sharing app's Explore page is full of content creators flaunting picturesque looks and fantasy life – and all that is carefully constructed to gain clicks and to 'influence' potential spenders.
It shouldn't surprise anyone that we live in a world where ads, marketing and sales and social media platforms are part of that world. But a largely overlooked problem is how social media and influencers' culture might affect younger generations.
This week, the Wall Street journal published a report revealing that Instagram causes many of its young users, particularly teen girls, mental health issues and suicidal thoughts, with about 6% of youngsters in the US and 13% in the UK tracing these back to Instagram.
Also on rt.com
Social media influencers must explicitly label paid posts as advertising, top German court rules
The WSJ was able to obtain and publish slides from an internal report at Facebook. The tech giant had been conducting three years of studies about the harmful effects of Instagram among its millions of young users, with researchers summarising the findings as a "teen mental health dive."
Currently, there are 500,000 active influencers on Instagram, according to a study by InfluencerDB. This means 39% of all Instagram accounts with more than 15,000 followers. In addition, 81% of Instagram influencers have followings between 15,000 and 100,000 users.
Many of these millions of 'influenced' users are young, vulnerable and impressionable girls.
Could it be possible that the comparison to fake, unattainable body images and lifestyles such as we see on Instagram is the reason for the sudden rise of anxiety and depression levels among Gen-Z girls?
This seems to be true, as Facebook's own internal research supports this notion.
"Thirty-two percent of teen girls said that when they felt bad about their bodies, Instagram made them feel worse," the WSJ writes, citing a March 2020 slide presentation posted to Facebook's internal message board. "Comparisons on Instagram can change how young women view and describe themselves."
The researchers also noted that many of these problems are unique to Instagram alone, because it focuses fundamentally on lifestyle and body, meaning "social comparison is worse on Instagram."
The company's internal research also revealed "teens blame Instagram for increases in the rate of anxiety and depression," something researchers described as "unprompted and consistent across all groups."
For example, with unlimited "influencing" and no higher authority, such as employers scrutinising the content of Instagram influencers (as they're self-employed), it is impossible to stop those who encourage the unattainable body and the fake, luxurious and superficial lifestyle.
Also on rt.com
Two-faced Facebook's hypocrisy on freedom of speech reveals it is now a clear and present danger to democracy
In fact, in 2020, an influencer even proved this notion by 'faking' a holiday in [homestyle furnisher] Ikea. American YouTuber Natalia Taylor, who boasted 2.2 million followers, posted a series of snaps on Instagram, in which she appeared to be enjoying an expensive holiday at a resort in Bali. However, she later revealed that those pictures had, in fact, been staged and shot at her local Ikea store, to expose that "life on the internet isn't always what it seems; especially in this day and age where it's so easy to pretend to be anyone you want to be."
Unfortunately, this is often the sort of picture-perfect lifestyle which is showcased by thousands of influencers on Instagram.
Many people are often posting their best moments – excellently edited and shot – to be commented-on, judged and rated by complete strangers online. Many such people also encourage others to do so, too.
This culture, when promoted, is likely to harm the mental health of young girls and make them feel like they are in a competition to project the 'best' life and to have the 'perfect' looks and body image.
The Facebook internal documents revealed by the WSJ are important, as they finally draw a significant link between social media and mental health, a notion which has been swept under the rug for years.
In fact, I myself have known about this issue for several years. In 2019, one Instagram influencer, who chooses to remain anonymous, revealed to me that she had been taking antidepressants due to the stress of her job. "I have fallen into a comparison trap, I constantly compare myself to other influencers, it's my job but it's tough."
Also on rt.com
Rapper Nicki Minaj shocks fans with Covid-19 vaccine horror story about 'cousin's friend in Trinidad'
Knowing the bitter truth of what goes on behind the scenes of such an online culture only makes us wonder why this issue was not dealt-with more seriously. In fact, it turns out that Facebook plays this down in public, despite internal documents showing that executives at the company know that Instagram is toxic for one in every three teenage girls.
Facebook has a moral and ethical responsibility to fix these problems and publicly warns users about the potential harm certain uses of the platform can cause.
And this generation of wannabe 'influencers' who are chasing D-list fame also have responsibility for what they promote to their audience. Indeed, many of them are fun and inspire us to make content of our own. But they should admit that there's a problem with this culture.
People who construct and commodify an unhealthy social world similar to that of a dystopia while promoting empty hashtags of "positivity" are doing anything but spreading positivity.
Think your friends would be interested? Share this story!
The statements, views and opinions expressed in this column are solely those of the author and do not necessarily represent those of RT.
You can share this story on social media: