Pointless stunts by Britain's anti-China rabble of MPs will have no real influence on Beijing-London relations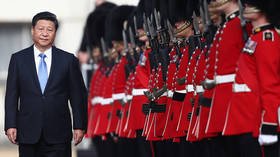 By succeeding in getting the Chinese ambassador to Britain banned from the House of Commons, the UK's small but vocal circus of anti-China MPs showed they are more interested in posturing than working at a meaningful relationship.
Nearly six years ago, Chinese leader Xi Jinping addressed the House of Commons, heralding what David Cameron's government described as "the golden era" of relations with China.
Yesterday, in contrast, the Chinese ambassador was banned from attending a House of Commons event by Speaker Sir Lindsay Hoyle following a coordinated complaint by Nus Ghani, Sir Iain Duncan Smith, Neil O'Brien, Tim Loughton and Tom Tugenhadt, five MPs who had been blacklisted by Beijing in retaliation for sanctions the UK placed on officials in Xinjiang earlier this year. Two peers from the House of Lords also wrote to the speaker, who said China's representatives weren't welcome to visit the chamber until the sanctions were lifted.
Allowing the Chinese Ambassador on to the estate would've been an insult to Parliament. The principled stand by the Speaker & Lord Speaker stands up for freedom of speech, supporting those parliamentarians who have been sanctioned by China. https://t.co/mbxEhYmchH via @YouTube

— Iain Duncan Smith MP (@MPIainDS) September 15, 2021
The group was targeted deliberately because they are recognised as the most fanatical anti-China MPs in parliament, and have been persistent in their attempts to disrupt Beijing's relationship with Britain by way of Cold War-style posturing.
Prime Minister Boris Johnson, in contrast, has been eager to maintain economic ties with China, but has faced difficulties due to the new strategic environment caused by the changing preferences of the United States, and this parliamentary circus of largely right-wing MPs who have decided to replace Europe with China as their main enemy, now that Brexit has been secured.
China's Embassy in London condemned the decision by the speaker as "cowardly," but Beijing should ultimately not take the bait over this provocative, yet petty and meaningless stunt. Despite all the pressures on the British government to be tougher regarding China – which, admittedly, has had some consequences for foreign policy – anti-China sentiment in Britain has actually cooled. Although public opinion in relation to China has reached a low in recent years, a Pew Research survey showed negative perceptions of Beijing actually declined from 74% to 63% in the UK from 2020 to 2021. That is still not great, but it pales in comparison to the near-all-embracing dislike in Australia and the US, where the figures stand near 80%.
As a result of this, the frontline anti-China MPs – who had almost a free pass to attack Beijing last year – now find that they are failing to influence the agenda in the way they had hoped, and this is why they are pulling such stunts.
Also on rt.com
China sanctions UK officials and entities for 'maliciously' spreading 'disinformation' about Uighur Muslims
And this is why – bar the counter sanctions – Beijing has chosen to be strategically restrained when it comes to dealing with the UK, because like Downing Street, it sees sustained economic ties as pivotal. The backbenchers, on the other hand, ultimately reject this shared consensus and now sit on the margins, meaning they will only be able to push their agenda more effectively if another crisis is sparked.
It is often claimed – with good reason – that the British government unquestioningly follows the foreign policy of the US. The unfolding Afghanistan debacle has been one shameless example, and many have pointed out that London has been quick to toe the American line on China too. But in practice, there are subtle differences in the intensity of the negative messaging. Whilst the US is capable of turning the screw and putting pressure on Britain to conform when it comes to core issues such as Huawei and 5G, the UK is more pragmatic and flexible than the US when it comes to China, and recent Conservative governments (especially Cameron's) have valued it as an economic partner as opposed to purely a competitor. Britain still believes it has something to gain from Beijing, whereas the US has actively scapegoated China for many of its problems.
Brexit has also reduced the UK's economic options, effectively making China an 'unspoken' partner, although free trade is out of bounds politically. As an example, a Chinese firm bought the UK's biggest semiconductor company back in June and the UK government very quietly approved the deal. The technology is not strategic, but Boris Johnson later stated that he did not want to "pitchfork away" Chinese investment – a clear nod to the anti-China hawks who wanted the deal revoked. Had this acquisition happened in the US or Australia, it almost certainly would have been.
And so, despite ongoing tensions regarding Hong Kong and the sending of aircraft carriers into the South China Sea, the reality is that the UK has sought to resist the most manic anti-China impulses, angering the militant backbenchers. These MPs have essentially replaced the Eurosceptic wing of the Conservative Party as the frequently annoying rabble who seek to undermine and disrupt the government's foreign policy agenda, almost always against the national interest. To do this, they have created a number of bodies, such as the China Research Group –which pushes negative news and biased research regarding Beijing, as well as the unhinged Interparliamentary Alliance on China (IPAC), which Duncan Smith is a leading figure in.
Also on rt.com
China sanctions UK officials and entities for 'maliciously' spreading 'disinformation' about Uighur Muslims
These groups are mere talking shops, and because the UK government is choosing to ignore them, we have seen a number of actions designed to sabotage relations with China, set the agenda and provoke angry responses from Beijing. In 2021 alone, these have included the toothless 'genocide' motion in the House of Commons regarding events in Xinjiang (which very few MPs turned up for), a motion to boycott the Winter Olympics in Beijing, the 'genocide amendment' which sought to block free trade agreements with countries found to be committing genocide, and now this silly affront to China's ambassador in parliament.
None of these stunts has really amounted to anything, yet it shows the persistent effort to elicit confrontation with Beijing. It is diplomatically offensive, an attempt to humiliate, and also seemingly dismissive of the context that China's sanctions on MPs were a reaction to the UK's own sanctions.
The backbenchers will not compel the government to take the line on Beijing they'd like to see, but neither will the so-called Golden Era of relations between the UK and China return anytime soon. The PM will maintain relations and keep economic ties quietly ticking over, but he will be walking a diplomatic tightrope. In a nutshell, it's clearly now a relationship where those wish to sustain it work while those who oppose it shout the loudest.
Think your friends would be interested? Share this story!
The statements, views and opinions expressed in this column are solely those of the author and do not necessarily represent those of RT.
You can share this story on social media: