Raging for the Machine: AOC's 'Tax the Rich' dress isn't a scandal. It's business as usual for Revolution, Inc.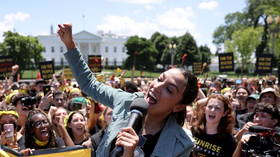 Alexandria Ocasio-Cortez's 'Tax the Rich' dress at the $30,000-per-ticket Met Gala was hypocritical and smacked of decadence. But those complaining are missing the point. She's not a politician. She's an actress who passes laws.
It's difficult to think of an image that more aptly sums up the feckless arrogance and moral decline of America's ruling class than self-professed 'democratic socialist' Rep. Alexandria Ocasio-Cortez showing up to the $30,000-per-ticket Met Gala in a ball gown emblazoned with the text 'Tax the Rich'.
Yet that's exactly what happened on Monday night, as AOC schmoozed with celebrities at possibly the most elitist event in New York's social calendar.
Also on rt.com
'Obscenely out of touch': AOC stirs controversy with statement-making 'Tax the Rich' outfit at annual Met Gala event
Predictably, Ms. Ocasio-Cortez' opponents on the right were outraged. They fumed as she described herself as a "working class woman of color" on the red carpet, and the rabble continued into Tuesday, as they slated her for defending her gala appearance on Twitter.
"Why don't you just move to Hollywood where you belong [and] get out of Congress," one irate commenter, who describes himself as a "free and proud American patriot," wrote.
He hit the nail on the head. AOC is no stranger to accusations of hypocrisy from the right, and every time she stumbles into what would be a PR nightmare for an actual politician ($58 'Tax the Rich' sweatshirts from her merch store, for example), she comes out with a few hundred thousand more Twitter followers and lands herself a few more cable news interviews.
What conservatives don't realize is that AOC and those like her are immune to shame, and will happily flout their own standards in the face of even the most scathing criticism. AOC responded on Tuesday to the Met Gala debacle by firing off an Instagram post accusing her critics of policing her body, acting "disdainful and unsupportive" to "women and femme people," particularly "working class" women and "women of color."
This is the same politician who claimed that she came within a breath of being hurt by Trump supporters during the Capitol Hill Riot, then when critics pointed out that these rioters never came near her building, she doubled down and insisted that she feared being raped and murdered by them.
The hypocrisy doesn't matter, because AOC is not a traditional politician. She's something closer to an actress who mouths off on political matters from time to time. The only difference is, her vote in Congress dictates the laws that her fellow Americans (who are far more likely to be serving food at the Met than attending it) live under.
As far as actual political standpoints go, hers are equivalent to a Rage Against the Machine poster in a college dorm. They're a mishmash of undergraduate women's studies, half-digested Howard Zinn and Ta-Nehisi Coates books, cable news soundbites and intelligence agency psyops.
AOC can always be counted on to pose for weepy photoshoots at the Trump administration's "concentration camps" on the Mexican border, to start a national debate on whether "trans men & non-binary people can also menstruate," and to frame the political persecution of former President Trump's supporters as a righteous crusade against "white supremacy" and "misogyny."
This propaganda is stupid, but its stupidity is its strength. It fools complete morons into thinking that the Democratic Party is the vanguard of the proletariat, while everyone else gets outraged enough to propel her into the news time and time again. Meanwhile, AOC votes in line with Nancy Pelosi nine times out of 10, and enjoys the fruits of the very system she claims to oppose.
In a way, she's just participating in a time-honored American tradition. The aforementioned Rage Against the Machine rose to fame in the 1990s peddling revolutionary rap metal to suburban white kids. Three decades later, the same band that once screamed "F**k you I won't do what you tell me" are playing vaccinated-only shows.
AOC defended her appearance at the Met by claiming that her presence was an effort to "bring all classes into the conversation of having a fair country." Rage Against the Machine's Tom Morello defended his band's record deal with Sony as a means of using music to eventually "[abolish] the system through which it was distributed."
Whether for money or political clout, packaging and selling revolution is as American as apple pie. And whether you believe AOC's wokespeak and champagne socialist posturing or get worked up by it, you're still her customer at the end of the day.
Think your friends would be interested? Share this story!
The statements, views and opinions expressed in this column are solely those of the author and do not necessarily represent those of RT.
You can share this story on social media: