Facebook's smart glasses are an attempt to profit from our narcissistic culture, and also a cause for privacy concern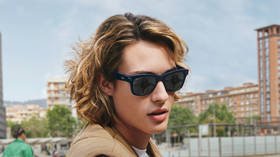 Facebook's partnership with Ray-Ban to bring smart glasses to the market is not an innovation that solves any real-world problems – only the company's unquenchable need to monetise the private data of its users.
It is always necessary and valuable to ask what problem is being solved when confronted with a new technology or innovation. Facebook's 'Ray-Ban Stories' smart sunglasses – which can take photos, record video, answer phone calls, and play podcasts – need such interrogation.
According to Andrew Bosworth, head of Facebook Reality Labs, Facebook is attempting to build a product "that helps people actually be in the moment they're in." He explained that being able to capture a video or picture by simply touching your sunglasses would be better "than having to take out your phone and hold it in front of your face every time you want to capture a moment."
Also on rt.com
Facebook's autocratic Trump ban has tightened big business's grip on democracy & freedom of expression. We should shudder in fear
The language is revealing. For Facebook, reality is not in the moment it is experienced, but in the recording of that moment to share it across a social network. Facebook is not interested in helping people to make sense of a moment, only to share it – on Facebook, of course.
The problem they're addressing is how they can further drive our narcissistic culture to increase data and traffic across their network, which they can then monetise and profit from.
The Facebook Reality Lab must be a fun place to work. It must be wonderful to invent new realities and problems to be solved, which, surprisingly, demand Facebook as the answer.
The horror of having to take your phone out and stick it in front of your face every time you want to capture a moment is, thankfully, being addressed at last. Many would not agree, but for Facebook, this has been long overdue.
Yet, if this is the real problem that needs addressing, it is unclear how the Ray-Ban Stories glasses will help. People who cannot handle the burden of taking a phone out, holding it in front of their faces and having to press a button to capture a photo are hardly the kind of people who would be enticed off their couches to go outdoors in the first place, let alone spend $299 on more than 20 styles of glasses. Just think of the added burden of either having to go to a shop to try on a pair of glasses, or to pay for one online by having to click on a weblink to complete a purchase. The 'problem' just multiples.
Facebook, however, believes that the new cool designs by Ray-Ban will overcome the sloth at the heart of the invented Smart Glass dilemma. Yes, they seriously think they can succeed where others have failed. According to Mr Bosworth, "This product has not been tried before because we've never had a design like this before." Facebook and Ray-Ban were focused more on the fashion of eyewear than the tech inside the frames.
Really? So the two cameras, two micro speakers, three microphones, a Snapdragon computer processor chip, and the charging case that plugs into any computer via USB-C cable, allowing the glasses to be used for roughly six hours, have not been the focus of their initiative?
According to Rocco Basilico, chief wearables officer at Luxottica, which owns Ray-Ban, they want to expand into the wearables market. Sounding more like Steve Jobs rather than a sunglasses salesman, he backed up Facebook's public statements by asserting that "We started this product from the design, and we refused to compromise on that design."
Ray-Ban's motivations for market penetration are obvious. The issue, however, is not the design of a striking pair of sunglasses. Google failed not just because its Google Glass was poorly designed – earning the unfortunate early adopters the derogative but apt label, 'Glassholes' – but the privacy fears these devices provoked.
Ray-Ban Stories might be better designed and more discreet. But they are a Facebook product. And Facebook has even more significant issues with privacy than Google ever had.
To pre-empt privacy concerns, Facebook has developed a small indicator light that flickers on when the glasses are recording, notifying people that they are being photographed or filmed. Maybe if you work in Facebook's Reality Lab, that will suffice.
In the real world, Facebook's Ray-Ban Stories would enable an even greater surveillance state, monitored by sunglass-wearing individuals who cannot be bothered to take their phones out of their pockets. If this were to become an acceptable reality, Ray-Ban Stories could weaponise a cancel culture that thrives on sharing moments rather than context.
Also on rt.com
New book 'An Ugly Truth' propagates the widespread prejudice that Facebook users are gullible children in need of protection
This is not a concern for Facebook, though. Its rapacious need to drive more traffic and data across its platform is the ever-constant problem it tries to solve. Yet, in 'solving' a non-issue, Facebook potentially exacerbates a real problem that will last way beyond even its lifetime.
Smart Glasses are not a naive innovation we should dismiss because others failed before. The narcissism that drives Facebook, and which Facebook itself fosters and drives in turn, should be cause for concern. We need much more public debate about innovations like these. But only for those who can be bothered to take out their devices, type and engage.
If you like this story, share it with a friend!
The statements, views and opinions expressed in this column are solely those of the author and do not necessarily represent those of RT.
You can share this story on social media: