The new media elite will stop at nothing to protect their profits. They're rapacious monopolists, and we are their food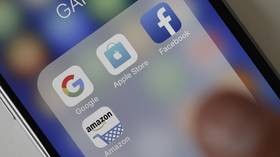 The likes of Facebook & Google are spending tens of millions on lobbying and buying up government insiders. We need to call their bluff and bring in controls over their ever-growing financial and networked empires.
In recent weeks, there has been heightened media concern that Facebook is cultivating a close relationship between government and big tech monopolies by poaching and recruiting former senior policy officials. The findings reveal a systematic hiring of government insiders with knowledge of regulation by offering them huge incentives to join.
Three senior regulatory staff at the UK's Department for Culture, Media and Sport are among those who recently joined Facebook. Other policy officials joined from the Cabinet Office, the Home Office and UK Counterterrorism Policing. And earlier this year, it was revealed that Facebook had recruited Tony Close as their new director of content regulation. Close was Ofcom's director of content standards, who had been heavily involved with drawing up rules to rein in the tech giants and protect the public.
And, of course, do not forget the fact that Facebook recruited former UK Deputy Prime Minister Nick Clegg as its vice president for global affairs and communications, who has been leading Facebook's policy and communications work, as part of a concerted effort to preach and lobby against Big Tech breakups.
But it is not only Facebook that is behaving like this. The Times reports that at least 14 special advisers had moved to tech companies, including Uber, Google and Facebook, in the past five years after a stint in ministerial offices. These officials have had access to departmental chiefs and the policy formation process.
In the face of growing concern about online content and antitrust investigations, the monopolistic positions of Silicon Valley's Big Tech giants have increasingly come under scrutiny. As a result, they have all been ramping up their lobbying capacities by recruiting well-connected insiders.
The Wall Street journal revealed that in 2019, Facebook increased its expenditure on lobbying by nearly 25 percent, to $12.3 million, through the first nine months of the year. Amazon notched a 16 percent jump in lobbying outlays, to $12.4 million. Apple boosted its spending by eight percent, and Microsoft by nine percent.
The main goal of this is the protection of their existing and future businesses. When Facebook announced its move into the financial sphere by unveiling plans for a global cryptocurrency, it drew a barrage of trenchant criticism. Undaunted, it hired seven new outside lobbying firms to work on financial issues, including two former aides to the GOP chairman of the Senate Banking Committee. Amazon, too, has brought on seven additional outside lobbying shops since the middle of 2018, including former members of Congress and congressional aides who work to influence federal spending.
And perhaps the clearest example of the profit-driven expediency of the tech giants, despite their very public eschewing of President Trump, is that they have not been shy in developing deep behind-the-scenes relationships with him when it suits their purposes. Chief Executive Tim Cook has forged a relationship with the president in an effort to keep tariffs off the iPhones and other products it imports from China.
It is reported that through his most important contact in Washington, Jared Kushner, President Trump's son-in-law, Cook has held private calls with the president to explain how tariffs would increase iPhone prices and impair Apple's ability to compete against rivals such as Samsung.
Facebook's doe-eyed CEO, Mark Zuckerberg, has also cultivated a relationship with Trump in order to protect Facebook's social media market share. He has stoked Washington's fears about the threat of Chinese internet companies. It is alleged that in a private dinner at the White House in late October, Zuckerberg made the case to the president that the rise of Chinese internet companies threatens American business and should be a bigger concern than reining in Facebook.
Zuckerberg also discussed this with several senators. Soon after, the government began a national security review, and by the spring, Trump was threatening to ban TikTok entirely. This month, he signed an executive order demanding that TikTok's Chinese owner, ByteDance, divest itself of its US operations.
The attack on TikTok is driven by the threat it poses to Facebook. It has gained more than 100 million US users and, in the first quarter of 2020, became the most downloaded app in a single quarter, according to research firm Sensor Tower.
The pattern and behaviour of the tech giants should by now be obvious and not surprising. Even with masks on you should be able to smell the coffee. This is not maverick behaviour which might appear to be out of character with the cool, woke moralistic image these tech giants like to project. This is nothing more than old-fashioned monopolistic lobbying and protectionism, which makes the efforts of old media barons like Rupert Murdoch look tame.
It's time the world (and especially younger tech users) recognised that these tech giants and their increasing insider government and non-governmental networks are just as ruthless and rapacious as yesterday's robber-barons and bankers.
This is the new elite, dressed in its rainbow colours and diversity values, but who will do whatever it takes to protect their profits today and tomorrow. They are not our friends. Indeed, we are their food. The sooner we call their bluff the better. In fact, it is the first step to ensuring some sort of control can be exercised over their ever-growing financial and networked empires.
The statements, views and opinions expressed in this column are solely those of the author and do not necessarily represent those of RT.
You can share this story on social media: