Wayne Dupree: Biden will NEVER accept responsibility for his botched evacuation of Afghanistan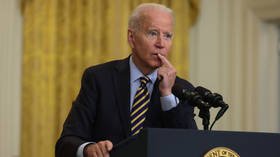 However much he tries to wriggle out of it and blame others, the responsibility for the Afghan evacuation debacle rests solely with America's 46th president. How dare he abandon American citizens to their fate?
So, Joe Biden calls leaving Americans in the hands of the Taliban and ISIS-K, to be trapped, kidnapped, tortured, or beheaded, a 'success'? I am not sure why he keeps trying to blame Donald Trump and the Afghanistan military for the fiasco. He cut off all support to the Afghan military and did not follow Trump's plan, but one thing we know: he trusted the Taliban like they were friends.
Every time Biden blames Trump, he demonstrates his own ineptitude. Are we to believe that Biden followed a foolish Trump plan with no ability to change it? That means Biden is even more weak and stupid than anyone could have previously believed him to be.
The simple fact is this: If Trump had done anything that needed fixing, it was Biden's responsibility to take care of that beginning January 20, and see that it was fixed before he gave the order to leave. All on you, Joe!
You know this situation was badly mishandled when CNN and even MSNBC publish opinion pieces that question Biden's competency in handling Afghanistan. Both, of course, included the requisite slap at Trump's head, but in the end, even Biden's staunchest media enablers gave him a thumbs down. What more can you ask for to judge this disaster properly?
In reviewing other facets about his Tuesday speech, I was stunned at his anger mostly leveled at the Afghans, the American citizens who took too long deciding to leave, the past administration, and anyone else he could pin the debacle on other than himself, and it definitely was defensive. He expected to be taking a victory lap, but we weren't in the streets celebrating the war ending. How dare we not appreciate what he's done?! He's being criticized, but he doesn't do apologies.
Also on rt.com
'Over-the-horizon' is just the newest buzz phrase for American incompetence – as proven by recent drone strikes in Afghanistan
I mean, does anyone actually believe this nonsense? It's almost as bad as believing Biden got more votes than any other president in history, especially when no one attended his rallies, and there was a lockdown. Key states refused to let observers in for the vote counting.
I'm embarrassed for him, and the Taliban have shown the world just how weak America has become, which is why North Korea has resumed its nuclear production. This administration's actions will lead to countless lost American lives due to new confrontations worldwide from countries that now view America as a joke and will take pride in proving it.
I mean, you have to think Joe is seriously delusional telling the American public his mission was a great historical success, in getting 120,000 civilians out of Kabul. Does he think we don't know about the Americans he's left stranded there and how that's never been done in history? If no action is taken by the opposing party in Washington, the world will think the American people are gullible enough to believe Biden's lies.
Biden will never accept responsibility for his botched evacuation of Afghanistan. Had he followed Trump's plan, it wouldn't have been so chaotic. Biden just cut and ran. Nobody would have closed down Bagram Air Base before everyone was evacuated. Nobody would have left equipment behind without destroying it. It just looks like he just woke up one morning and started the troop withdrawal.
Both the president and Psaki keep going back to "We wanted to get out of Afghanistan." No one is saying we did not want to get out. But what the president and Psaki are not addressing is the way they went about it. They don't want to talk about the actual plan, or lack thereof, that caused this incredible disaster. Their fallback is always, "Everyone wanted the United States to get out." Yes, but certainly not the way you went about it.
Also on rt.com
Slavoj Zizek: Can the Taliban have anything in common with 'political correctness'? Surprisingly, there is one thing...
He has shamed and disgraced our people and our country. Outside of 9/11, Biden's Afghanistan pullout was the darkest day of my lifetime. To see our country desert American citizens in a country filled with extremists and terrorists. We are not that sort of nation, or that sort of people.
I think we need another urgent airlift – one to get Joe out of the White House before he does more damage to our country and our world standing. He should be charged and tried before a military tribunal. He has done more damage to our country in eight months than anyone could ever imagine.
This is unacceptable. I feel like I've lost my country. It's all Biden's fault, yet he obviously has no intention of resigning in disgrace. God help America!
Think your friends would be interested? Share this story!
The statements, views and opinions expressed in this column are solely those of the author and do not necessarily represent those of RT.
You can share this story on social media: