Tyrannical trans activists are trampling on free speech and democracy… and losing support in the process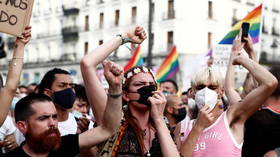 There is no chance of an open and honest discussion on trans rights as long as militant campaigners insist that their viewpoint is the only one that counts. Sadly, this is typical of how 'debate' is now carried out in the West.
It would be hard to miss the very heated debate about trans rights today.
During the Olympics, for example, there was furore over whether Laurel Hubbard, a transgender weightlifter from New Zealand, should be allowed to participate in the women's competition, having competed as a man until 2012.
Around the world, there are debates about whether trans men should be allowed to use women's toilets and changing facilities, be incarcerated in women's prisons, and more. One of US President Joe Biden's first acts was an executive order demanding that all state agencies should assess their policies to ensure they are trans-inclusive.
These debates have reached such a fever pitch that even people who are very supportive of trans rights are now being hounded out of discussions for merely raising questions about some of the demands of the most vehement trans activists. In particular, are the rights of women to safe spaces away from men being undermined? Trans activists demand that any man who simply says he identifies as a woman – that is, has not gone through a full, physical transition – should have access to prisons and refuges for women who have been victims of domestic violence or even rape.
Also on rt.com
Showering with biological men: Female inmates in US & UK recount sexual abuse from 'trans' prisoners
A series of events in the UK over the past week illustrate the problems. A podcast debate between Professor Kathleen Stock and veteran LGBT+ activist Peter Tatchell was cancelled after Tatchell faced a vicious backlash from trans activists.
Stock is a feminist academic who has long argued that trans men and women should be treated with dignity, but she is critical of the idea that it is possible to change biological sex or that a mere declaration of one's gender ('self-ID') should have legal effect. Tatchell disagrees with Stock vehemently and believes people should be able to change their legal gender easily without a medical diagnosis of gender dysphoria. It would have been good to have them debate their positions. It is a sad state of affairs that even having a discussion was too much for some.
A leading LGBT charity, Stonewall, has faced increasing criticism for its position on trans rights – a stance which it has persuaded a host of leading companies, charities, and public bodies to endorse through its controversial 'Diversity Champions' programme. Stonewall is also a major influence in politics, lobbying for legislation to implement its demands, sometimes in ways that avoid public scrutiny. In an interview in June, comedian and author Simon Fanshawe, one of Stonewall's founders back in 1989, explained how he has now fallen out with the charity. The organisation, he says, "represents an absolute intolerance of disagreement and discussion."
This view was echoed last week when 'Four Weddings and a Funeral'star Simon Callow, another leading light of gay rights campaigns in the Eighties and Nineties, said Stonewall "have taken a very strange turn towards the tyrannical, a dangerously prescriptive position on a complex issue. When it impinges on women's rights, hard-won women's rights, the right to exclusive spaces for women, away from any threat at all – I think that's a very serious issue." Callow also wondered about the "whole issue of when children can be deemed to know whether it's time for them to transition," expressing concern that youngsters who were simply gay were being persuaded that they should transition.
Also on rt.com
Rape and murder rates can wait! Met police are now on the case of the most important issue of all... gender-neutral uniforms
On Friday, a clip of a member of the LGB Alliance – a group that includes Stock as a trustee – being hounded off the Manchester Pride parade for being anti-trans provided a scary example of where this intolerant mob mentality can lead. For a gay man having to be escorted away from a Pride parade, simply for disagreeing with one aspect of the politics behind it, sends out a powerful message that there is only one acceptable point of view on trans issues.
The way in which the debate about trans rights is being conducted seems like the culmination of a trend around free speech in recent years across the Western world. It's bad enough when debates about climate change or Covid lockdowns are closed down by proponents of one point of view saying, "The science says…," with the implicit demand that anyone who disagrees should "shut the f**k up." But the trans debate shows how even on matters that can only be regarded as questions of how to negotiate competing rights – which are serious and thorny ethical and political questions with no easy answers – no disagreement with a particular orthodoxy is allowed.
One way this is done is by declaring that only organisations that go along with this orthodoxy can be regarded as legitimate. As Guardian columnist Owen Jones tweeted in response to the Manchester Pride clip, "the 'LGB Alliance' does not represent lesbian, gay or bisexual people in any shape or form." But clearly there are lesbian, gay and bisexual members of this group, so Jones' claim seems plain wrong.
A man wearing a t-shirt with the anti-trans rights LGB Alliance is made to leave Manchester Pride to chants of "Trans lives matter".Media outlets note: the 'LGB Alliance' does not represent lesbian, gay or bisexual people in any shape or form.https://t.co/vGfwbQKbrS

— Owen Jones 🌹 (@OwenJones84) August 29, 2021
Did I miss the news stories about the elections in which it was decided which organisations would represent lesbians, gays and bisexuals? Of course not. There was no choice. Organisations like Stonewall are entirely self-selected and are doing their best to ensure that any alternative viewpoint is drowned out, both in public debate and policy making.
The best way of figuring out what society should do in regard to trans rights, and the best way of tackling misinformation, is for there to be free and open debate. In fact, not only is proper debate off the table, but it appears that for some trans rights supporters, it is acceptable to simply ignore the concerns of women. There's a name for that: misogyny.
There are some serious issues to tackle. For example, those who do decide that, on reflection, the best way forward for themselves is to transition to live as the opposite sex still face many barriers around the world, including prejudice, legal constraints and healthcare bureaucracy. These issues should be getting more attention.
But by demanding that there is only one true view on trans rights, militant campaigners are damaging free speech and alienating many people who would otherwise support them.
Think your friends would be interested? Share this story!
The statements, views and opinions expressed in this column are solely those of the author and do not necessarily represent those of RT.
You can share this story on social media: