Stonewall's reign as the gender gestapo is coming to an end as it feels the heat for its 'trans-women are women' stance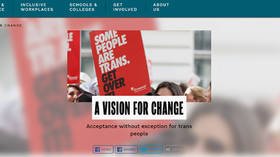 The LGBTQ charity is under fire for its militant views on trans rights and likening of gender-critical opinions to anti-Semitism. The pushback, from a leading lawyer and government minister, is long overdue and richly deserved.
This year, Pride Month might not see the riotous, colourful celebrations and noisy whistle-blasting parades we have become accustomed to, thanks to Covid-19. But it could be remembered as the point in time when believing 'trans women are NOT women' was no longer deemed a thought crime.
Also on rt.com
Old school gay rights activists under fire from furious transgender activists for daring to set up a charity that excludes them
The pushback against the mantras of 'trans women are women' and 'trans rights are human rights' is gaining pace thanks to a stubborn, black, lesbian lawyer – among others – who is standing up to Stonewall, the self-important, over-reaching charity that seems, inexplicably, to have held the final say on all things gender since it entered the public conversation.
Criminal law specialist Allison Bailey is suing the gay rights charity and the law chambers for whom she worked over allegations that they tried to silence her after she co-founded the LGB Alliance, a group opposed to Stonewall's dogmatic, logic-defying insistence that trans-women are women.
"The new trans activists are joined by politicians, journalists, lawyers, writers, entire organisations and assorted celebrities, in the chanting of these mantras to shut down debate," she was reported as saying. "While others who are appalled at what they see happening are too afraid to speak out. It is cult-like behaviour, it is Orwellian and it has disgraced and shamed a generation."
Bailey's former chambers, Garden Court, is a member of Stonewall's 'Diversity Champions' scheme, in which woke businesses and organisations across the UK are charged £2,500 for the right to celebrate their rainbow credentials, awarded them by the self-appointed gender gestapo.
The badge is worthless. Yet the Home Office, the Crown Prosecution Service and the Ministry of Justice have all signed up. For what?
Also on rt.com
Gay ghettos, homosexual havens or discriminatory woke nonsense? Britain's first LGBT-only housing complexes get green light
Hope is on the horizon, however, that common sense will prevail. Dissent is getting more vocal. Alongside the efforts of Bailey, Women and Equalities Minister Liz Truss has urged all 250 government departments to withdraw from the 'Diversity Champions' scheme. The Equality and Human Rights Commission and workplace mediation body Acas, and even right-on broadcaster Channel 4, have already torn up their membership cards. Surely more will follow.
No wonder Matthew Parris, the former Tory MP and one of 14 founders of Stonewall, declared that the outfit had lost its way and was nothing like the organisation he helped launch in the UK in 1989. Writing in The Times, he said of Stonewall, "The organisation is tangled up in the trans issue, cornered into an extremist stance on a debate that a charity formed to help gay men, lesbian women and bisexual people should never have got itself into."
But it wasn't by accident that Stonewall found itself involved in trans issues. Having fought many battles – and won them – on behalf of the LGB population, the organisation was facing an existential crisis, and needed a cause it could champion to remain relevant. Oh, and there was the matter of all that taxpayer funding that kept it afloat. But the solution was found in the alphabet. That TQ+ suffix was just the trick.
It saw us quickly arrive at the point where Stonewall became the final arbiter on gender politics, dictating the terms, the language and the right to speak for anyone with skin in the game.
So Matthew Parris is in trouble with Nancy Kelley, now head of the organisation he helped found. Asked to comment on his remarks by the BBC, she likened those who take a gender-critical stance with people who are anit-Semitic. That's the twisted moral equivalence we're dealing with here.
The world according to Stonewall is a bizarre place. If further proof was needed, we also have the recent spat involving two professors invited to speak at Essex University, who suddenly found themselves 'cancelled' in two separate incidents after complaints from some students that they held transphobic views. "Shut the f**k up, TERF", one entitled little darling urged on social media.
Following the incidents, an investigating barrister concluded the advice from Stonewall was "founded on an erroneous understanding of the law". No law allows gender-critical academics to legitimately be excluded from an institution. The university was advised to reevaluate its relationship with Stonewall.
You would think a shame-faced apology would follow. That Stonewall would announce a root and branch review of its policies to ensure they were in line with current legislation. But… nothing. The only noise from an organisation that will generally offer a view on anything – in or out of its scope – was a statement attacking a supposed 'misinformation' campaign targeting its apparently blameless Diversity Champions scheme.
And while Stonewall imagines an orchestrated right-wing attack upon its holy of holies, the reality is that the organisation's behaviour is suddenly attracting the attention of those in the mainstream and questions are being asked. Not just by experienced hands like Matthew Parris and Allison Bailey, but by newcomers to the battle – like Liz Truss and JK Rowling – that has long been raging in the field of sex and gender politics.
Their contributions are all welcome. The more the merrier. And as the questions continue and the numbers of those posing them increase, it's hard to see Stonewall successfully defending its posit that 'trans women are women' much longer.
There may not be any celebrations, drunken revelling or wild antics this Pride Month, but as far as those in the LGBTQ movement are concerned, it could be a pivotal time in defining their rights.
Like this story? Share it with a friend!
The statements, views and opinions expressed in this column are solely those of the author and do not necessarily represent those of RT.
You can share this story on social media: