Harvard is home to some of the biggest wokeist brains on Earth, but is there any dumber idea than appointing an atheist chaplain?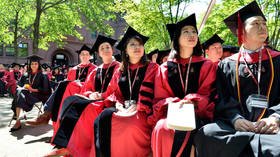 Around 40 percent of students at the world's most woke university are atheist or agnostic, but doesn't that beg the question: why have chaplains at all?
I don't know much about the world of academia, it's not my field. But I do know a fair bit about the world of journalists.
And, truly, some of the dimmest and most journalistically useless, yet rigidly politically correct, writers and producers I have ever met in my life had a fabulous private education and a degree from a top university.
These folk can quote you lines from Shakespeare or Proust, explain exactly what a fractal is, and give you a bemused stare if you tell them the entire political class from the parish council to the Houses of Parliament should be replaced with an iPad. Just the one, mind you.
You'll find loads of these people stumbling out of Oxford and Cambridge Universities in the UK and the Ivy League schools in the US every spring. And for some reason they're attracted to journalism, despite the fact they have zero actual aptitude for the trade.
Chuck a paper plane through any BBC newsroom, for instance, and you'll likely hit one of these 'lifers' on the back of their oversized head. They tend to be in management positions on account of the fact they were crap on the road or produced stiff, boring, and predictable programmes.
If you meet one of these people, you may well feel mildly intimidated at first by the sheer depth of their knowledge. But don't worry, it doesn't last long; pretty soon you'll realise there isn't actually all that much to these guys and they wouldn't recognise a good idea if it peed in their ear.
They're just the school swots, basically.
Also on rt.com
Is TV too woke? Of course it is, but the problem is industry insiders insist it isn't woke enough
And the same law of nature seems to apply in academia. Take Harvard University in the US. Somebody needs to tell these big-brained bosses just how utterly ridiculous it is to employ a 'chaplain' who is, wait for it… an atheist!
The Ivy League school was founded in 1636 by Puritans – hardcore Protestants – for the education of the clergy, and its original motto was 'Truth for Christ and the Church', yet its new spiritual leader is a 'humanist rabbi' and committed atheist.
"There is a rising group of people who no longer identify with any religious tradition but still experience a real need for conversation and support around what it means to be a good human and live an ethical life," said Greg Epstein after being named president of the university's chaplains.
Never having attended a posh school nor university, thank God, I had no idea a chaplain even existed outside of the military. Maybe that's because one of my favourite books is 'Catch-22', in which a central character is Chaplain Tappman (Shipman in the UK version). "It was love at first sight. The first time Yossarian saw the chaplain he fell madly in love with him."
Well, no. It's not just the military and they're not necessarily Christian. A chaplain can be Jewish – Epstein is from a Jewish family – or Muslim or Buddhist, or even, I guess, a Raelian.
Picking an atheist president to lead the spiritual growth of the student body is not quite as odd as it sounds, at least not for Harvard. The school may well have been founded by fanatically strict Christians who sailed to the New World because 17th-century England was far too permissive, but modern-day Harvard University has something of a habit of doing whatever it can to annoy conservative America.
A survey of the class of 2019 by school newspaper the Harvard Crimson found that over 21 percent were agnostic and around 17 percent were atheists – the same figure as for Protestants and Catholics. It found 10 percent were Jewish, and about three percent apiece for Hindus and Muslims. But it also found that two thirds of freshmen identified as 'somewhat or very liberal', while just 12 percent said they were 'somewhat conservative'.
Also on rt.com
It's hard not to be cynical about Airbnb's motives for housing 20,000 Afghan refugees
This has made Harvard one of the top Schools of Woke in the whole wide world. Students, of course, truly despise former President Donald Trump – there was a petition banning Trump-supporting alumni from speaking on campus, and a Trump supporter was cancelled from a panel for perpetuating the voter fraud myth.
One professor faced a fierce backlash when she truly went too far for the student body by perpetuating the hated words 'male' and 'female' and refusing to use the utterly moronic phrase 'pregnant people'.
Epstein has been the 'humanist rabbi' at Harvard since 2005 and was picked as their new president by a committee formed from the university's chaplains. There are more than 30 of the buggers, with a representative from every mainstream faith or sect – from Lutheran to Bahá'í (though not, to my knowledge, a Raelian nor a member who represents the Prince Philip Movement – at least not yet).
"Maybe in a more conservative university climate there might be a question like 'What the heck are they doing at Harvard, having a humanist be the president of the chaplains?'" said Margit Hammerstrom, who is the Christian Science chaplain at Harvard. "But in this environment it works. Greg is known for wanting to keep lines of communication open between different faiths."
But if Greg Epstein defines himself as an 'atheist', doesn't that mean he has no religious faith at all? Atheism is defined by the American dictionary Merriam-Webster as "a lack of belief or a strong disbelief in the existence of a god or any gods." Some people say football is a religion and maybe, in Harvard terms, it actually is.
Also on rt.com
Rumors that Superman is turning gay show that it's wokeness, not Kryptonite, that now poses his biggest danger
Surely it's only students of a conventionally religious persuasion who will ever feel the need to seek out and visit a 'chaplain' in the first place?
It turns out a Harvard chaplain's job is to chat to students about everything from the meaning of life to family feuds and exam stress. Err? Aren't these people just 'student counsellors'?
Well, maybe Harvard uses the term 'chaplain' simply to annoy American conservatives, and who can blame them. It's always fun to see one of these good ole boys bursting a blood vessel… if a little dangerous. Haven't they all got guns?
Think your friends would be interested? Share this story!
The statements, views and opinions expressed in this column are solely those of the author and do not necessarily represent those of RT.
You can share this story on social media: