My experience of Michel Barnier suggests he has a real chance of becoming the next French president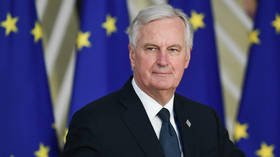 The European Union's former Brexit chief negotiator, Michel Barnier, has entered the race for the French presidency. Success may look like a long shot at the moment, but I wouldn't bet against this slick career politician.
Barnier has announced his intention to seek the nomination of the Gaullist Les Republicains party, which he has been a member of for 55 years.
This was not an unexpected announcement, as Barnier has been making noises about having a tilt at the Elysee for some time. However, its importance must not be underestimated, because it is not beyond the realms of possibility that Barnier could turn out to be the winner.
Now, I have seen Barnier up close. Every month, I would sit no more than 10 yards away from him in the European Parliament's Strasbourg chamber and watch him in full flow. Although I would rarely agree with anything he said, there was no getting away from the fact that he had style when said it. Indeed, the two words which come into my head when I think of Barnier are erudite and urbane.
I also met him when he was the European commissioner for the internal market and services. I came away from our meeting with the impression that I had been in the presence of a professional career politician. I am not saying that was a good thing, but there was no doubt that he was perfectly suited to the role of a negotiator.
Thus, rather than being a poisoned chalice, as many thought it would be, the role of Brexit negotiator helped cement Barnier's reputation across Europe. His job was no doubt made easier by Britain's cack-handed negotiating stance under Theresa May, but there is no getting away from the fact that being the EU's high-profile negotiator made Barnier a household name.
Also on rt.com
EU's Brexit negotiator challenges French President Macron from the right in upcoming election
Barnier will use this Brexit experience to his advantage. Indeed, earlier in the summer, he released his Brexit diaries, which puffed up his profile and further enhanced his reputation as a stern negotiator. He will no doubt make the case that his negotiating expertise will allow him to get the best deal for France, as he claims he did for the EU. Moreover, as he already knows the majority of European leaders, he will claim to be a 'safe pair of hands' for the French people.
Barnier has a few hurdles to navigate before he makes it onto the ballot paper, as he still has to win the nomination of his party. This prospect became somewhat easier for Barnier yesterday when former Les Republicains leader Laurent Wauquiez, announced that he would not be running for the presidency.
The final decision will be taken at next month's party congress, where delegates will choose between Barnier, Valerie Pecresse, the head of the Paris regional council who is regarded as Barnier's main challenger, Philippe Juvin, a mayor from the Paris suburbs, and Eric Ciotti, a Republicain MP. Looking down the list of candidates, I struggle to see how Barnier will not be nominated.
He will seek to place himself between the favourites, the sitting president, Emmanuel Macron, and the insurgent leader of the National Rally, Marine Le Pen. He has already denounced the state of France under Macron, saying that "our country is doing badly and we need a change-over."
Barnier will attempt to paint himself as the candidate of reconciliation; the older and wiser head who can bring together a divided society. In an interview with TF1, for example, he stated that "in these grave times, I have taken the decision and have the determination to stand… and be the president of a France that is reconciled, to respect the French and have France respected."
Also on rt.com
France 'will not back down' from sanctioning unvaccinated care-workers; Covid boosters to be offered to elderly from September
If Barnier focuses his campaign on immigration, which looks to be the case from his recent statements, then it could prove to be problematic for Le Pen. Earlier in the year, Barnier advocated halting immigration into Europe for five years. Moreover, when launching his presidential campaign, he made it clear that although France had an obligation to take in Afghan refugees from those who had helped French forces, the country should not have an open door to everyone.
His intention is clearly to park his tanks on Le Pen's lawn – but doing it without all the accusations of racism that taint the National Rally leader. If Barnier can marry Le Pen's insurgent base with traditional conservative voters, his route to the Elysee will become clearer.
Polls at the moment show Macron and Le Pen are the clear frontrunners. Yet these polls are misleading, as they have been conducted before Les Republicains have selected a candidate. The fact that Macron and Le Pen can only muster around 25% each shows that there is an appetite for an alternative, and this could be where Barnier steps in.
It also must be taken into account that the biggest winner in June's regional elections was Barnier's Les Republicains party. Macron's party was humiliated, being hammered right across France, and Le Pen failed to pick up a single regional presidency, which does not bode well for her presidential aspirations. Instead, voters turned to Les Republicains and if Barnier can take this momentum into next year, then he must be regarded as not only a serious candidate but one of the favourites.
Also on rt.com
Marine Le Pen re-elected as leader of French right-wing National Rally party
There is of course a long way to go, and there will be ups and downs ahead for all of the candidates. However, if I was a betting man, and I do like a flutter, then I would not be averse to putting a few quid on seeing Barnier in the Elysee come next April. I may well be wrong, and in some ways, I really hope I am, but it looks to me as if the political stars could have aligned for Monsieur Barnier. Only time will tell…
Like this story? Share it with a friend!
The statements, views and opinions expressed in this column are solely those of the author and do not necessarily represent those of RT.
You can share this story on social media: