Sean Penn told the unvaccinated to not see his new film. Unfortunately for him, the vaccinated don't seem interested, either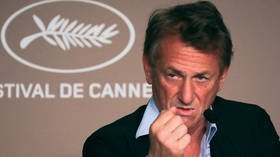 Filmmaker and activist Sean Penn is continuing his ego-driven fight against those unvaccinated against Covid-19, now comparing them to murderers and saying they shouldn't see his new flop of a film, 'Flag Day.'
Appearing on 'Late Night with Seth Meyers' on Monday evening, Penn was faced with a conundrum. On his press tour to promote 'Flag Day' – a film where he plays a criminal father to a daughter played by his own offspring, Dylan – Penn has already compared being unvaccinated to putting a gun to someone else's head.
He's been one of Hollywood's biggest fearmongers when it comes to the pandemic, even recently refusing to return to the production of a miniseries until everyone on set agreed to get inoculated.
The problem now is that Penn's latest directorial effort is one of the few films in the last year to open exclusively in theaters. Most studios and independent producers have opted for digital-only releases or digital releases that run concurrent with a theatrical run. For the moment, you can only catch 'Flag Day' at cinemas, something that is a tad difficult to promote for a man who believes a world where people can choose to get vaccinated or not is one where the sky is constantly falling and a good portion of the population are about one step away from being murderers.
Also on rt.com
Sean Penn's refusal to work on new TV series unless all crew are vaccinated is a Hollywood ego trampling over workers rights
"I do always feel, at this point in time, that I have to say that I hope – I'd ask – that as much as I want people all to go to the theater, I really only want people who are vaccinated and safe to themselves and each other to go," the actor and director told Meyers.
He added that "people who aren't vaccinated" probably aren't interested in his film anyway. Given that he hasn't really had a hit in over a decade, I would humbly suggest vaccination status is a long way down the list of reasons people aren't interested in his movies.
A liberal celebrity giving a dismissive cold shoulder to anyone and everyone who disagrees with them – and having the audacity to think depriving them of their work is some sort of punishment – should come as no surprise in today's culturally fractured country, though Penn is a good example of how politically outspoken artists like him have sunk in general.
Let's go back to 2012. Corporate media was still telling us the world was burning, and a concerning portion of people seemed to legitimately hate each other over political beliefs, unwilling to actually engage on issues – sound familiar? So Penn decided to use his celebrity platform to team up with outspoken conservative musician Kid Rock to make a public-service announcement with a simple message: "let's just get along."
As far as celebrity PSAs go, it's not entirely vomit inducing, especially in light of the stuff we've seen come out of Tinseltown since the pandemic. Penn and Rock trade some insults and then later find themselves sharing a drink and exchanging Nascar and PETA shirts.
Penn wouldn't be caught dead with a Trump supporter like Kid Rock today, whether he was vaccinated or not. Penn is really insulting anyone who does not believe in the mandate approach he has so passionately and aggressively endorsed. He's gone from at least trying to push a message of unity to wanting anyone who thinks differently than him and supports freedom of choice to suffer everything from not being able to catch his movie in a theater to being unemployed.
The punchline to Penn's egomaniacal crusade is that, at the end of the day, nobody really wants to see 'Flag Day' anyway. It has only managed to gross about $40,000 in theaters, and critics haven't found much to love about it either, the film getting slammed with a 41% 'rotten' score on Rotten Tomatoes. Technically, that's a victory compared to the 8% given to his last directorial effort, 'The Last Face,' a film centered around a 'white savior' humanitarian worker liberal played by his then-girlfriend Charlize Theron. That film also failed to find much of an audience.
As this two-time Academy Award winner has upped his attacks on anyone not liberal enough for him, his films have become less and less relevant. It's almost like the very audience he keeps trying to virtue-signal to doesn't really care. All that leaves is a bitter artist waving his fists at the sky, reduced to using his own artistic output as limp political weapons.
If you like this story, share it with a friend!
The statements, views and opinions expressed in this column are solely those of the author and do not necessarily represent those of RT.
You can share this story on social media: