'America is back'? Back in the mire, maybe. What a laughable, hollow slogan Biden's soundbite has proved to be…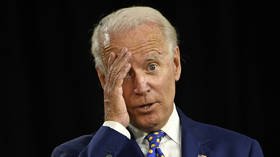 Both Biden's slogan and Trump's 'MAGA' are built on insecurity and nostalgia, and a naive belief that the USA can return to a time when it was confident and strong. And both ignore the causes of the country's long-term decline.
When Joe Biden came into office in January, the liberal mainstream media sought to quite literally sweep all of America's problems under the carpet. "America is back!" the new president triumphantly declared, and that slogan was trumpeted everywhere. It was easy to assume that the 'nightmare' of the past few years was over, and that it was Donald Trump who was responsible for everything wrong with the US.
The way his reign ended, with the Capitol riot in the closing weeks, only seemed to compound that perception. The narrative was that Biden would be a safe and dependable pair of hands, who would restore respect for the United States globally; with a multilateral focused foreign policy, he would win back allies, unite them against the common enemy of China, and everything would be rosy again.
Seemingly overlooking the more complex and mixed legacy of Obama, the US media and commentariat seemed to believe that little could go wrong, and for the first few months they might have assumed they were right. Biden's approach did indeed focus on attempting to build a rekindled unity that "America First!" had trounced.
The president had a spree of well-timed events at his fingertips to set out his own story and footprint, and did so readily through the Quad summit, coordinated sanctions on Chinese officials over Xinjiang, the G7 meeting, and his brand of "coalition politics" on every single issue. It was so easy to believe that he had finally found a winning formula which would ultimately isolate Beijing, right?
Also on rt.com
Wayne Dupree: Joe Biden's been wrong on nearly every major foreign policy issue over the past 40 years, and Afghanistan proves it
However, as the saying goes, "a week is a long time in politics" – reminding us that in the political world, nothing ever runs smoothly or how we might predict it to. There are sudden twists and turns that often come out of nowhere, cannot be foreseen, and which upend everything, breaking apart pre-established narratives and interpretations at the blink of an eye. This pitfall frequently wrecks politician's hopes and plans, and often their careers.
You end up saying, "This person was prevailing, until X happened," and never has that been more applicable to Biden's situation now. After presenting everything triumphantly under the mantra of 'America is Back!', the Afghanistan fiasco has ruthlessly crashed expectations and exposed it as being built on sand in the space of a week.
Suddenly, Biden no longer looks like a credible, experienced, and capable leader able to unite allies readily and restore America's leadership in the world – but that's because he never truly was. He is an experienced statesman with a long political career, but he is not a miracle maker operating outside of reality, and he is far from a strategic genius. As Obama's defence secretary once opined, Biden "has been wrong on nearly every major foreign policy and national security issue over the past four decades."
The narrative regarding his first few months was always an inflated, liberal-centric pattern of events based on an overly simplistic "Orange man bad" logic, as opposed to taking a long hard introspective into America's longstanding problems.
Trump's time in office was itself a big distraction from true existential dilemmas the US has been facing; Biden's first seven months continued that myopic pattern, and added to it an unfounded and unsustainable sense of complacency, making it an accident waiting to happen. This has subsequently made the failing of its first real test and the bursting of its bubble an even harder blow, sweeping away the 'post-Trump euphoria' and exposing America's longstanding weaknesses. America is back? Sure. Back in the mire.
Also on rt.com
Prescient, much? Bin Laden once plotted to kill Obama, as he thought a Biden presidency would create chaos and aid the Taliban...
This invites us to look at the longer, bigger picture of America's decline. Over the past two decades, US unipolar hegemony and self-confidence has been increasingly damaged by a series of events which have included the Iraq War, the Global Financial Crisis, the erratic Trump presidency, growing domestic political divides, its disastrous handling of Covid-19 (which is still killing nearly 2,000 a day), and now the disastrous pull-out from Afghanistan.
Some Washington optimists believe the Afghanistan exit – as messy as it has been – allows the US to "focus" on China more. This may be so in theory, but the disastrous way the war there has ended is a shock to the system that adds to this long spiralling history of 'decline'. Biden has made what is arguably a geopolitically shrewd move, to end a long and frustrating conflict, look like a demoralising defeat.
All these events have contributed to an erosion of America's sense of status, identity and confidence, to the point of promulgating the 'revivalism' that lies behind such slogans as 'America is Back!' and 'Make America Great Again'. These empty words reflect an insecurity of identity and an uncertainty of status, which manifest themselves in ramping up aggression against China and a misplaced and romantic belief that things can revert to a 'glorious past', when America was confident and strong and booming.
The events of the past week have exposed this upbeat sloganeering to be hollow, and devoid of substance. Biden may not be politically finished as president, but the psychological effect from this saga will deal a blow to him domestically, while allies abroad will retreat from the 'new manager boost' confidence they held in the first few months.
A recent op-ed for the Hill, calling for the resignation or sacking of National Security Advisor Jake Sullivan, observes that Biden's foreign policy was all style and no substance, a doctrine "built on slogans," and when you chip away at the paint of the wallpaper on Biden's glorious summits and displays of unity, you find it is exactly that: all talk.
Also on rt.com
Yes, the Taliban's extreme, but I secretly welcome this defeat of the US ideology of globalism, liberalism and consumerism
Remember the quad summit in March where the US, Australia, and India pledged one billion or more vaccines to South East Asia to counter China? It hasn't happened, not even remotely. You look at the 'Build back better' alternative to China's Belt and Road economic initiative, and quickly you realize that it is nonsense. Then, as the Taliban seized Afghanistan, Biden whipped together a statement of 60 nations to say that Afghans should be allowed to depart the country as they wish, but what does this mean in practice? Nothing.
From this point onwards, Biden's foreign policy starts becoming not a 'breath of fresh air', as was relentlessly presented, but an uphill struggle where he finds the public, the media, and others increasingly against him. He is not a broken man, but this is a critical loss of morale for him and the American people, and a narrative breaking moment which swings the initiative against him. Alas, the honeymoon is over, and America was never 'back'.
Think your friends would be interested? Share this story!
The statements, views and opinions expressed in this column are solely those of the author and do not necessarily represent those of RT.
You can share this story on social media: