Biden's war with Republicans over school mask mandates is going to cost him dearly at the ballot box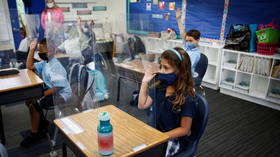 President Joe Biden is backing a loser by taking measures against GOP-run states over their failure to enforce mask mandates. Making the Democrats so unapologetically authoritarian will be remembered by voters in 2022 and 2024.
It seems to me that Biden has gone from one war to another as Afghanistan spirals into chaos. He's traded Central Asia for a battle with Republicans over their blocking of mask mandates in a number of states.
Mask usage is an issue that Biden has been particularly vocal on, saying, "For those who aren't eligible for the vaccine yet — children under the age of 12 — masks are the best available protection for them and the adults around them. That's why we need to make sure children are wearing masks in school." And to that effect, he has directed Secretary of Education Miguel Cardona to ensure states comply with this.
However, both Florida and Texas have taken issue with this, and have essentially banned the idea of mandating anything to the children citizens of those states. And Tennessee Governor Bill Lee signed an executive order on Monday giving parents the choice about whether or not their child wears a mask in the state's schools.
Also on rt.com
Are we heading for mask apartheid in which only speakers of English are required to cover their faces?
Florida has even gone so far as to threaten to pull state funding to schools with mandates. As a counter to this, Cardona promised that the federal government would provide funds to any school that the state denies money. A letter was also sent to Texas Governor Greg Abbott, stating that the Department of Education "stands with" the educators "working to safely reopen schools and maintain safe in-person instruction." Never mind that it should be parents who decide what is and isn't appropriate for their children. I suppose the administration forgets that part willingly.
That, ultimately, will be the biggest issue here for parents. Biden specifically stated, "that's why we need to make sure children are wearing masks in school." Who, exactly, is 'we'? That needs to be clarified, but given Biden's misguided idea that "we the people" equates to the government, I'm going to assume that's the 'we' he's referring to.
Here's the thing, though: the federal government is never going to have the insight into a child's life that a parent will. In fact, it's completely impossible for the federal government to manage society on that level. So "we" need to take a back seat to the parents of these children, full stop.
Also on rt.com
Masks off? Or masks on? A history of the CDC's consistently inconsistent advice on face coverings
That seems to be the same logic used by the governors of states like Tennessee, Texas and Florida. And surely it prompts a particularly pertinent question: How, pray tell, does Biden think a move like this will endear his party to people in those states? There's been a desire to turn Texas, Tennessee and Florida either purple or blue for some time now. At this point, it looks to be nigh on impossible for any Democrats to gain traction in those states if they support something as divisive or downright unpopular as mask mandates. By escalating this political dispute, Biden is making his party seem increasingly authoritarian to red states – and that is NEVER a good look.
Given that Biden's approval rating has already plummeted below 50 percent during his short time as president, this is only going to make things worse. Generally speaking, many presidents carry their party with them in American culture. If he keeps trying to hammer down on the people, and especially their children, he can't really expect his party to make in-roads in battleground states come 2022 and 2024. In fact, The Washington Post is already predicting that a GOP tsunami, similar to what was seen in 2010, is a possibility.
If that happens, the Democrats may want to invest in scuba masks so they don't drown beneath the incoming red tide.
Like this story? Share it with a friend!
The statements, views and opinions expressed in this column are solely those of the author and do not necessarily represent those of RT.
You can share this story on social media: